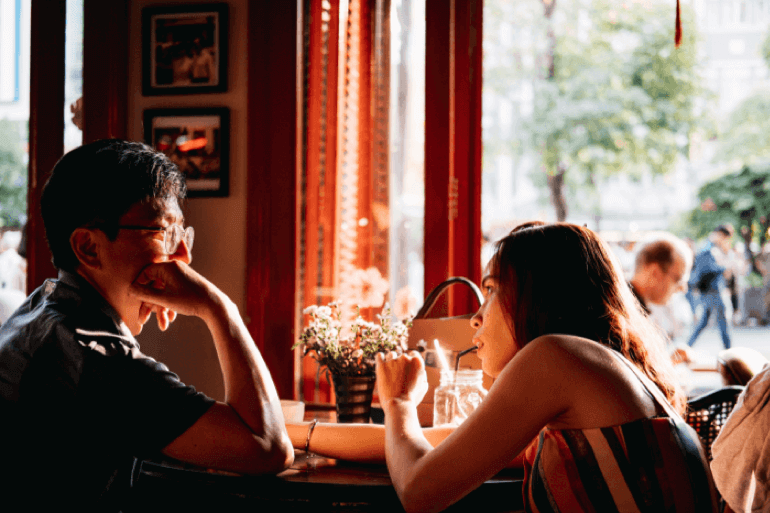 Couples
49 BEST FUN AND ROMANTIC DATING IDEAS TO HEAT UP YOUR RELATIONSHIP
In your first phase of dating someone, there is a mixed bag of emotions including blushing, excitement, and a bit of inexplicably adventurous feelings. As time goes by, your relationship transitions to long-term status, and the steady of happiness may make you feel... musty. Whatever how long your relationship is, frequently keeping the heat of your love life is necessary, ever-lasting happiness can not be built up by itself. Check out Getweady's list of "49 Best Fun And Romantic Dating Ideas", the relationship of you and your lover will be on the next level.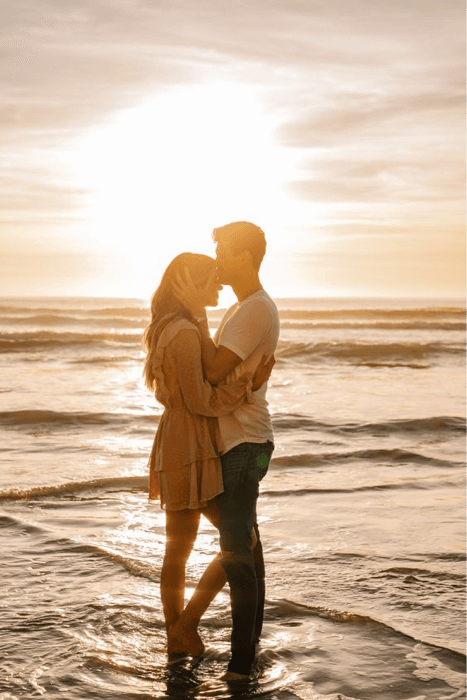 Rebuild your first date

The first date surely is one of the most special dates you both ever had, remember how shy you were when looking into his eyes for the first time or you felt blushing on the way home. Whatever it was, let's try rebuilding it to see if you will have a crushing feeling one more time, or will it be super hilarious acting like you first meet each other when you've already known him well?

Camping date

This is an opportunity for you two to relax in nature after long working days. Cool breezes, green trees and fresh air will make your stress go away.

Get lost together

Drive somewhere without any plan or help from GPS, let yourself free for a day both mentally and physically together. This is not about where you want to go, but who you want to go with.

"Wherever you go, I will follow." - kind of dating

Unable to see each other often due to impact of the epidemic: 7 tips to maintain happiness for couples in long distance relationships

Join the handicraft workshop

Some creative workshops like painting, pottery, or candles making are recent youngsters' favorite. "The" finished product will be a long-lasting unforgettable achievement for both of you.

Follow him to his favorite place

It could be a sports field, gaming place, or his childhood secret place, wherever it is. You will definitely be surprised to see your boyfriend's attractiveness and cuteness when he is into his favorite things. Surely you will definitely "fall in love" with your lover's new image.

Dancing in the rain

Who said only kids playing in the rain? Ask your partner to dance in the rain and make a sweet memory out of the scene. It's an opportunity to pull him into a hot wet kiss. 😉

Remake a romantic movie scene with your partner under the rain

Spending all day in bed

After tiring working days, everyone wants to linger in their bed on the weekends. Go ahead and enjoy a lazy day together, it's an ideal at home date idea which is so comfortable.

Are you getting married? Check out: Micro-wedding ideas - the hottest wedding trend in the post-pandemic season.

Couple bath

Aroma candles, rose petals, a passionate couple, what else are you hesitating more? Super spicy, super romantic.

Kiss at the top of the ferris wheel

There is a myth that when a couple kiss at the top of the ferris wheel, they will be together forever. Check this out with your lover.

"Underhand" in public

Give your partner in crime a signal in public and catch extreme excitement when you get the signal back.

Sex - seductive message

You will be surprised by his reaction when you send him a sexy text or photo "by chance".

Elevator kisses

Throw yourself into the passionate kiss and prepare to stop at any time when the elevator doors open. Trust me, it's an extreme edge-of-your-seat feeling.

Be his game teammate

Become his side-by-side teammate on the battlefront of League, PUBG, or else. He'll be excited to know you're interested in his hobbies too.

Sign up for a competition

Participating in a competition together gives you two the opportunity to make a better version of yourself. Whether it's a group or individual competition, as long as you support each other, the experience is going to be the most valuable prize you got. You can find many online contests for couples on social networks. Moreover, if both of you love outdoor activities, events like marathons and long-distance running will be the perfect choice for both of you.

Recreate a movie scene - show off your acting talent 

What is your favorite movie scene? Ask your partner to recreate it together! It's time for you two to surprise each other with your acting skills.

Titanic is a movie that has a lot of iconic scenes that you can recreate

Be each other's stylist

If you've always been curious about how you look from his point of view, do a one-week styling challenge. You will have the chance to find out how he loves to see you. This fun dating idea helps the two of you learn more about each other's styles.

Preparing unexpected gifts

You don't need a special occasion to give each other gifts, all you need is a smile on his or her face.

Don't know what to give, check now: Meaningful gift ideas for your partner.

Fancy dinner at home

Another at home dating ideas for you in this period. Getting home from work, your partner would be thrilled to see a romantic dinner with candles and fancy music.  

Hookup line in real

Ask your partner to go to the bar and pretend to flirt like couples who are just "crushing" each other. This will bring a feeling of both excitement and fun for both of you. In addition, dressing sexy when visiting these places will increase your attractiveness in the eyes of him.

Head to the pub together and pretend to flirt like couples who are "just in love"

Handmade gifts

No need for any fancy or expensive gift, making a gift yourself will remind him of you every time.

Movie night

Set up a romantic movie night for both of you with soft lights, snacks, and a big screen indoors or in the garden.

Bar/pub crawling

Together spend a crazy night in multiple bars or pubs around the city, let's free your souls!

Choosing gifts for your family

Loving someone also means taking care of their family. You two should make a list of gifts for each other's loved ones. This helps your bond grow stronger.

Read more:
How to impress your lover's family
9 Tips to Improve the Mother-in-Law Relationship

Cooking together

Cooking together will be an incredibly fun experience for both of you. Maybe you can have a small competition, cook the same meal and together discuss which is better.

The fastest way to a person's heart is through the stomach

Staycation in a fancy hotel

Let's try "blooming" in a different place to make love more refreshing.

Want some more details: 8 Tips to Keep the Sparks For Your Sex Life

Couple tattoos

A meaningful couple tattoo is a mark that the two are together.

Seeing the other's childhood photos

Are you curious what he or she looked like as a child?

Making a sweet photo shoot

Surely every couple has photos together, but what about a professional set of photos for both? Record each phase of your relationship in photo albums that you'll be fluttered to see years later.

Playing thrilling games together

This is probably the hardest but fun activity for couples on this list. However, this will also be a "lifetime" experience. Because the thrilling games will help the two of you share both excitement and fear with each other. Your partner's expressions are going to be so valuable.

Consider your partner's health conditions when choosing thrilling games

Skincare for each other

It could be as easy as putting on masks and relaxing together. Every girl wants to take care of their lovers, let's offer him a free but high-end professional spa day.

Make love refreshing

Ask your partner's permission to involve sex toys in your love-life.

Couple workout or yoga

Work out together and stay fit together every day.

Having someone to work out with is the way to motivate yourself

Read more: How to maintain a healthy relationship in lockdown?

Intimate massage

Set up a spa space at home with essential oils, aroma candles, and romantic music.

Video call to his family

Showing interest in each other's family is the key to a couple's long-term happiness. Don't hesitate to ask him to join your family calls or in return.

Volunteer as a couple

This is the most meaningful challenge you two have taken on this list. Let's share your love and care to your community.

Create a meaningful experience with him and give more love to the community

Join an art event 

Find an artistic activity that the two of you have never tried, or haven't done together like going to an art exhibition, going to a concert, going to the theater ...

Raise piggy bank

Learn from the couple in Disney's Up movie, a small amount of money in case you need to fix something in the house, or buy a new set of dishes for example. If not, you can use that money to travel together.

Intimate travel plan

There is nothing more exciting than exploring a new city together, take this time to consider your next destination.
Don't know where to go? Check it out now: 6 economical travel destinations for couples

Watch the sunset or sunrise

Watching the sunrise, a masterpiece made by Mother Nature will help you reset your inner energy. If you're not an early riser, set up a plan to watch the sunset with him.

Couple makeup challenge

This was a super cute and funny challenge for couples on Youtube back in the days. Boyfriend will try makeup for his girlfriend or vice versa. You'll laugh at the way he distinguishes between foundation and concealer or eyeliner and eyebrow pencil.

This is the first time the boyfriend has used cosmetics so he's very clumsy. The chemistry of Michelle Phan and her boyfriend was so adorable.

Learn a new language

You and your partner can help each other become a better version by learning a new language. Having someone to study side-by-side will give you more chances to practice.

Seductive bed game

Try out sexy games like painting on each other's body (with edible paints), blindfold, or naked Twister, ... and make the bedroom atmosphere hotter and hotter. Maybe you can surprise him with sexy lingerie. How would he react when he sees you in this sensual look? What a spicy night date!

Double Date

Double dating not only helps you learn more dating experiences from your friends but also gives you an opportunity to meet close friends without being in a situation of "you only know your boyfriend" anymore.

Ask your best friend for a double date. That will be an interesting experience. 

Sketching each other's portraits

Putting aside your artistic talent, the purpose of this activity is to bring laughter to both of you only.

Create mutual social media accounts and upload memories

This charred account is not only a commemorative album but also a romantic memorabilia that you want to show the world.

Planting

Many couples build a garden together in their living space. This is not only a popular decoration style but also a meaningful act to spread the green lifestyle in the community. How cute this activity, right?

Suddenly flirt with dumb and cheesy phrases

Hookup lines may sound awkward but if you hear it from the person you love, hmm... it's kinda sexy. Collect a few cheesy flirts online and say it when he least expects it. You can also prepare a hidden camera to capture that moment.

Donate to a charity

Just like volunteering together, this activity encourages you to build a better society and create a better community. Get a piggy bank dedicated to donating, and you two can save up together.

Domestic dance floor

No need to go to the bar, the dance floor is present right in your living space. Turn on the music and "hit the beat" with your partner.
That's the bucket list of 49 romantic challenges from Getweady to help keep you and your significant other keep the heat of love. Check out the table below to see if you have BINGO.