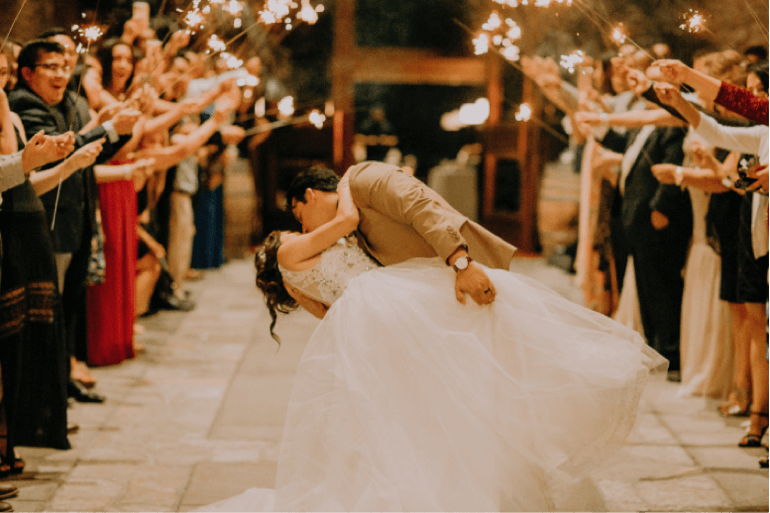 Wedding Plan
25 BEST ROMANTIC WEDDING SONGS FOR YOUR BIG DAY (update 2021)
A wedding cannot be perfect without a wonderful love song playlist for not only bride and groom to dance together, but also create a joyful atmosphere for guests. Getweady would like to share with you the best lyrics standing out wedding songs from thousands of romantic USUK love songs worldwide. Let's light your romance up to a climax with an ideal wedding playlist on the dancefloor!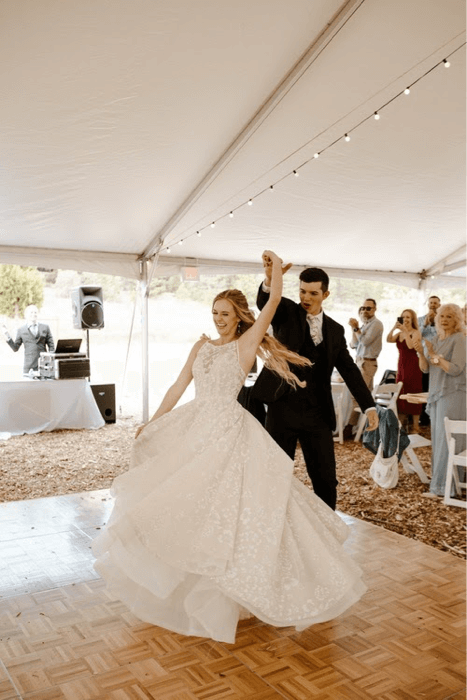 You Are The Reason (Duet Version) - Calum Scott & Leona Lewis

"I'd climb every mountain and swim every ocean. Just to be with you"

No matter wherever people go, true love will make them find each other. This song seems to tell a story about a couple who have a long-distance relationship. It is their fresh start, the best song for a duet, after all the love challenges they have been through. 

You are in long- distance relationship, read more: 7 tips on how to maintain a long distance relationship

Thinking Out Loud - Ed Sheeran

"And darling I will be loving you 'til we're 70. And baby my heart could still fall as hard at 23."

"Thinking Out Loud" is made for couples seeking a passionate lifetime commitment. They vow to make each other feel young every single day for the rest of their lives.

Perfect - Ed Sheeran

"Barefoot on the grass, listening to our favourite song. When you said you looked a mess, I whispered underneath my breath. But you heard it, darling, you look perfect tonight"

If a little dance on the grass with him can make your day, your love is admirable. Let loving days be filled with small and romantic things. With the song "Perfect", you are saying that your partner is flawless in every moment.

Are you looking for a more dreamy "Perfect" version? Check out the wonderful cover performance of Emma Heesters & KHS.

Nobody But You - Blake Shelton ft. Gwen Stefani

"I don't wanna live without you. I don't wanna even breathe. I don't wanna dream about you. Wanna wake up with you next to me."

One special thing about this love song is that the singers actually got married to each other after the song was released. So the song chemistry is genuine! "Nobody But You" has a simple and sweet commitment: I want to be the first one greeting you in the morning everyday. 

\

The chemistry between Blake Shelton and Gwen Stefani is admirable.

Can't Help Falling In Love - Elvis Presley

"Wise men say, "only fools rush in". But I can't help falling in love with you."

Love is blind. But it's ok to blindly fall in love with the right person. This song is an all time favourite love song of many dreamy souls in the world.

Kina Grannis's version if you're looking for a lighter one.

Dress - Taylor Swift

"Even in my worst times, you could see the best of me. Flashback to my mistakes, my rebounds, my earthquakes. Even in my worst lies, you saw the truth of me."

Passionate love electrifies a while, compassionate love stays for life. Seeing someone's best in their worst is not an easy thing to do. It requires patience and sacrifice. How can you not keep such a wonderful person in life? Taylor Swift's writing skill can make you fall in love again and again with her amazing imageable lyrics.

Seeing someone's best in their worst requires patience and sacrifice, Taylor has found her perfect man.

I Do - 911

"I'll be by your side 'til the day I die. I'll be waiting 'til I hear you say, 'I do'."

"I Do" is a lovely proposal along with a compassionate commitment. The songwriter vows to take care of his partner forevermore and patiently wait until the day she says "yes". 
A Guideline For: Signs That Tells You It's Time To Propose

Beautiful In White -Shane Filan

"What we have is timeless. My love is endless. And with this ring I say to the world, 'you're my every reason.You're all that I believe in'. With all my heart I mean every word."

This song has been iconic for weddings since the day it was released. When you love someone, you want to tell the world about your romantic story and surely no time is more special than the moment you see your lover in the white dress.

Looking for a perfect white dress: Top 9 Vietnamese bridal brands for your consideration

Speechless - Dan + Shay

"Staring at you, standing there, in that dress. What it's doing to me, ain't a secret. 'Cause watchin' you is all that I can do. And I'm speechless."

Your stunning bridal look is going to make him speechless. Go get him, Tiger!

Lover - Taylor Swift

"Can we always be this close forever and ever? And ah, take me out, and take me home (forever and ever)."

During the dating phase, your lover always takes you out for romantic nights. Now it's time for a transition. After hot date nights, you two are taking yourselves home together. 

10,000 hours - Dan + Shay ft Justin Bieber

"I'd spend 10,000 hours and 10,000 more. Oh, if that's what it takes to learn that sweet heart of yours. And I might never get there, but I'm gonna try. If it's 10,000 or the rest of my life, I'm gonna love you."

Another lovable song from Dan + Shay is going to touch your heart. This sweet love song is a gift Justin Bieber sent to his wife, Hailey, which carries a heart-melting message, "We have a lifetime to learn about each other". 

Read more: Celebrity Weddings In 2020: They Got Married In 2020!

Say You Won't Let Go - James Arthur 

"I'm gonna love you 'til my lungs give out. I promise 'til death we part like in our vows. So I wrote this song for you, now everybody knows. That it's just you and me 'til we're grey and old."

It is an announcement to the world that the bond between you and your partner grows with age. Now everyone knows, your vows are living eternally. 

Like My Father - Jax

"Grow old with someone who makes me feel young. I need a man who loves me like my father loves my mom."

"Like My Father" indicates the hope for a compassionate long-lasting love story. Having this song played on your wedding day is showing your admiration and gratefulness for your parents' romance. Trust me, your parents will burst with joy and pride.

Show your admiration for your parents' romance.

How Long Will I Love You - Ellie Goulding

"How long will I love you? As long as stars are above you. And longer if I can."

Sometimes you might wonder how your romance would last. This song is like a comforting message to you and your partner: just love and time will pass without your notice.

La Vie En Rose - Daniela Andrade  

"Give your heart and soul to me. And life will always be 'La vie en rose'."

"La vie en rose" means "life in happy pink" in French. Are you saying that "as long as you two have each other, the world is filled with pink"? If yes, this French vibe love song is for you.

Fly Me To The Moon - Frank Sinatra

"Fill my heart with songs, let me sing forevermore. You are all I long for, all I worship and adore."

This song is one of the USUK love songs which is "old but gold". "Fly Me To The Moon" is perfect for vintage and cozy weddings.

Are you getting married? Start preparing now: Wedding color trends in 2022

Canon In D - Wedding String Quartet 

The only instrumental song in this playlist must be really special. This timeless classical piece always makes us allure when seeing the bride step by step walking on the aisle.

"Canon In D" is a timeless piece in the wedding world.

Everything - Michael Bublé 

"And in this crazy life, and through these crazy times. It's you, it's you, you make me sing. You're every line, you're every word, you're everything."

There are highs and lows in life. How lucky we are to have someone to share all kinds of feelings with.

Every couple has their own crazy moment, always reminding yourself: 11 THINGS SHOULDN'T DO WHEN FIGHTING

Jonas Brothers - What A Man Gotta Do

"What a man gotta say? What a man gotta pray? To be your last 'Good night' and your first 'Good day'."

The Jonas Brothers have composed a fun wedding song for their wives saying how lucky they are to find such valuable love in life. "What A Man Gotta Do" reveals the great appreciation a man has for his partner. The Jonas Brothers even cast their wives in the official music video. 

"What A Man Gotta Do" reveals the great appreciation the Jonas Brothers have for their partners.

ME! - Taylor Swift feat. Brendon Urie of Panic! At The Disco

"I know I tend to make it about me. I know you never get just what you see. But I will never bore you, baby (And there's a lot of lame guys out there)."

Another fun wedding song carrying a little teasing and sweetness for your partner. Well, besides an interesting personality, you love your partner to the moon and back. He sure can't find another one like you! This song is also perfect for dancing time.

When Woman Makes The Move: Lessons From Psycho But It's Okay

Double Take - Dhruv

"Spend the summer of a lifetime with me. Let me take you to the place of your dreams. Tell me, do you feel the love?"

"Double Take" is a love story between two best friends. The romantic feelings slowly grow in their hearts without their notice. It's the sign to take companionship to another sweet level.

Romantic feelings slowly grow among a couple of best friends without their notice.

Just The Way You Are - Bruno Mars

"And when you smile. The whole world stops and stares for a while."

The songwriter's world completely stops moving for a while when his girl comes to him. Nothing else matters more than her smile. And sure he will not miss any of her happy moments. Because her joy is also his joy.

I Do (Cherish You) - Mark Wills

"It's beyond my control. I've waited so long to say this to you. If you're asking do I love you this much. I do."

The moment your heart skips a beat seeing your destiny walking through that door, you are speechless. The feelings keep growing until blooming. It's time to say it out loud.

I Swear - All-4-One

"'Cause I'll stand beside you through the years. And you'll only cry those happy tears. And though I'll make mistakes, I'll never break your heart. And I swear by the moon and the stars in the skies. I'll be there."

For love, you are only one call away. The promises grow stronger day by day, making the two of your commitments divine.

Paper Rings - Taylor Swift

"Kiss me once 'cause you know I had a long night. Kiss me twice 'cause it's gonna be alright

Three times 'cause I've waited my whole life. I like shiny things, but I'd marry you with paper rings."

Do you really need materialism to be happy in love? Well, not really. Once again, Taylor Swift makes us feel head over heels in love with her lyrics. 

She is not Taylor Swift, she doesn't like paper ring? Check out: Tips to choose engagement ring based on her style

Imagine dancing with your just-married partner in love songs that seems to be made for you two.
That is our 25 best romantic wedding songs that can bring your romance to a climax on your special days. Have you found the perfect love song for your wedding party?