Recently, modern ceremony decorations with elegance and creativity have been popular among the wedding community. Based on this interest, many vendors come up with magnificent setups which are expected to be trending until the end of 2023. What are they? Let's find out with us below.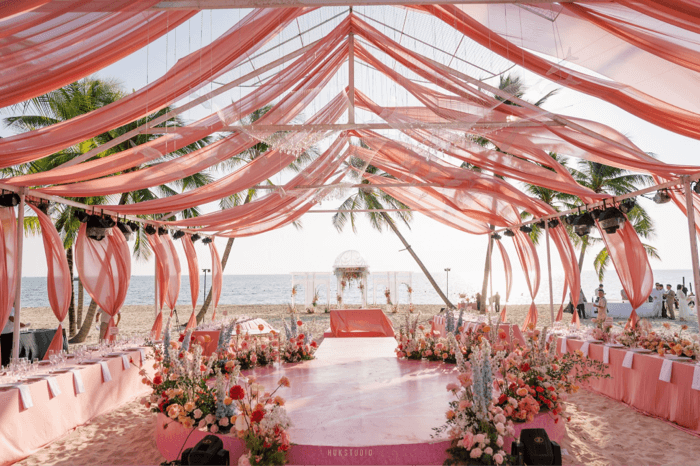 Digital Lavender - a sense of stability and emotional balance
Coloro- color research institute and WGSN-trend forecasting company predict that lavender will be spreading all over the consuming and fashion market. For instance, international brands such as Apple, Gucci and Dion Lee, ... have been releasing more and more relaxing purple products lately. If you are planning to decorate your wedding with Digital Lavender tones, then have a quick look below and choose the suitable tone sur tone to make your wedding shimmer.
Lavender & White : gentle, pure

Lavender & blue : romantic space as if you are entering a poetic fairy garden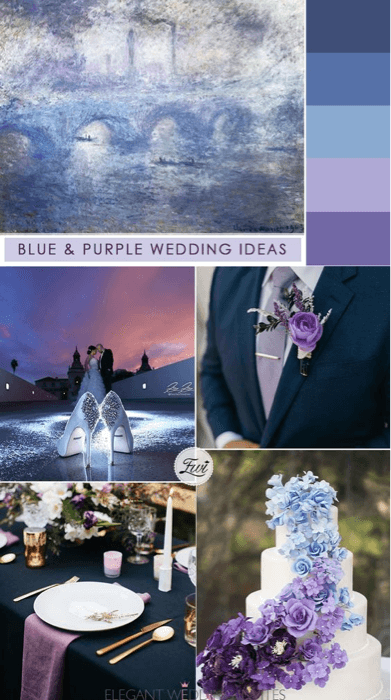 Lavender/Lilac and Light Gray : luxury and modern
Nothing that when you choose these tones to decorate your wedding, we recommend using Lavender or Lilac as the highlight instead of the main theme color. The gray and white background color will help your party look more luxurious and sophisticated.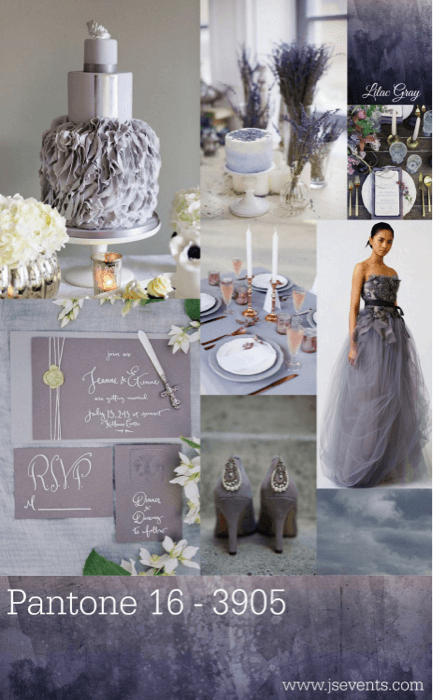 Greenery- gratitude to our planet
The Earth always needs loving and caring. In the past few years, it's horrifying for us to witness many forest fires, air pollution, and an increasing amount of garbage day by day. A nature-themed wedding not only brings a calm feeling to your guests but also spread the word about protecting our environment.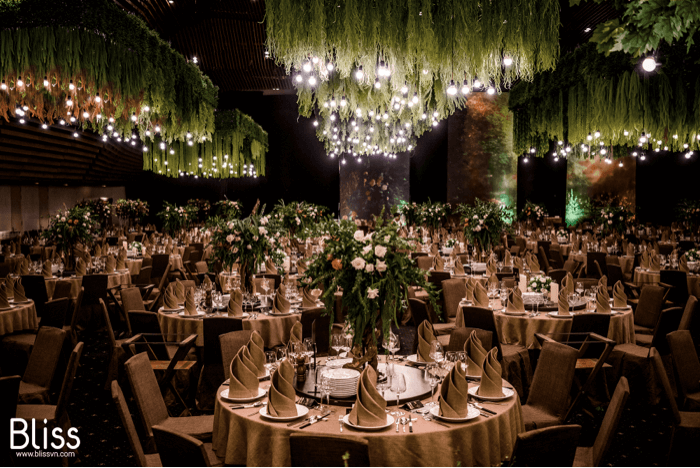 It would a great idea to give small potted plants to your guests as souvenirs. You can also use kraft bags to store gifts. Many couples begin to replace the champagne pouring with the ceremony of planting cacti, succulents or ornamentals together. This act is a metaphor for cultivating and nurturing their marriage day by day.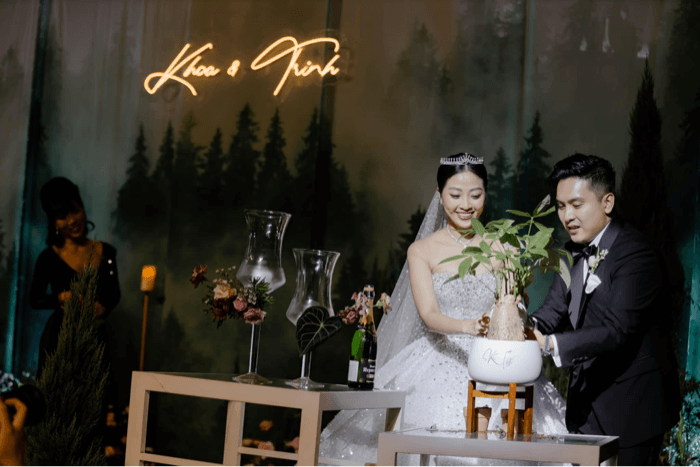 It's best to avoid decorative materials with unsustainable plastic, foam or nylon. Instead, you can decorate with plants, hang glass globes on the ceiling or on flower arches, use bamboo and rattan, set up a self-service drink counter to reduce the number of cans and water bottles used, etc.
Sophisticated and luxurious beige
Beige tones are never out of style in the wedding field. For instance, the beige-white combination is simple, yet creates an atmosphere of luxury, elegance and a bit of classic. With its neutrality, we believe this color will continue to be popular. Especially when upper-class life is gradually gaining more attention and admiration via global series and movies such as Penthouse, Crazy Rich Asians, etc.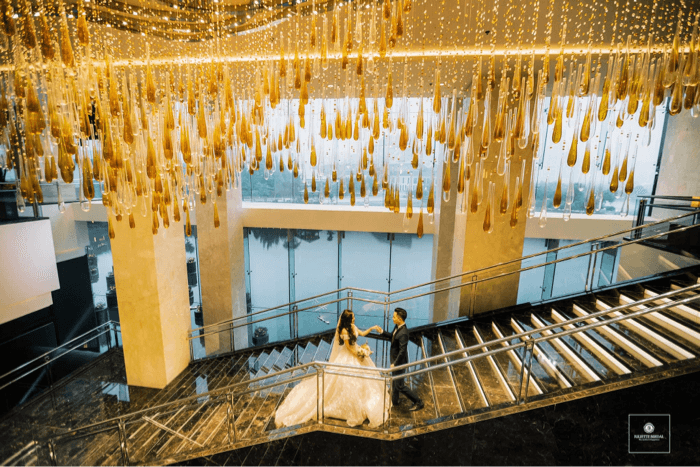 The return of European and American style at the end of the 20th century
If you're a fan of nostalgic retro style ,Marilyn Monroe and Audrey Hepburnby with their glorious heyday and the film Great Gatsby, here are some wedding decor suggestions for you. You can find inspiration from the accessories or costumes of your favorite movie characters. Features of the 20th century are pearls, feathers, chariots and sheer fabrics studded with sparkling stones.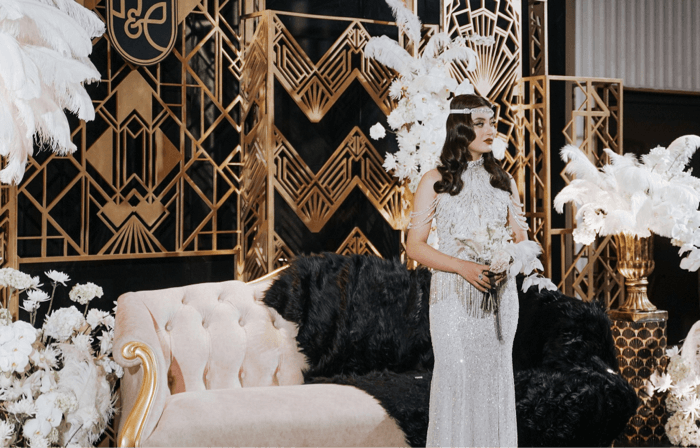 You can wear elbow-length gloves like Monroe in the movie Blonde (Another Story of Marilyn Monroe) with a tight wedding dress with a big bow on the back. For a more elegant look, you can try a high bun and wear a simple white square-neck dress like Hepburn.
More and more charming flowers
Fresh flowers have always been the special feature of every wedding ceremony. They symbolize the blossoming love between the bride and groom with a fresh start in their marriage journey. This tradition is still valued to this day. Wedding decoration with hundreds of same-toned flowers is becoming a new trend in the industry. It makes us feel like stepping into a dreamy flower garden. Let's take a look at Ngo Thanh Van's wedding and admire the stage meticulously decorated with countless flowers of different white shades. The wedding concept of "Hai Phuong" creates a pleasant and gentle visual effect.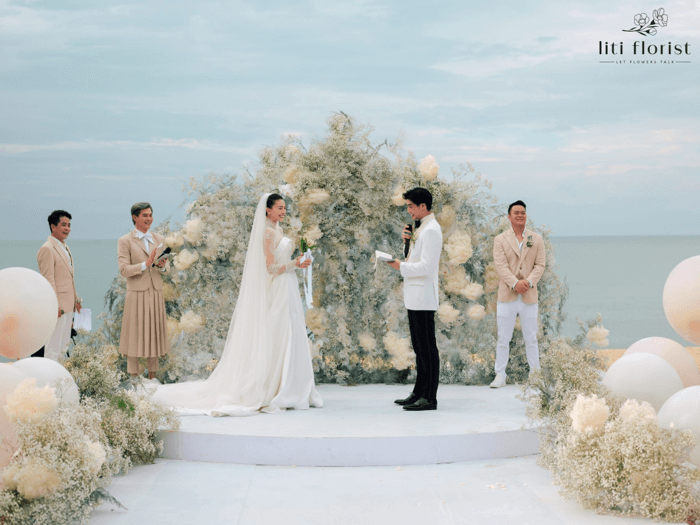 Be aware that this decor is quite costly. But if you are planning to have an intimate wedding - small and cozy, then the budget will be more affordable. Overall, you should consider your financial situation before investing in a flower wedding garden.
It will be great if you can contact the wedding decoration service early to get everything prepared at a reasonable cost. A wedding is an important milestone in a person's life, but the commitment in marriage is the premise of lifetime happiness. Besides, you should find a wedding dress that matches the concept to look shimmering in the wedding reportage. Getweady hopes you will have the romantic wedding you've always dreamed of.