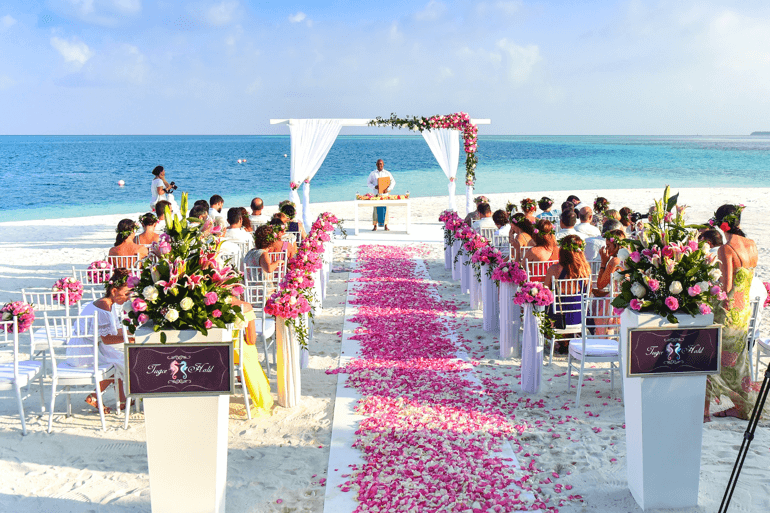 There are more than just the stunning beach venues in Vietnam. The country has a combination of highlands, mountains and oceans for you to choose from. If you want a wedding like no other, you have arrived at the right place. In this article, we would like to go through unique wedding locations in Vietnam, where you can have a memorable wedding with your guests. 
Cruise wedding in the Bay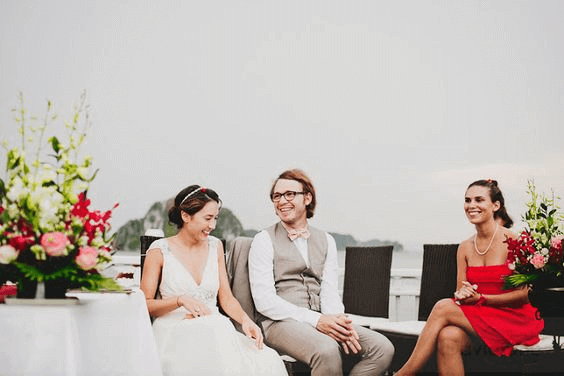 You want to have a beach wedding but don't want to deal with the sneaky sands? How about moving your location from the ground to a cruise. Say goodbye to the beach wedding venues, a cruise wedding offers a different wedding that you have ever known. Good news: you don't need to sacrifice any comfortability or service while there is no time limit like a normal wedding venue. Renting the whole cruise also guarantees maximum privacy for your intimate wedding. Lan Ha Bay and Ha Long Bay in Northern Vietnam are the two most famous places for this activity. While Ha Long is very popular and has been listed as one of the new world wonders, Lan Ha Bay is a hidden charm that has been well-kept from tourists. Both have astonishing views of the ocean and small mountains. You can easily find a vendor that offers this service with reasonable price. Enjoy your wedding right on the water under the sunset with surrounding mountains.
Elopement on Bai Tho Mountain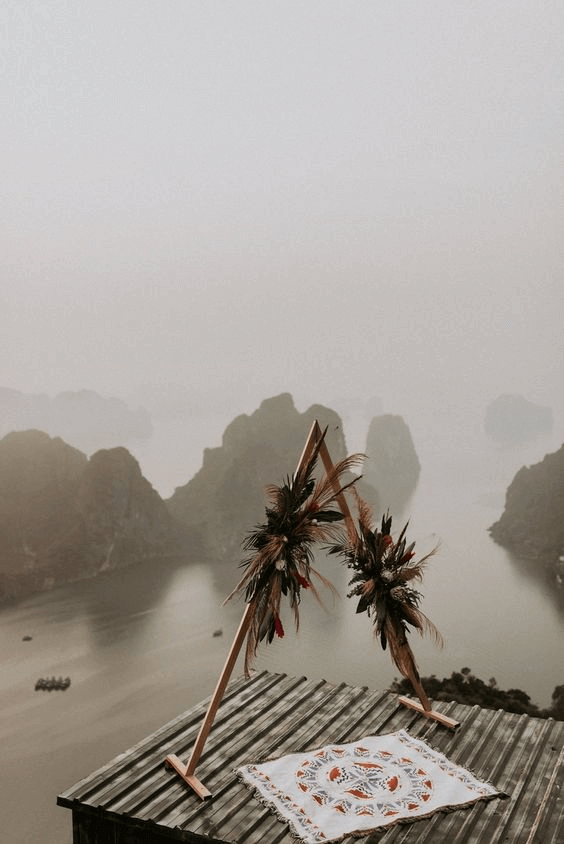 You can get a breathtaking view of Ha Long Bay from this mountain top. It is especially stunning in the early morning at dawn or late afternoon under the sunset. The location is suitable for adventurous couples since you will have to go through a hike to get to the top. However, the trip will be totally worth it. You will be able to capture the best scene as your wedding backdrop. One major drawback of this location is that it is very small so that you can have only a few witnesses attending your ceremony. That will be a true elopement. You can compensate by a bigger reception later at a wedding venue near the ocean, where you can share the happiness with families and friends. If you go with this option, try to go with minimal decoration only so that it is easier to transport.
Fairytale wedding in Legacy Yen Tu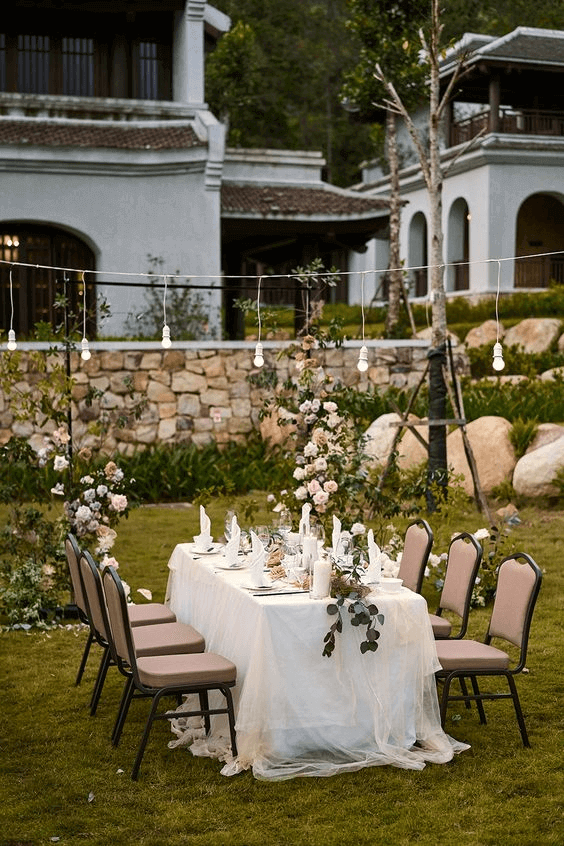 The sacred mountain, Yen Tu, is well-known as a spiritual symbol for Buddishm in Vietnam. You used to have to spend a few hours climbing up in order to see the mountain top, which is hidden in the cloud most of the time and provides a mystic feeling for the location. It recently became a new wedding venue choice thanks to a cable bringing you to the top in minutes and a new resort, Legacy Yen Tu by MGallery. This wedding venue has very unique architecture inspired from the Tran Dynasty in Vietnam with a good mix of history and modern life here. You can choose to either have an outdoor wedding in a thin fog or celebrate inside with their famous chapel. If you are into a fairytale wedding or simply want to stay away from any crowd, it can be your good option. They have good catering service to accommodate both the couples and their guests. 
Bohemian wedding in Sapa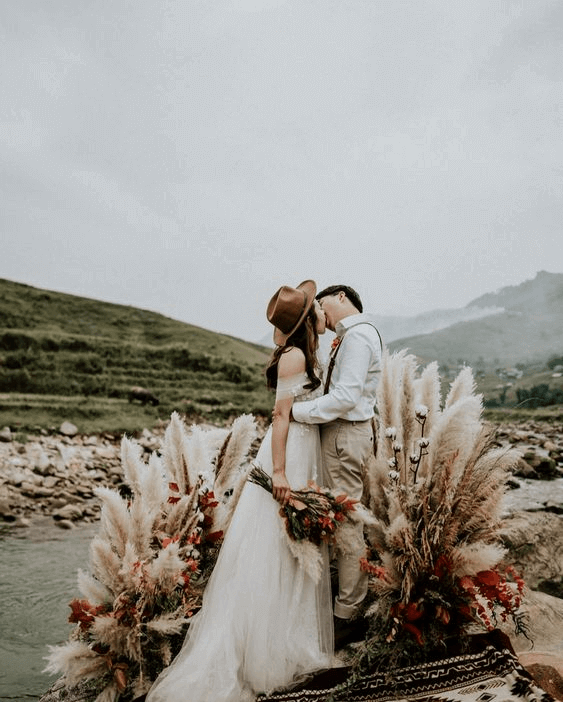 Sapa is known for its rich local culture and amazing mountain view. You can have two choices for your wedding in this highland. The first one is using one of the resorts inside the city as your wedding venue. Majority of them have awesome services and good catering options. They also offer a very good view of the valley as well. The second option is more adventurous. How about booking a homestay or a resort deeper inside the mountain, where you can interact with the local tribes and ease yourself into the mountain scene. That will be the canvas for your bohemian wedding. Sapa is at its best during Fall, especially in September, when the rice fields are ready for harvest. You will find a location like nowhere else for your wedding here.
Van Long Nature Reserve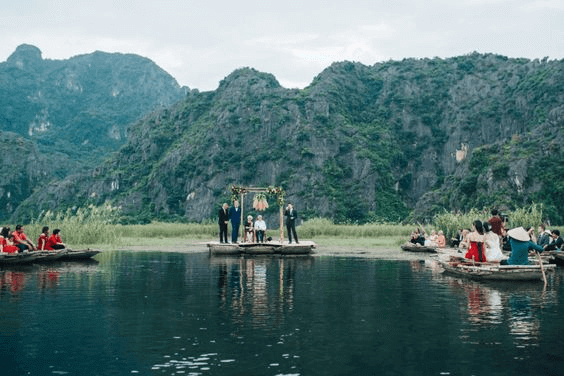 Have you ever imagined exchanging vows with your significant other on small boats on the water? Your dream can come true in Ninh Binh. This location is famous for its unique scenery of water and mountains, in which Van Long Nature Reserve is one of the best parts. You can get a ride on a boat to travel through the open water while admiring nature here. While it sounds very exotic, this location also has a very modern wedding venue known as Emeralda Ninh Binh Resort. They have everything you need for a good wedding from transportation to decoration and food catering. After the unique ceremony, you and you guests can spend time together in an outdoor reception in their garden. It will be a perfect ending for your special day.
Romantic wedding in Da Lat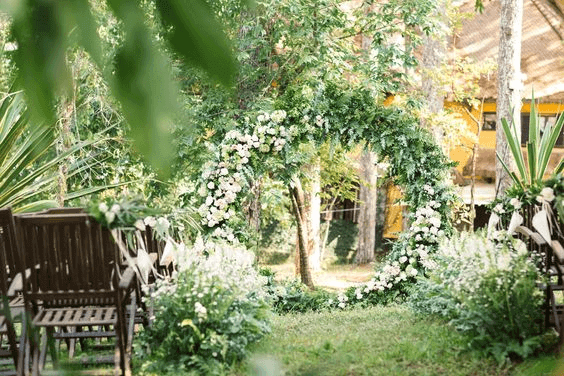 Da Lat is not a new location but it is never boring to have your wedding in this city. The city in the highland fits well with garden weddings as there are numerous old villas and green spaces here. If you favor a cozy wedding with a touch of history and flowers, this location is your perfect choice. Da Lat has a good collection for homestays, airbnbs and hotels with the theme of French villas and pine trees for your wedding venue options. You can switch the traditional sitdown reception to a barbeque outdoor buffet, which goes well with slightly cold weather here. In case you want both mountain and waterfront, Tuyen Lam lake, which is 30 minutes drive from downtown, has a lot to offer. It is the home for multiple resorts that have stunning views and are much more quiet from the crowd. 
Did you find what you need? Each location offers a different look and feel that you can choose for your unique wedding. We hope the list can give you some wedding inspiration. If you have other wedding spots in Vietnam, please let us know as well.