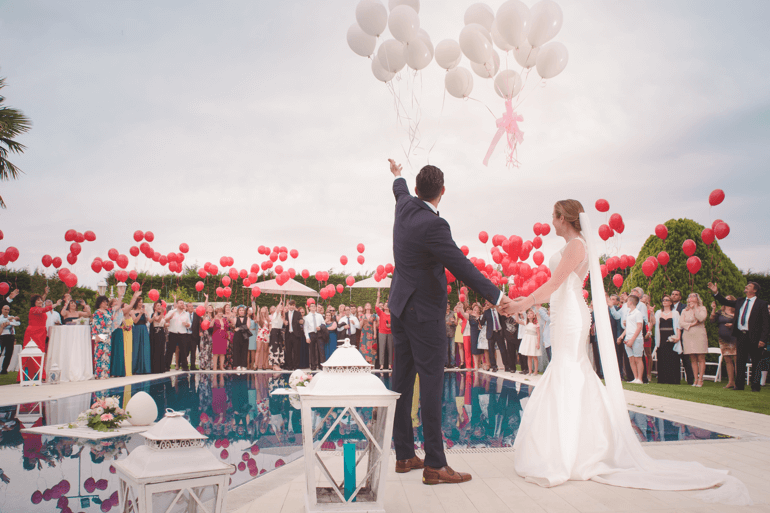 2019 has been an amazing year for celebrity couples to officially tie the knot. Might you forget updating some of them, let me revise remarkable marriages around the world during that amazing year.
1. Justin Bieber and Hailey Baldwin  - regaining trust and start a better life
At the age of twenties, the couple has achieved almost everything: career, success, fame…and officially perfected their life with the most stunning wedding ever. The bride in a custom ivory white off-the-shoulder gown that came with a long tulle veil trimmed with lace adornment exchanged her vow with a young gentleman in a fitted wedding suit who has travelled through ups and downs, overcome his own imperfections to deserve his beautiful wife's love.
2. Rafael Nadal & Mery Xixca Perello – A sweet childhood love
The tennis superstar and his beautiful cradle friend got married on Oct 19 on Mallorca, a Spanish island as well as Nadal's hometown in the presence of Spanish Royalty – King Juan Carlos and Queen Sofia. Their love as childhood sweethearts has been an inspiration for million fans all around the world. Their humble personality with little information shared has made many people miss to congratulate them for a happy ending. After all, they are still thankful for a lot of blessings.
3. Ellie Goulding & Caspar Jopling -  meant to be each other's world
The owner of "Burn" finally got a stunning wedding with her long-time boyfriend – an art dealer Jopling in England with the attendance of the royal family – Princess Eugenie and her husband (also groomsman), Sarah – Duchess of York.  Their celeb friends such as Katy Perry, Orlando Bloom, James Blunt,…also had an emotional day at Ellie's wedding with so much admiration for their sweet love.
4. Dwayne the Rock Johnson & Lauren Hashian - a secret celebration
Despite keeping their wedding in secret, Jumanji superstar officially announced this happy news by revealing their wedding photo on a beautiful August day in 2019. Their sacred moments have been captured secretly under great support from their own staff, family and friends. No wedding planner, no paparazzi, the newlyweds managed to keep their meaningful day  under deep secret with no other official sources of information, except their own posts. Cheers to "the Rock" family!
5. Jennifer Lawrence - Cooke Maroney - a sweet surprise
The Oscar-winning actress, the highlight of The Hunger Games series found the perfect man of her life - Cooke Maroney-  an art dealer who she exclusively called "the best human I have ever met". Their secret wedding of around 150 guests including Adele, Kris Jenner,... was held in a luxurious mansion Belcourt of Newport. The bride was reported walking down the aisle in a gorgeous Dior design, which has amused her million fans around the world. Though not so much information was updated about Jennifer wedding due to her privacy, we are here to wish this talented actress the best of her life!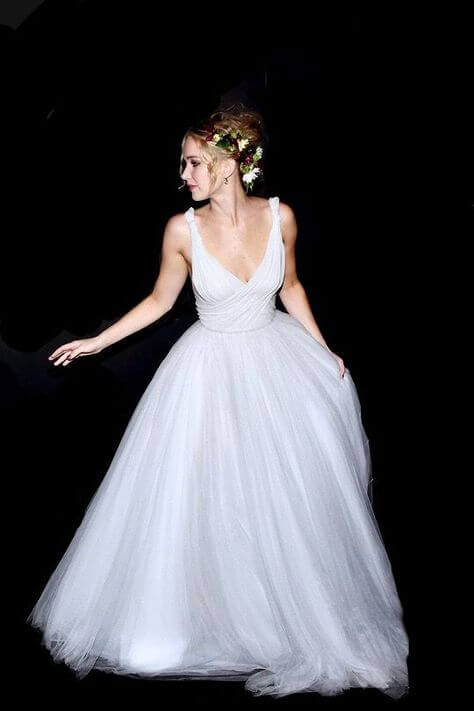 6. Evan Lysacek - Duangpatra Bodiratnangkura - Love at first sight
Olympic skating gold medalist Evan Lysacek tied the knot on a lovely weekend to the gorgeous Duangpatra Bodiratnangkura- a real estate developer in one of the most prominent families in Thailand. Their love bloomed at their first eye contact and ended up with a charming result thanks to endless understanding and respect that they have spent with each other. 
"Evan knows me better than anyone and always protects me in every sense of the word. I feel so loved, cared for and protected by him. I'm marrying my best friend."

- said the bride
No matter how famous they are, how much money they have made, eventually, they are human with truthful hearts to live and love. Raise the glass to congratulate them and their family!