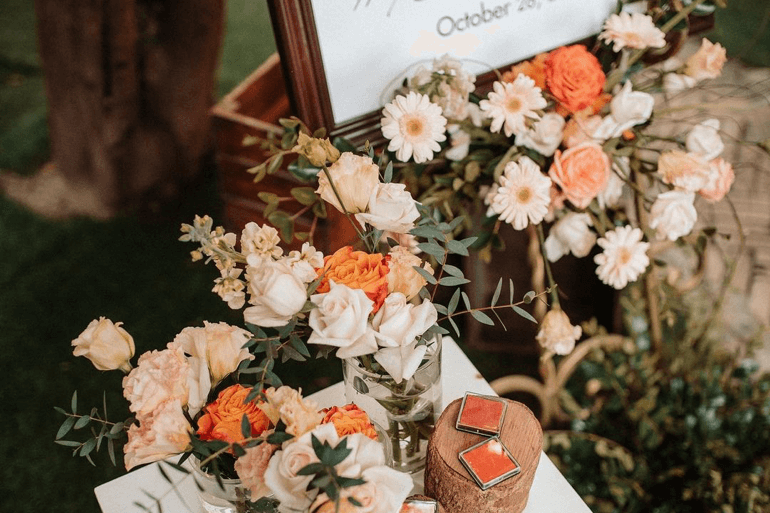 Wedding Plan
9 perfect locations for intimate weddings in Hanoi
There is no surprise that wedding venues in Vietnam are designed for big parties. A wedding is a big celebration for not only the couple but also their families. It is common for you to see weddings with the guestlist of up to 500 or even 1000 people here. Consequently, it becomes challenging to find a wedding venue for a small wedding with around 100 guests. No worry, we have your back. Here is the list of 9 locations for intimate weddings in Hanoi.  
Elegant Suites Westlake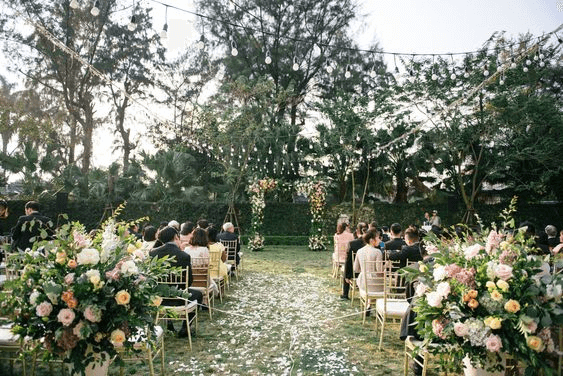 This wedding venue can be used for both indoor and outdoor weddings. However, the signature of this location is their green garden, where you can host your warm and cozy wedding. Their blush hanging garden acts as your perfect backdrop for decoration. It is wide open and empty so that you will be able to freely create any wedding theme that you like. The common theme is either pastel or floral to fit in the surrounding area. The space is big enough for you to separate the ceremony and the dining sections in the same outdoor garden. You can even repurpose the section to create an outdoor dance floor too. If you worry about the rain, they offer a solution to have a transparent roof to get you covered. Guests can take the offer to stay at the residence as well. 
The Forest Restaurant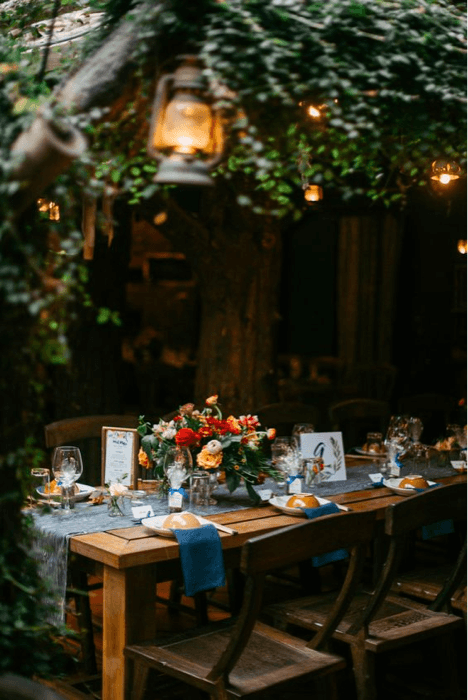 Located near West Lake, The Forest provides a separate space from the city's hustle and bustle. You can walk down the romantic stairs covered by green leaves and enter a chill and romantic atmosphere. The restaurant is designed with inspiration from Northern Highland with wooden chairs, partial glass ceiling and art murals on the wall, which becomes a destination for rustic weddings. This wedding venue is suitable for around 80 quests. Their menu is modern Vietnamese that fits the ambience of the location. The staff are professional and friendly, which guarantees your guests will be well-served.   
Home Moc Restaurant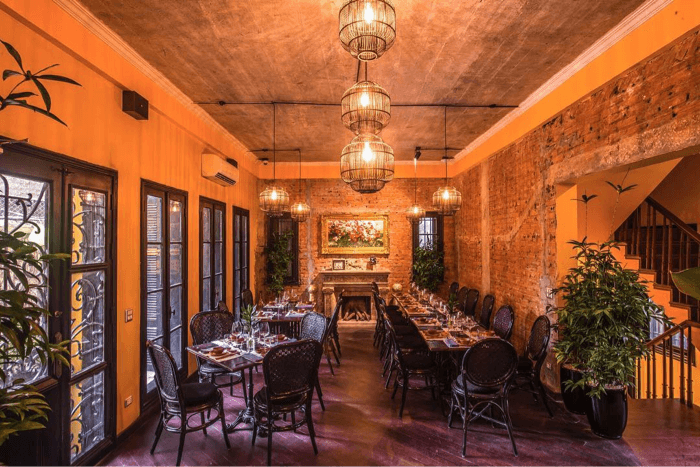 This restaurant is a good wedding venue in Hanoi that hosts up to 40 people. The restaurant is a member of Viet Deli, a famous restaurant chain in Vietnam, so that you will be good hands for the reception. It is a beautiful location with interesting design: hanging lanterns on the walkway, raw red bricks  and high ceilings. You can find a very cozy atmosphere when entering the beautiful restaurant. The only problem with this location is you will have to separate the ceremony and the reception due to limited space. Guests can witness your vow exchange in their front yard then move to the dining area upstairs for the reception.
The Clover at Ngoc Thuy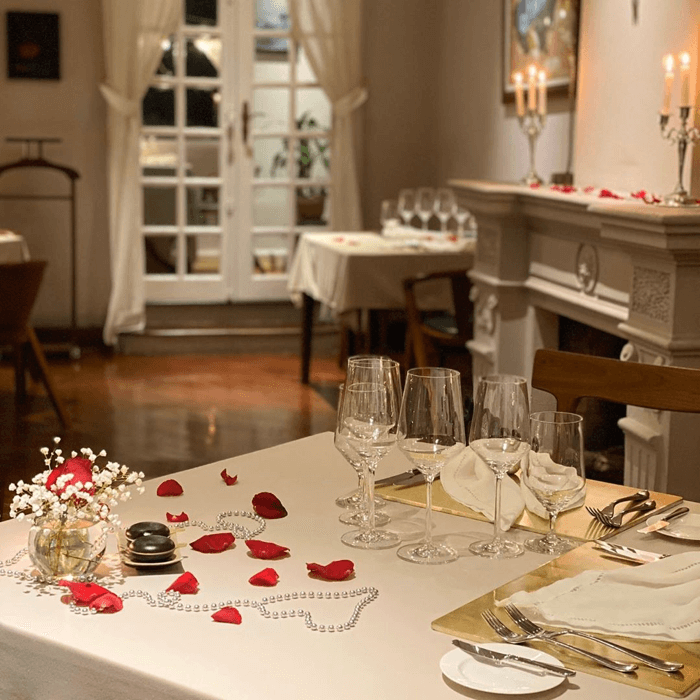 If you are willing to go out of the city center and cross the bridge, The Clover at Ngoc Thuy is your perfect wedding venue option. The French restaurant offers a change in cuisine that can satisfy both local and international guests. This location has a classical feeling with a fireplace, white painted wall and wooden chair. It will match well if you have a pastel color palette. They have multiple dining areas: indoor, outdoor garden and a rooftop with the river view. If you want a romantic wedding with a small group of friends, you should go with the indoor setting. Take advantage of their piano and add some music to your party. 
Hygge Homestay
Hygge is a wedding venue where your DIY wedding dream can come true. The airbnb offers three buildings and a common space, which can be your main reception. This location is different from a normal wedding venue or even a restaurant since there is nothing set up. You can control every detail of your big day and save quite a lot of money. It is suitable for a bohemian style wedding of less than 30 guests. The good part is you and your guests can stay overnight as the accommodation is included. The not-so-good one? You will have to coordinate all vendors from florist, catering to photographers for your wedding. If you don't have much time, a good wedding planner will be helpful. 
Mad Society - Modern Asian Dining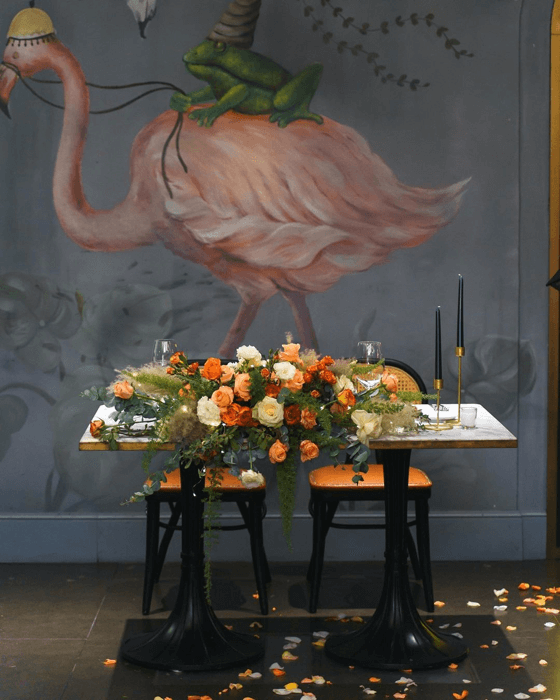 Mad Society is a modern wedding venue option. It fits a Gastby style wedding due to the Western influenced design. If you are looking for a more luxurious, Westernized and contemporary wedding style, it can be your best choice. The location has a big pool for you and your guests to enjoy the after party as well. In addition, their interesting take on Asian fusion foods will be a memorable part of your wedding. 
6 Degrees Restaurant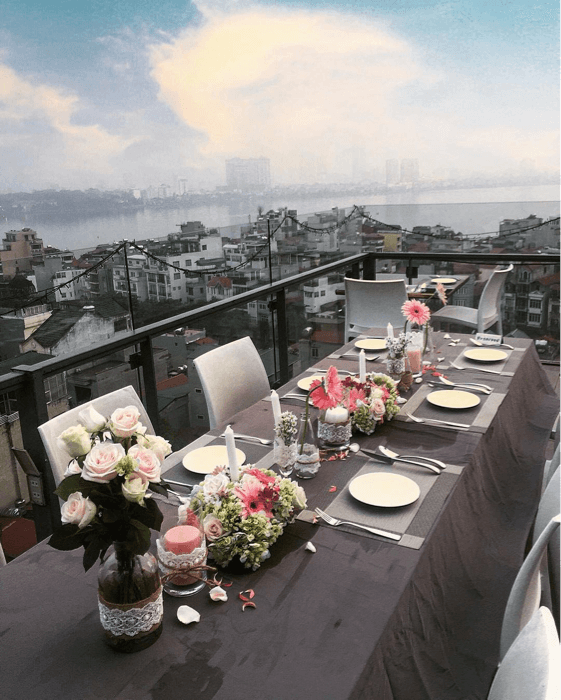 This wedding venue offers one of the most stunning rooftop views in Hanoi. You can get an amazing view of the West Lake and its beautiful sunset from here. There are both outdoor and indoor options at this location but the first one is more favorable. You can have a variety of choices from finger foods to sit down dining at a reasonable price for this restaurant to save the reception cost. One major drawback is the restaurant can get crowded, which distracts the staff. You can solve this problem by blocking the whole rooftop level for your private party. 
Sofitel Legend Metropole Hanoi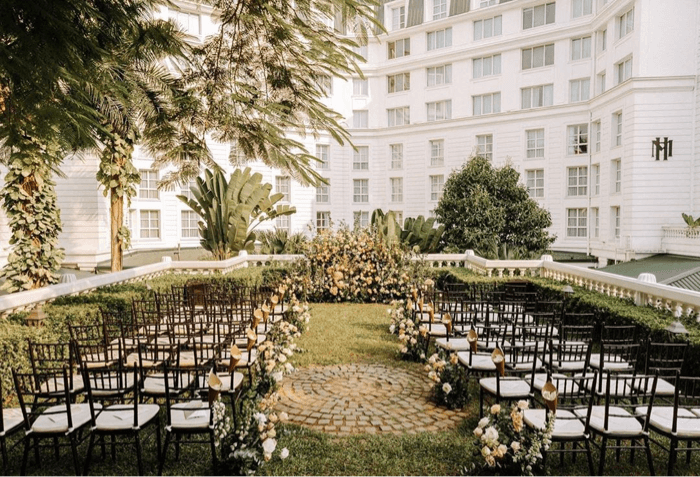 This is the dream wedding venue of many brides. The prestigious hotel has been around for a long time and become a symbolic location in the capital. It is conveniently located a few steps away from Hoan Kiem Lake. Its stunning French architecture never fails to impress. You can have a small gathering of less than 100 people in their beautiful garden between the colonial style buildings. They also have amazing services and restaurants that can satisfy even the most demanding guests. While the cost for this location might be higher than others, it will be totally worth it. 
Tam Vi Restaurant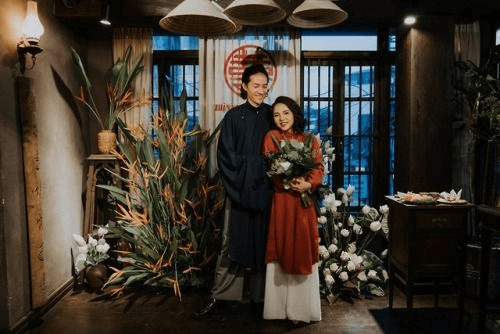 Tam Vi is all about preserving the good old fashion. The restaurant brings a nostalgic feeling with its design of a traditional Northern home. From the entrance to the table details, all will bring you back hundreds years of history and embrace the valuable culture. The restaurant is not too big so that you can have about 30 closet guests for the wedding.  This is best fit for couples who want to have a unique wedding featuring the traditions. Instead of chasing the luxurious and fancy cuisine, their small menu provides you with elevated home-cook foods that will make you feel safe and cozy. Their price point is also very reasonable for any wedding budget.