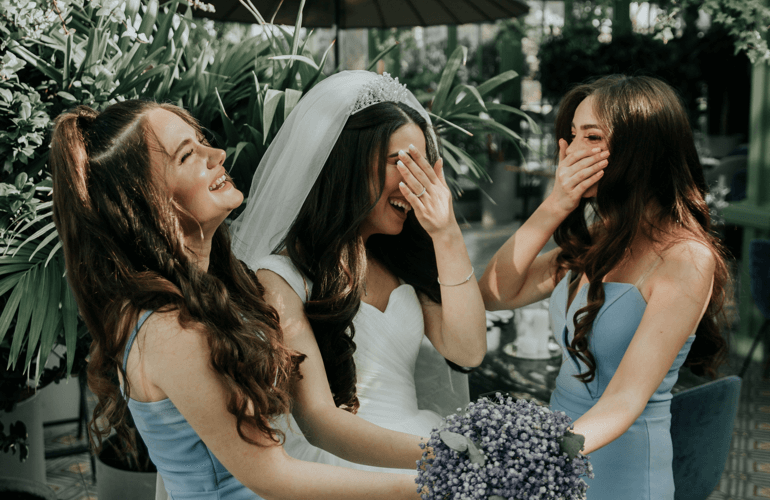 The bridesmaids' outfit is the next biggest concern of the bride beside her own wedding dress. As the bridal parties are your biggest supporters, their outfits should also complement yours and help create the atmosphere. We have some suggestions for you to pick the perfect outfits for your bridesmaids.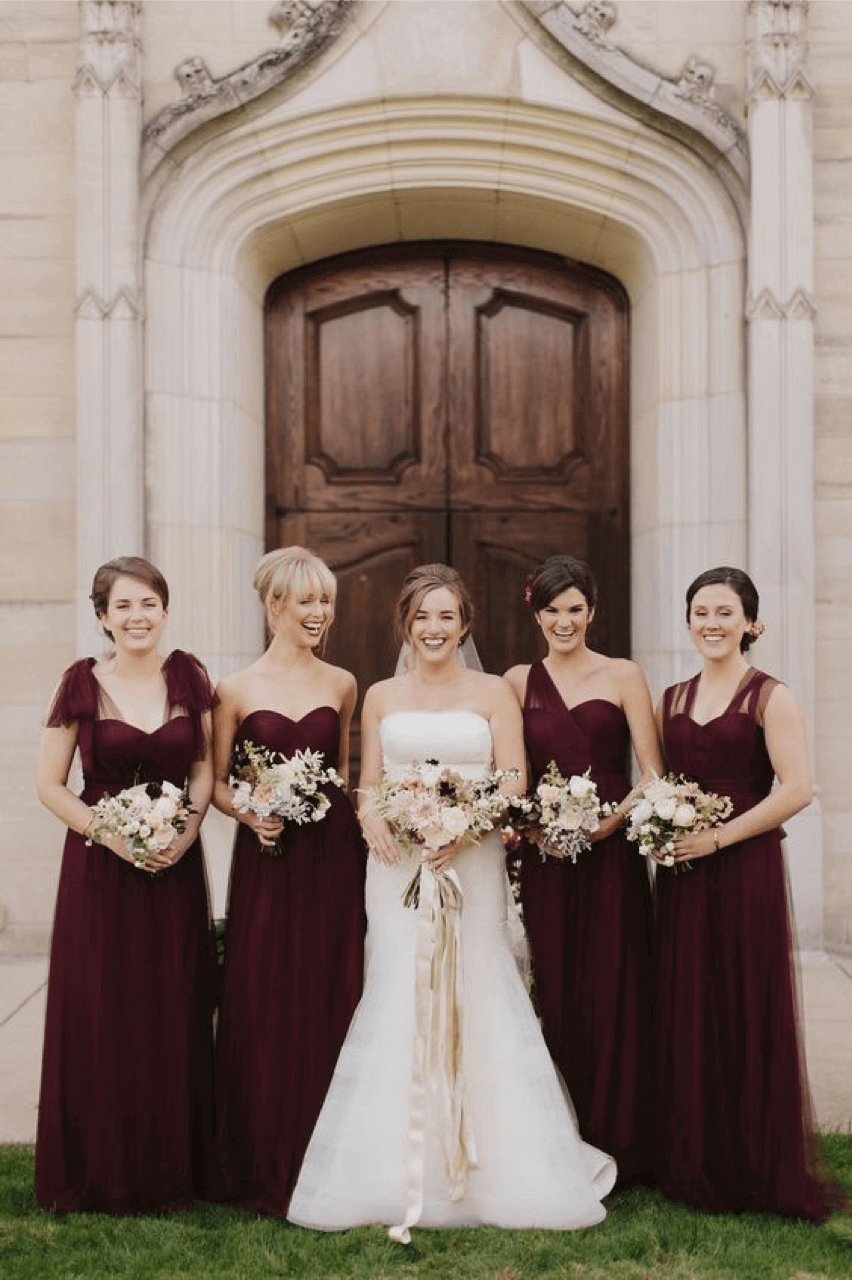 Consider the wedding venue
You can use the wedding venue to help identify the criteria for bridesmaids' outfits. The perfect choices should fit the background, easy to move around and appropriate to the locations. If you are doing an outdoor wedding, it will be important to think about natural factors such as sunlights and wind. A color might look much brighter under the sun. In case of an indoor wedding, you should pay attention to the architecture and settings of the room. For example, a bohemian dress can't be a good option for a formal church wedding. Another factor is how you plan to arrange the space. Since the bridesmaids have to walk around a lot, choose one that will not block their moves. If you have narrow spaces or lots of items on the way, a simple dress should win over the ballgown. 
Coordinate with your wedding dress
Your bridesmaids will be around you most of the time so that your outfits should look good together. You can show them your wedding dress and discuss the options that can make you standout but still have common themes. If you have opted for a simple and minimalist wedding dress, your bridesmaids' dresses should be monotone and not ballgowns. You can find bridesmaids' looks that have the same shape and style or similar pattern as your wedding dress. A suggestion is trying to mix different shades and lengths among your bridesmaids so that they can have their own characters. It would be nice to have coordination between bridesmaids' and groomsmen's outfits.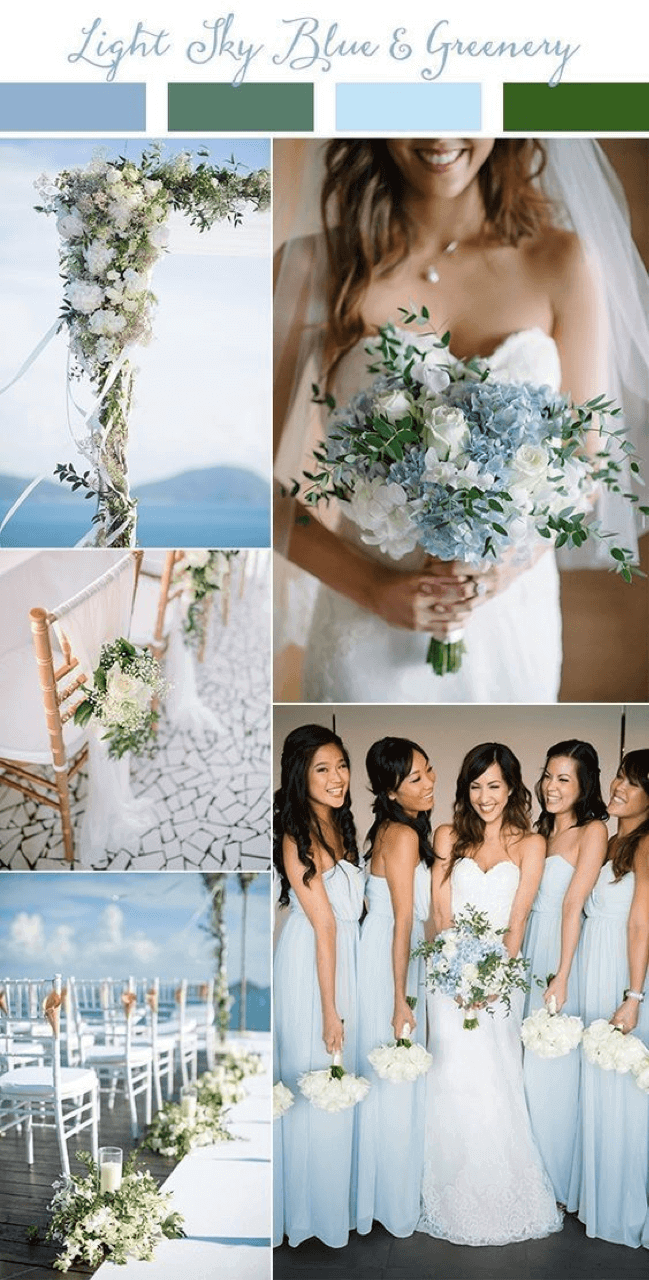 Fit the wedding theme
Beside the decoration, the outfits of bridesmaids will reflect your wedding theme. A rustic and earthy tone wedding is suitable for burgundy color bridesmaids' dress. If your wedding is at the beach, you can experiment with the flowy, floral and colorful dresses. Pastel colors such as pink or baby blue can be used on multiple occasions. Each wedding can have a mood board and your bridesmaids' dresses should fit in that color palette.  
Consider Season & Time of the day
Timing can impact your decisions on the bridesmaids' attire too, especially the material. Summer weddings are a good opportunity to wear more airy materials such as silk due to the hot weather. In contrast, velvet or fur can be a good option to keep your bridal parties warm in the winter time. Wedding's time is another item to think about. In the morning, you can take advantage of natural light so that pastel colors can look nicer. However, during a night party, bolder makeup and strong colors can be your favorable option. They will make your bridesmaids stand out more.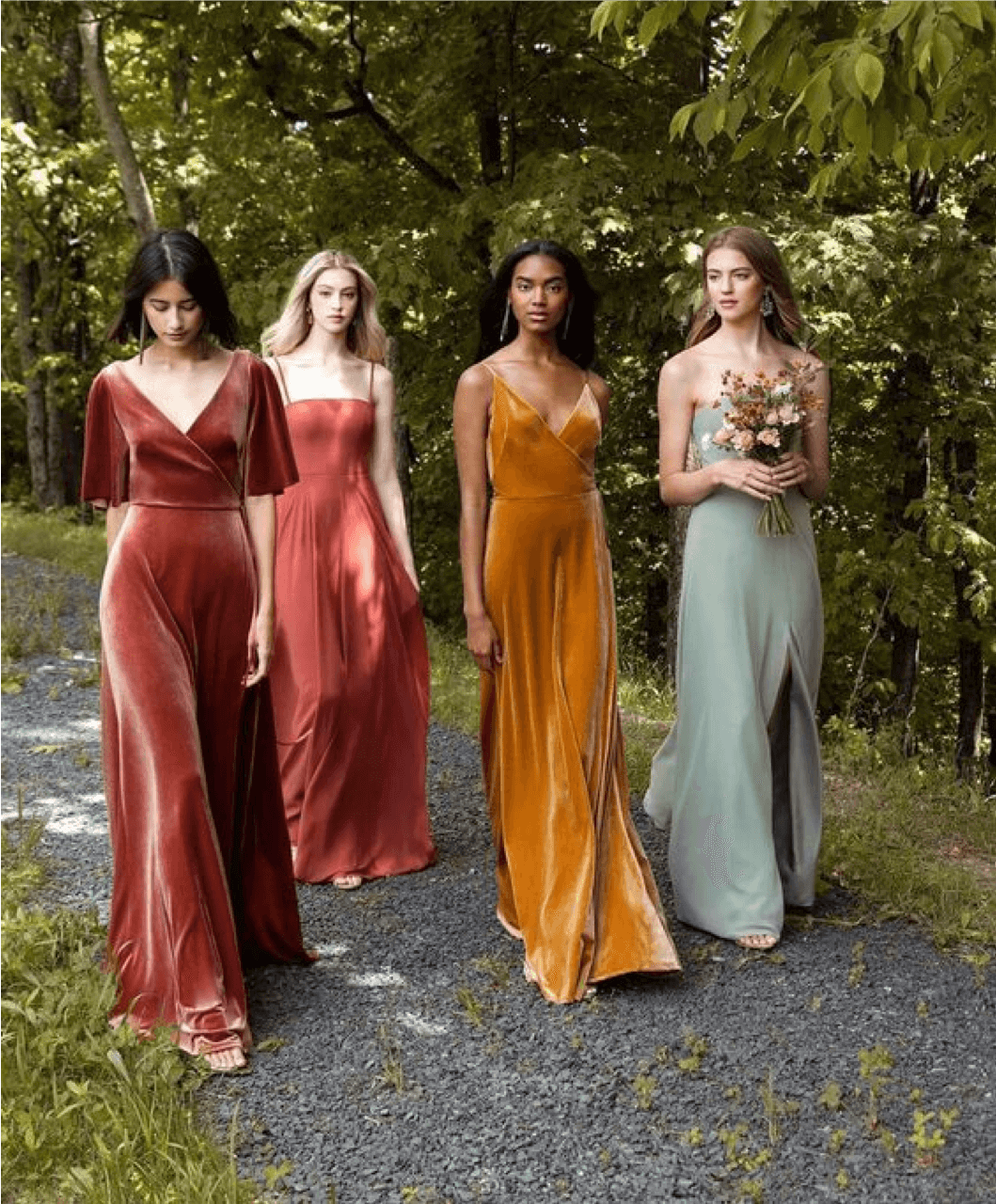 Think about your bridesmaid preference
It would be nice to be considerate when it comes to your bridesmaids' dresses. After all, they are the one wearing the outfits so that they should make them feel comfortable. You should start with discussing with the whole group to see their preference on the outfits and balance out the tastes. Give your bridesmaids a voice in the process so that they feel respected. Since there are multiple people in your bridal parties, you should choose a shape and style that fits everyone. The bridesmaids' outfits should also present their personality as well. Don't be afraid of trying new things. You can venture out of the comfort zone and try suits instead of the traditional dresses if your ladies are bold and adventurous. Cost factor is also important. It might not be nice to suggest a dress that is way over their budget. Choosing a reasonable price point will help everyone in this case. 
Study the fashion trend
Just as all the other fashion items, the trends for wedding dresses and bridesmaids' outfits change almost every year. They are not limited to the color but also include the material, the sleeves length, the cut and the details. You should spend something keeping up with the new trend and apply them smartly to your wedding. It will be a showcase of your taste. Don't stop at the dresses. The full outfit is a combination of makeup, shoes, jewelry and hair accessories as well.   
Some useful tips
Who will pay for the outfits?
Generally, the bridesmaids are in charge of paying for their own outfit, hair and makeup. As a result, it would be the best if they can get an outfit that they really like and can use again. The bride normally gives bridesmaids thank-you gifts for their appearance. However, if you have the financial resources, it would be a nice gesture to help out with part of the cost.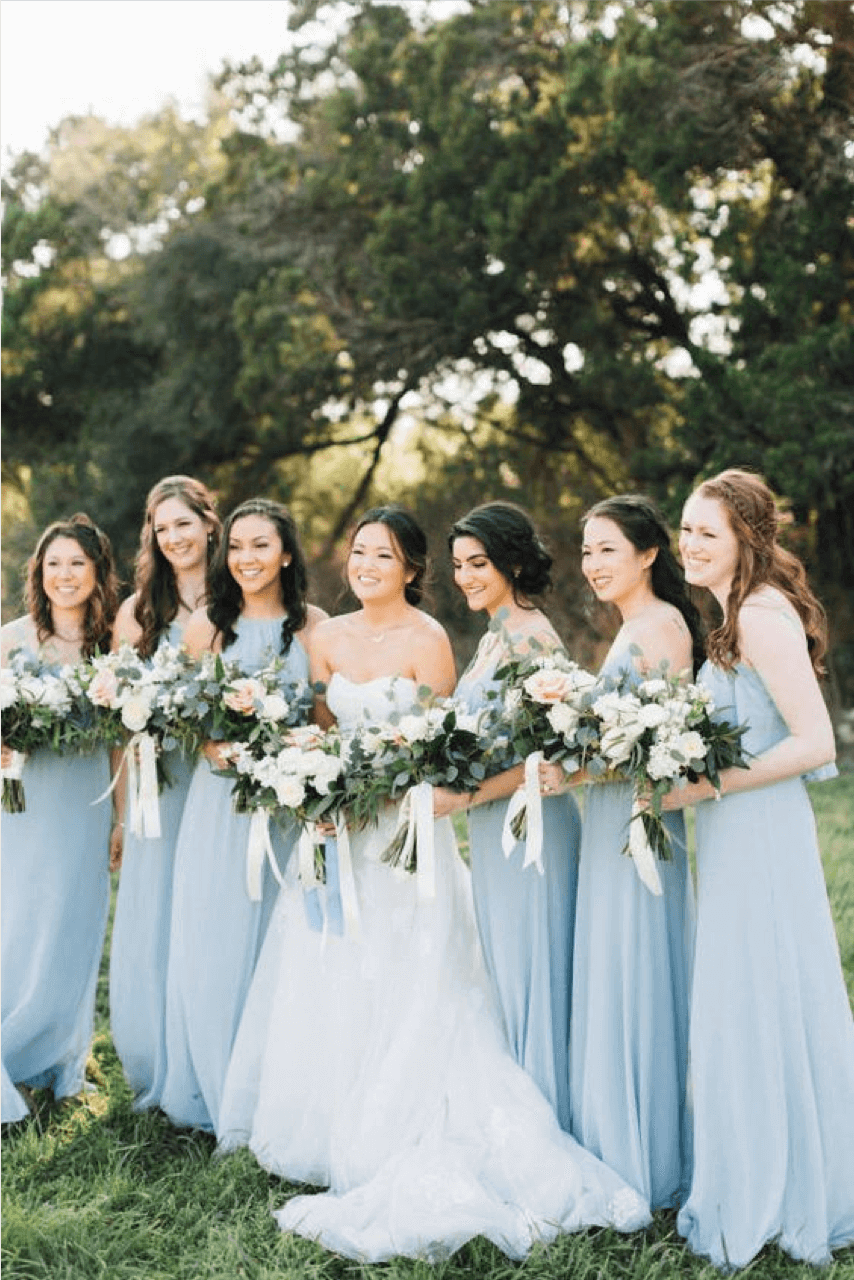 Do all the bridesmaids wear the same dress?
No. It is totally fine for each bridesmaid to have a dress that fits her personality. Some parties even choose to wear different colors. However, there should be coordination between all the outfits. They should have similar materials, style and patterns (if any).. Also note that the maid of honor might have a slightly fancier outfit than other bridesmaids. 
Who has the say in the final decision on bridesmaids' attire?
The bride can generally dictate what the bridesmaids will wear on her special day. While that is the tradition, it is appropriate to ask them for their preference. Also, there is no need for you to shop all the bridesmaids's outfits. They can do that on their own. 
What to do if I have a male best friend in my bridal parties?
No worry, it happens more frequently than you thought. Your male friend can be in his suit but coordinate with the bridesmaids to create the same look using his bowtie, dress shirt and boutonnière.