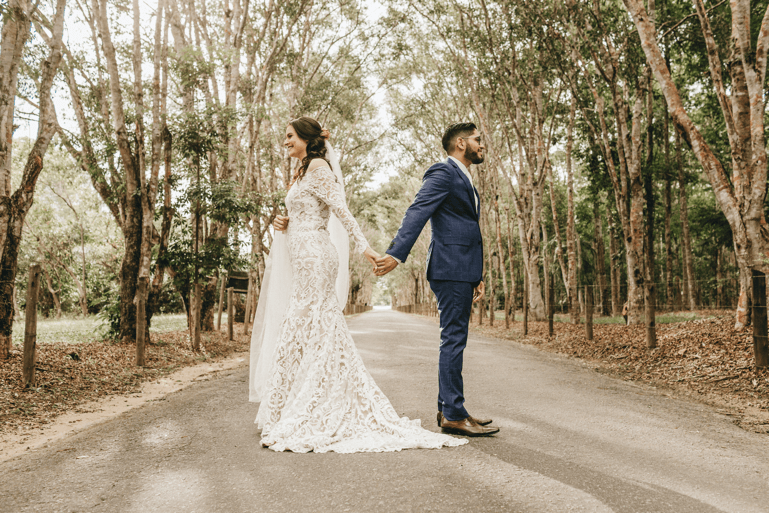 Wedding Plan
9 Creative First Look Ideas Based On Real Story
As you're on the verge of the greatest day, you're probably wondering if you want to do a first look or not. It's the moment when you see your significant other as the Bride and Groom in privacy.
Though tradition claims that it's not a superstitious-wise notion, many couples still opt for the deed.
In 2020, the trend of this non-traditional section is still on the stove.
So, is it true that seeing each other before the ceremony will take away that genuine feeling?
If you want to know, check out these real stories from real couples and see how they felt doing the first look.
1. A bubble relief
Vannessa did have her husband - Atiq - confused when getting off the cab with a clutter of balloon in front of her. Sure enough, after that, she appeared in a gorgeous gown, letting the man know he is the happiest man today, and afterward.
The idea: It doesn't have to be balloons. You can alter to your creativeness, such as dressing as a mascot. The point is to addle the man then surprise him later.
2. One door to the future
Inspired by The Shire in Lord of the Rings, Sarah and Eliot decided to make their first look in a rustic landscape, and of course, through a door.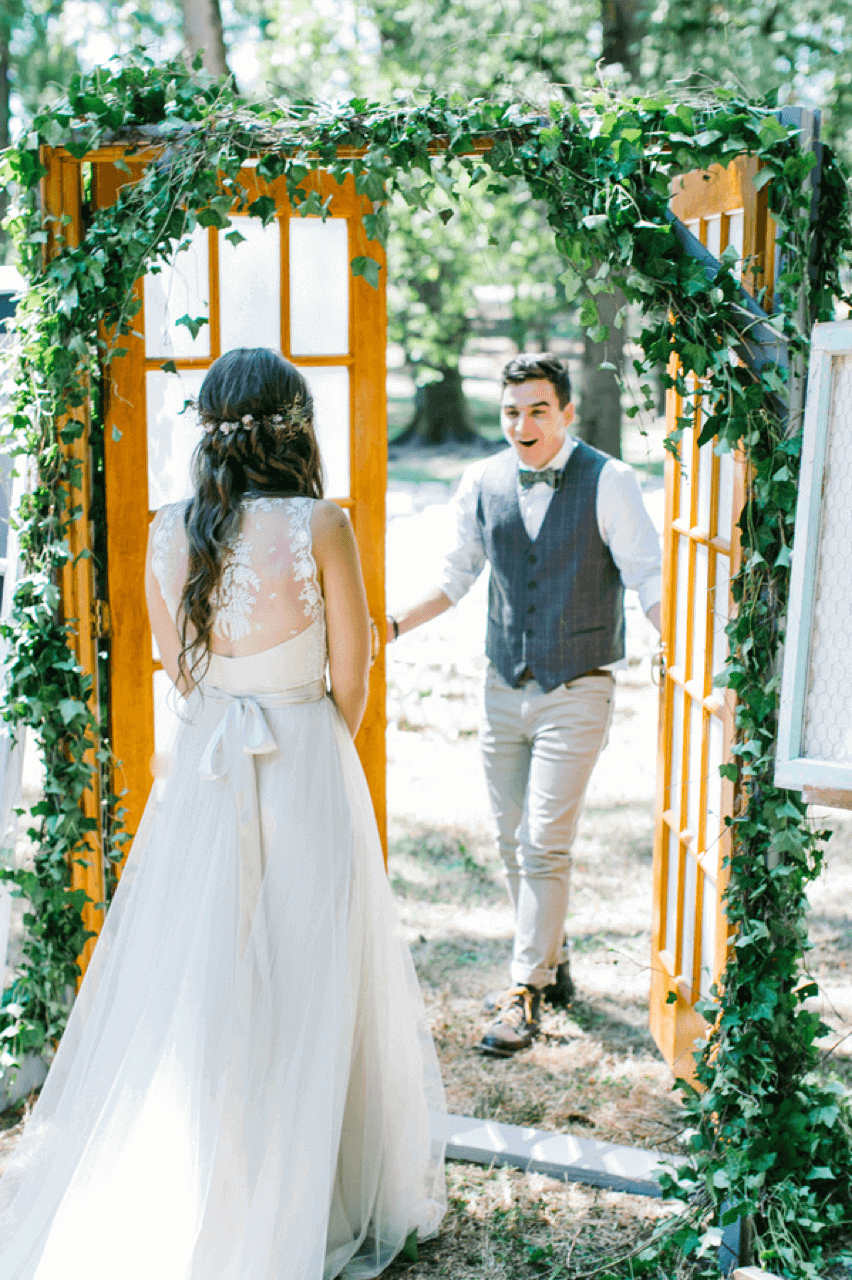 This homemade ceremony went through a bunch of DIY projects from the doors, invitations, table elements, flags, signs, etc. The couple aimed to set the venue to entertain their guests in nature with their Northwest style and playful hearts.
The idea: Though you know who is on the other side, seeing that significant one in the prettiest state and happiest smile is the most sincere and vibrant pleasure.
3. A touching song
The wedding is just the right time to brag your sweet voice. And if you have seen the viral clip of a bride singing "Every time we touch" at her wedding, you probably want to do the same thing.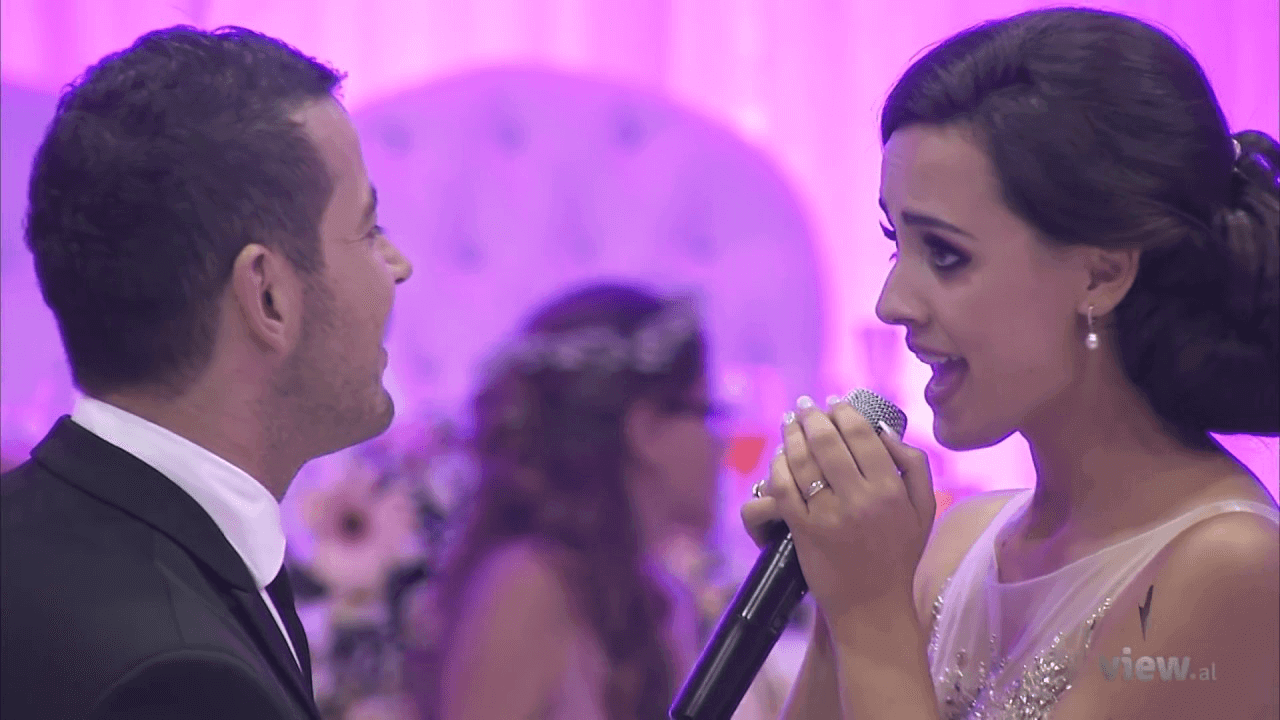 Showing up in low light in the gorgeous gown singing your heart out will be the most beautiful scene you partner will have seen.
The idea: You can turn any love song into your sweetest version. And try to appear from an unexpected location where you will slowly reveal the whole show.
4. Back to back
For Kasey and Tamir, their first look should happen in a vintage room, where they are right next to each other but posing back to back. If you think the virtual world is in front of them at that moment, you're wrong. The world only appears when they turn around.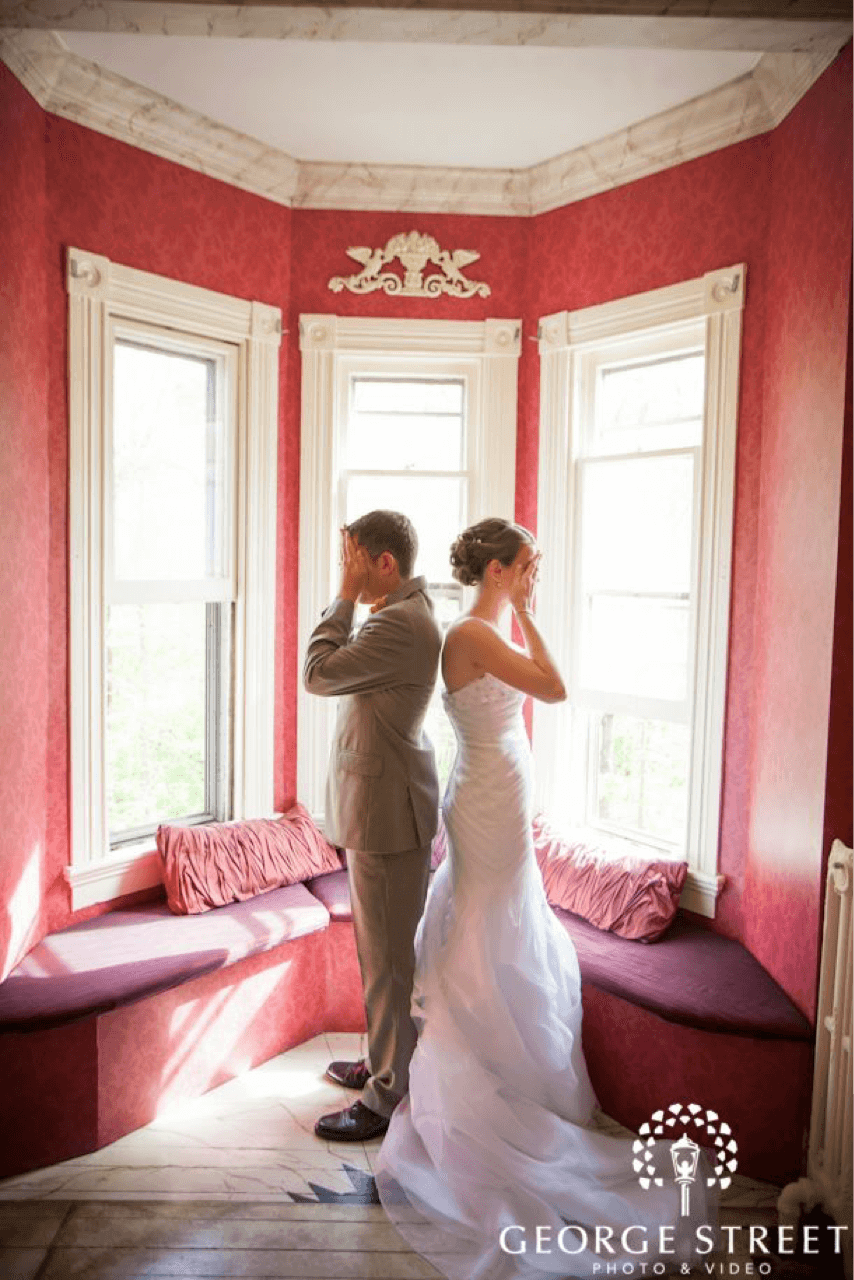 The idea: This simple pose means a lot of things when you open your eyes and see your own world embracing the look, so bright and beautiful. It can be conducted in any place, as long as you don't sneak before it happens.
5. Staircase descent
To get ready for the big day, Elizabeth and Scott picked a romantic theme mixed in flourish blooms and decor.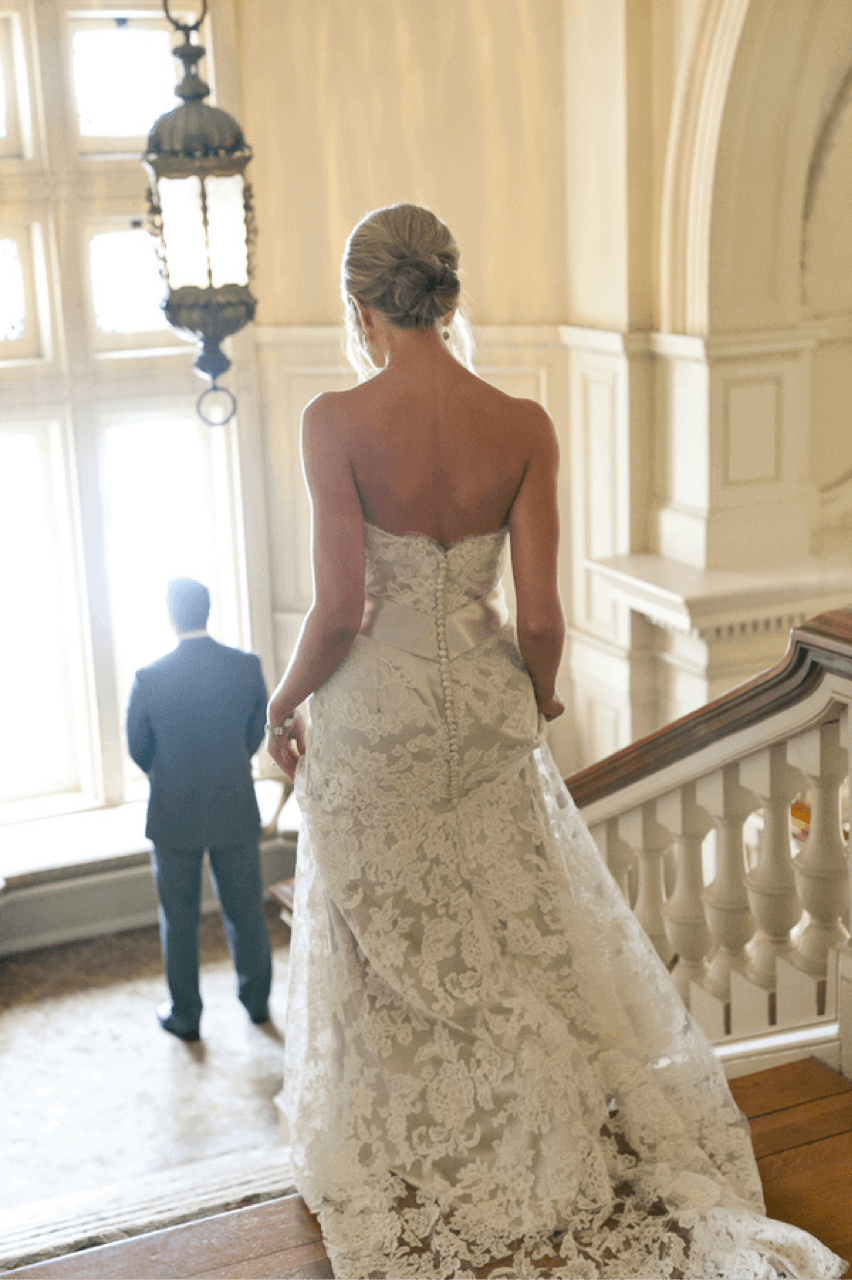 And while the groom's heart was beating hard for the moment, his bride was walking down the stairs, getting ready to be his forever. At that time for Scott, the world seemed to stop spinning, but only his whole new world was moving toward and bringing all the happiness he needed.
The idea: It's hard not to turn around to see the most beautiful person of your life descending to you. To get the high flutter of the emotion, choose a tall enough stairway.
6. A blind meet
The idea of a blindfold first look is not new, but the feeling of Garrett for Raquel was absolutely the freshest.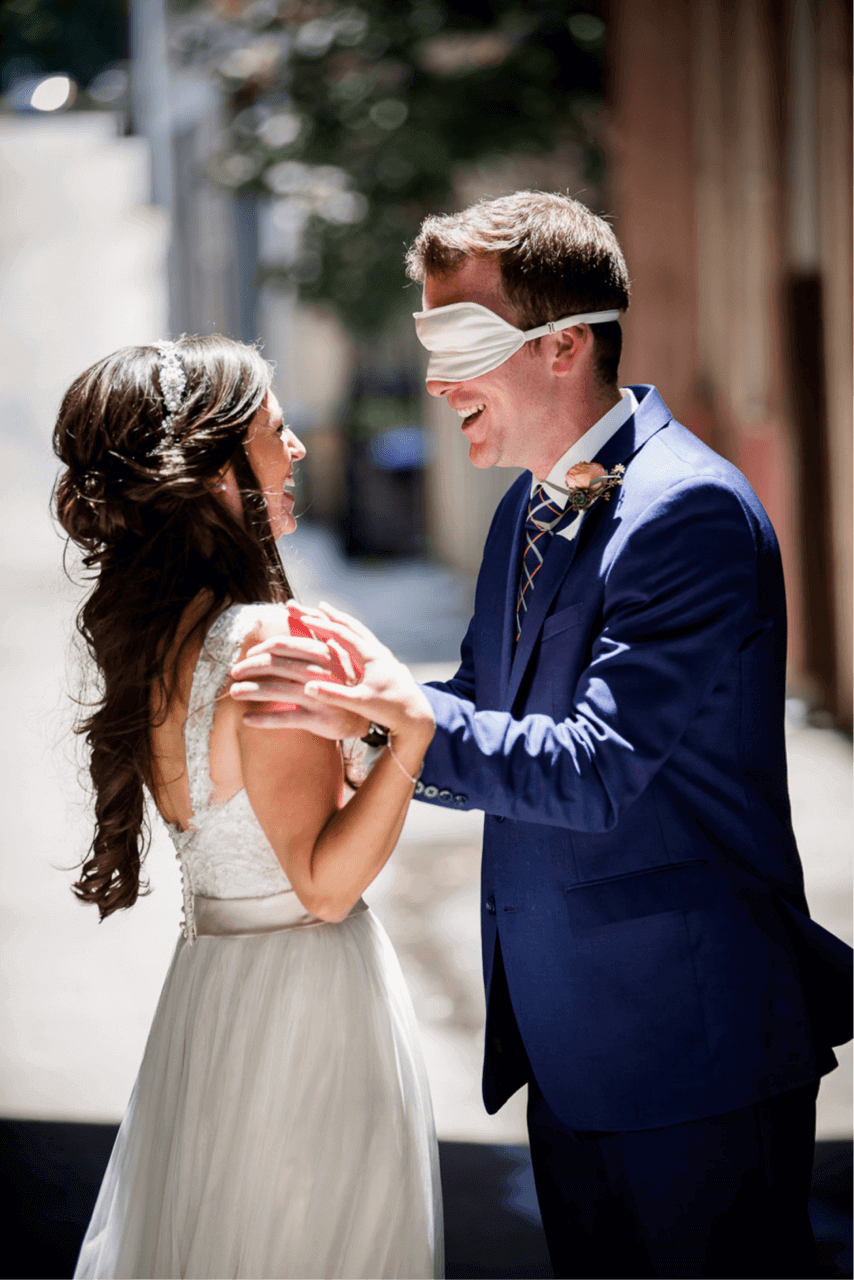 He had an eye mask on the whole time and decided not to see but touching and hearing his wife first. The last sense he used gave him the greatest moment of his life.
The idea: Looking doesn't have to be the first sense the bride needs to trigger. You can have the groom's eyes covered and unveiled as long as you want. Even, you can add more chemistries by giving him a kiss and opening the mask for him.
7. Walk down the hallway
If stairs sound unsafe for you, a long hallway can also make stomach-churning anticipation. That was how Raja saw his bride for the first time.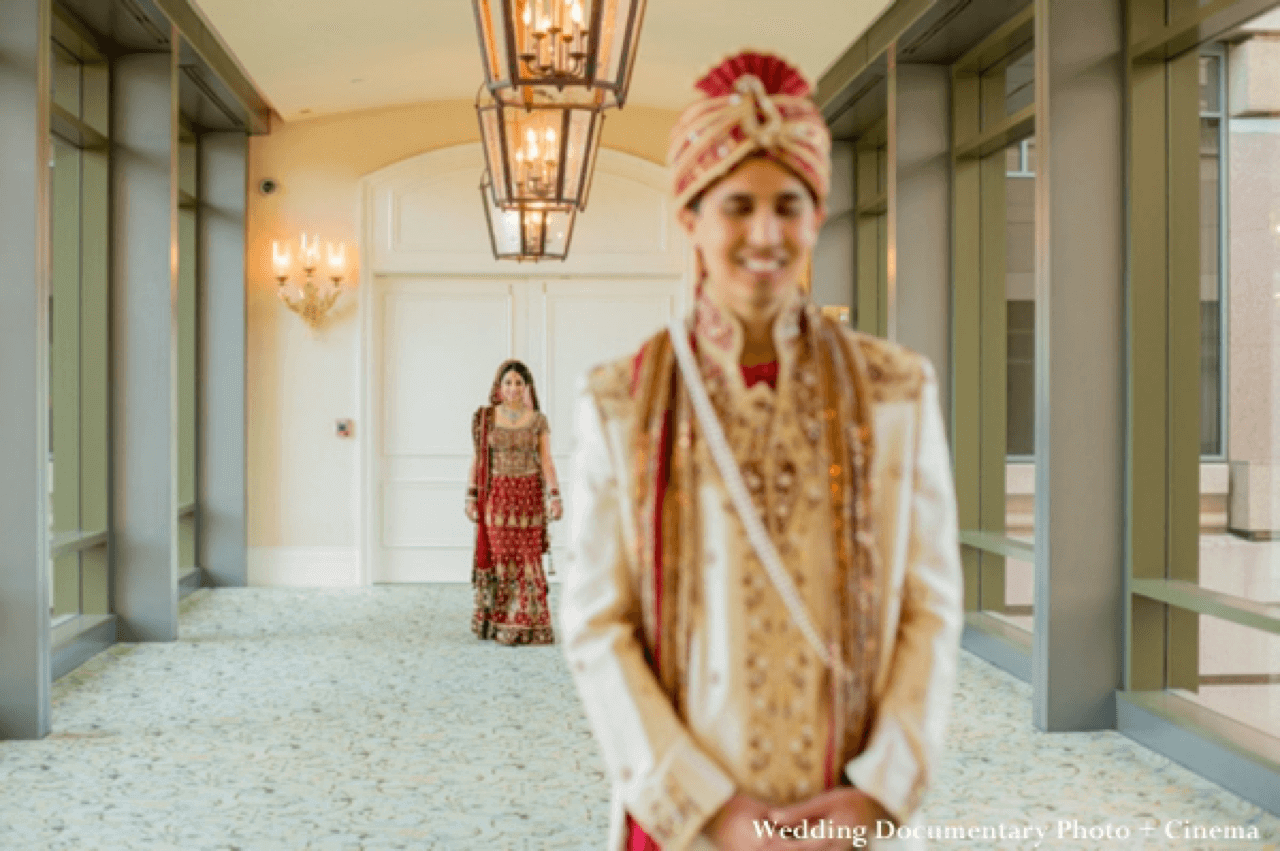 It was like a dream being more true after every step of the bride. When his whole life was right behind, all he had to do was opening his eyes and receiving the most precious gift God had given.
The idea: A long hallway lets you hear the sound of every step forward. When your bride is close, you know something big is going to happen and can't wait to see it. Bride! Make your steps sound.
8. The vows
No mask, no steps, no stairs, no doors. It's just you and your spouse standing back-to-back, saying the words of your heart.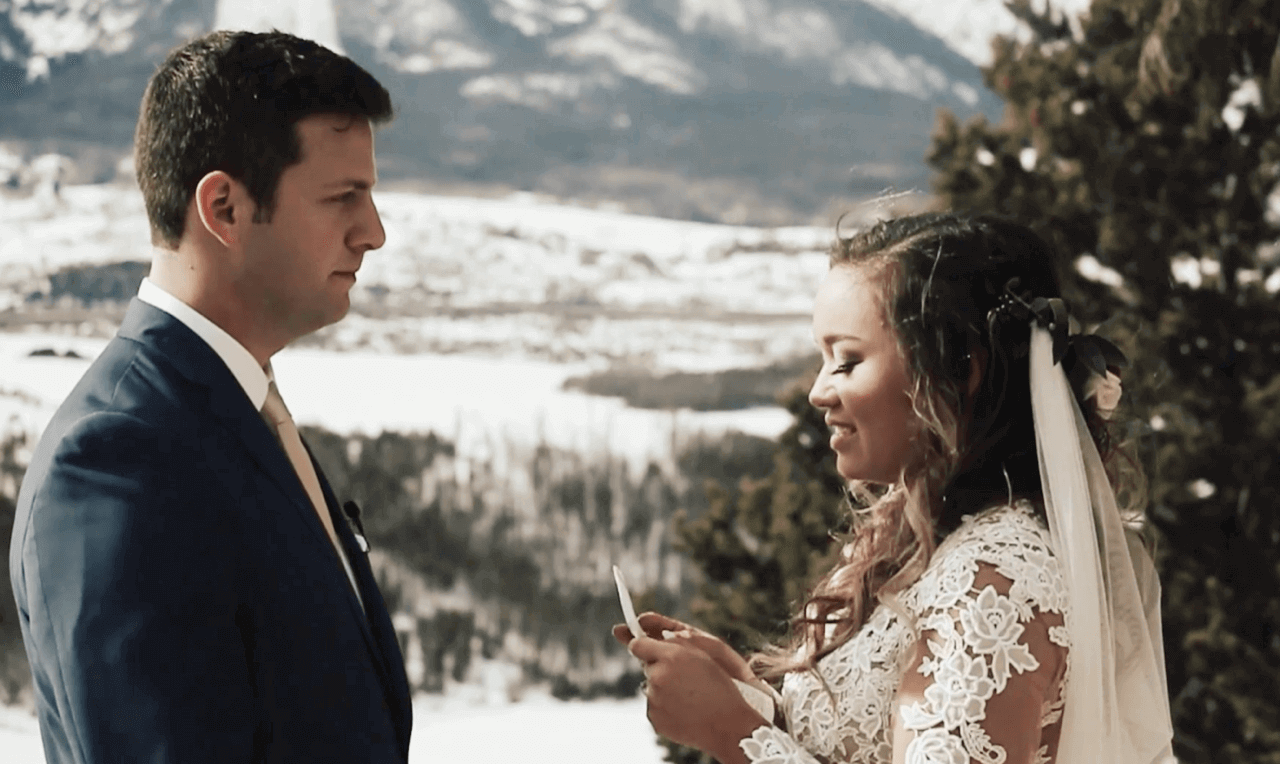 Ryan and Jenna had some standoff minutes listening to each other and broke into tears when they knew how much they were meant to be.
The idea: Prepare yourself a personal vow and be sincere when writing it. It's best to pour your heart in and say the most beautiful words you want your life partner to listen to.
In conclusion
With any way you choose to do the first look, it has to be special and meaningful. Hopefully, you have found some inspirations out of the ideas above.
To make your first look unique, you can spice up with your own creativeness. Whatever comes to the first glances, make it a lingering and happy time.
References:
real-wedding-vanessa-atiq
/
earthy-pacific-northwest-wedding
/
photo-of-the-day-kasey-tamir
/
pink-cream-outdoor-estate-wedding