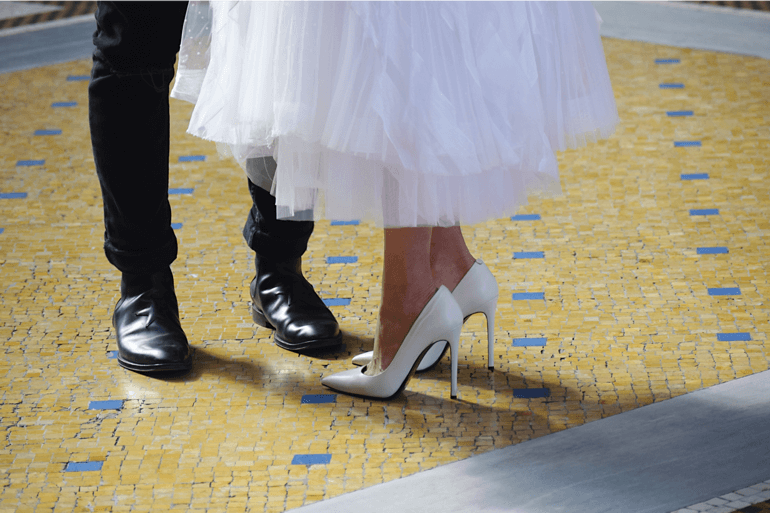 Remember that Cinderella story where the princess finds her true price when she drops the shoes? Your wedding shoes can also make you a real modern princess as you walk down the aisle to your own prince charming. Good shoes take you to good places. Your wedding shoes will be your best friends on the big day. They will make sure you stay comfortable and shine bright in your wedding outfit. It takes time to find your favorite pairs. That's why we build this collection of the 20 amazing wedding shoes that you can't miss out.
The iconic pumps
Pumps are among the most popular choices for brides when it comes to wedding shoes. They represent classic and timeless beauty, which goes well with most wedding dresses. There are various options from the all-white satin one to a little tweak with ornaments and bow. You should opt for a reasonable height to save your toes from pain for the whole day.
The sandals
Are you looking for more than the traditional pumps? It's time to go with the sandals on your wedding day. Not limited to classic designs, the sandal has more unique styles for you to experiment. They also give you the opportunity to show off your sophisticated nails, one you have spent a good effort on during your beauty schedule. Here are our favorite bridal sandals.
Kitten heels for the dance
Not as high as the traditional pumps, the kitten heels are an optimal option for brides who like the shape of pumps but can't go with the crazy high heels. They also fit the reception and dance floor, where you are expected to move around a lot.
Go easy with wedge
There is no surprise that wedges win the heart of many brides. It is much more practical and stable to walk on, especially on such a long day as the wedding day. At the same time, it provides the height, the move and the little tweaks needed to make the outfit more interesting.
Comfortable flats
There are many reasons why you should think about wearing a pair of flats on your wedding day such as you don't want to show too much of the height differences or your reception/ ceremony is hosted on special surfaces (beach front or grass field)... At the same time, flats are very easy to walk on for a long day. It is the safe option for pregnant brides. These are our suggestions for a pair of flats on your wedding day.
Be different with sneakers
A sporty and athletic bride doesn't need to compromise on her wedding day. You can choose to wear sneakers with your wedding dress. It is for sure comfortable and also a smart way to mix & match with your best friends in such a special time. There is a wide range of options from the most basic sneaker to the customizable one for you to choose from.