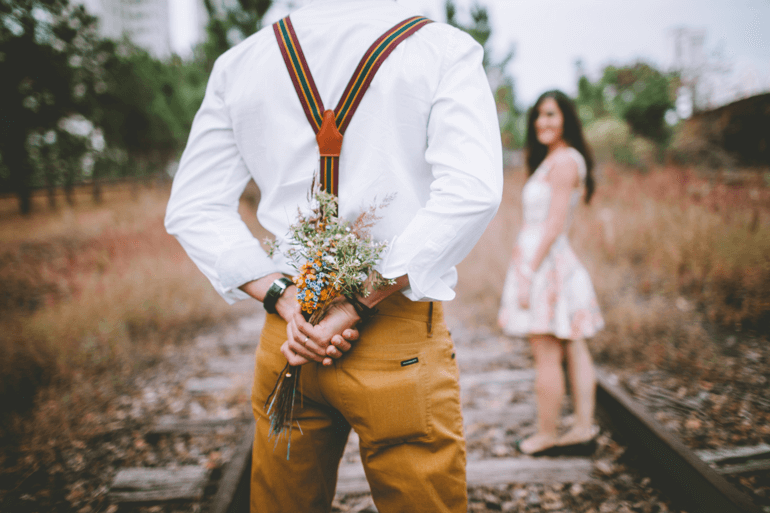 If you are looking for a memorable proposal location, Vietnam has a lot to offer. There are various options that can fit different proposal ideas for you to choose. We have picked the best 10 destinations for your consideration.
If you prefer the chic style in the city 
Metropolitan scene provides inspiration for your proposal. What can be better than asking for her hand while looking at the skyline and the city light? A proposal in a big city can happen in restaurants, rooftop bars or even in a small secret corner. You can be extravagant and throw a big party or keep it private and small with only her. There are various proposal themes that you can go with.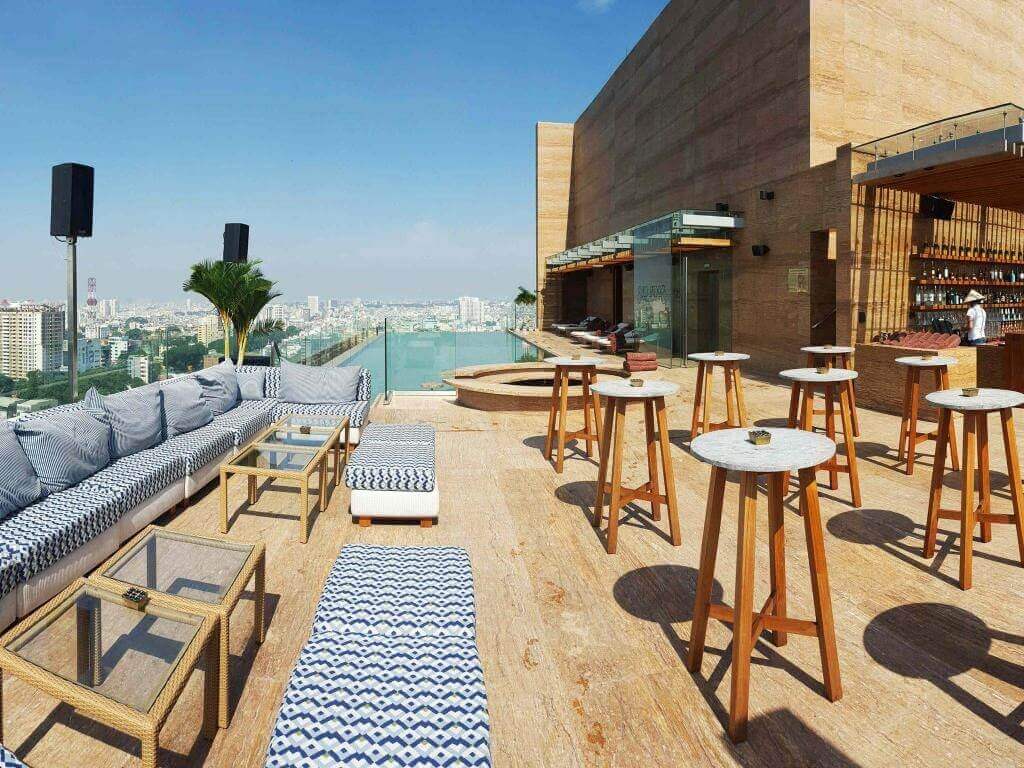 Hanoi
The interesting part of Hanoi is its mixture of old and new. You can easily find highrise buildings overlooking the city view while there are also French colonial design villas with hundred years of age. Whether she likes antique or modern, the city can offer them all. Some locations to consider are West Lake, the French villas near Old quarter or Long Bien bridge. 
Da Nang
The city in Central Vietnam has an unique combination of the bustling city life and the ocean view. It can add color to your proposal. Where to propose? You can choose from the beachfront resorts, rooftop bars with ocean view, Ba Na hills with mountain scenery. How about creating a memorable proposal with her right on the Sun Wheel, one of the highest ferris wheels in the world? 
Ho Chi Minh City
This city provides many choices for your proposal idea. The economic hub of Vietnam has a good mix of culture and services. You can find a beautiful skyline, sophisticated rooftop bar and restaurants for your proposal location. The signature part of this city is Saigon River. You can try to get a private yacht and pop the question right on the water. That romantic scene is hard to resist. 
For a more quiet view
In case your theme is cozy and intimate, there are more quiet destinations for you to think about. These options are particularly suitable if you want to keep your proposal private between you two. You can choose both mountain areas and quiet old towns for this.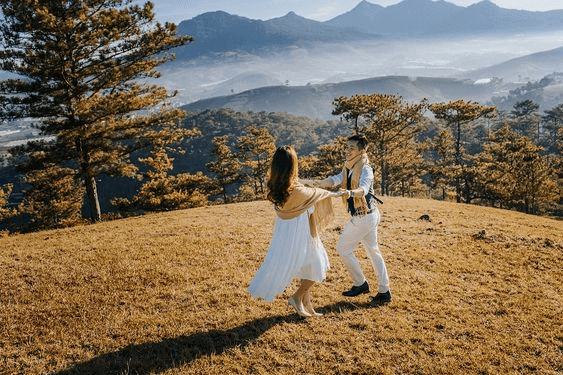 Sapa
Sapa gives you a breathtaking background for a proposal. This location is famous for its mountain view, rice fields and minority culture. When the weather is good, you can go on trekking to the village or take her for a drive to the rice field. They will give you a perfect moment to ask for her hand. Sapa is also home for Fansipan, the highest mountain in Indochina. You can enjoy the spectacular view from the top in your proposal. 
Hội An
Located in Central Vietnam, Hoi An ancient town has a peaceful and relaxing feeling. You can propose in a restaurant near the river or while walking on the small streets here. If you can wait until all the lanterns are lit up, it will become an unforgettable moment of your life. There are a good number of hidden garden restaurants in Hoi An's small alleys where you can spend time with her without being disturbed by the tourist crowd.  
Đà Lạt
The famous highland has ideal temperature all year round. You can choose to wake up early and see the sunrise from top of the hills or walk around in the pine forest here. If you are an evening person, a romantic dinner in the old villas in Da Lat can be your good bet. Tuyen Lam Lake,  a waterfront not too far from downtown, can also be your location to propose to her. Known as the "city of love", Da Lat will guarantee the romantic moments for you to ask your important question. 
Beach proposal
Many couples love the beach. Who can say No when standing next to the gorgeous view of the ocean and the palm trees? The beach is also a common holiday location, which can be used as your perfect cover for the secret proposal. You will be able to choose the best time to propose, surprise her and capture her heart.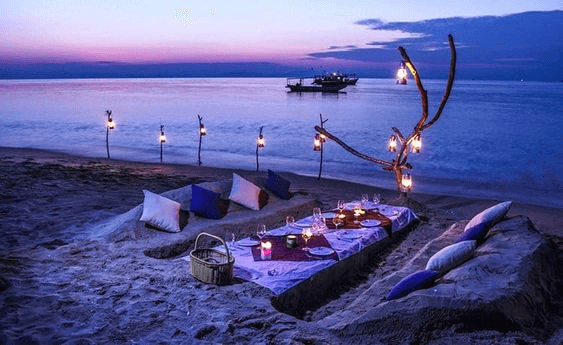 Nha Trang
Nha Trang has the amazing ocean in Vietnam. You can go with either the white-sand beach in the city or travelling a bit further to see the astonishing view of Ninh Van Bay. It will be hard to resist kneeling down on sand next to the beautiful blue ocean. She will definitely be touched. Nha Trang also has a very developed service industry that you can utilize to set up your proposal.
Phú Quốc
When in Phu Quoc, sunset is your best friend. You can plan for a romantic proposal under the sunset view of the island. There are many locations to observe this spectacular scene such as Intercontinental or Chuon Chuon bar. You can also pop a champagne bottle to set the mood and ask her the question right on the beachfront.
Options for adventurous couples
How about going on an adventure? If you are bonding over trekking and hiking, Let nature be your supporter. There are many locations in Vietnam where you can go on a hike with her to admire the beauty of mother nature and propose to her right when she is not prepared for it. The only inconvenience is you have to take good care of your precious ring the whole time. However, it will be totally worth it.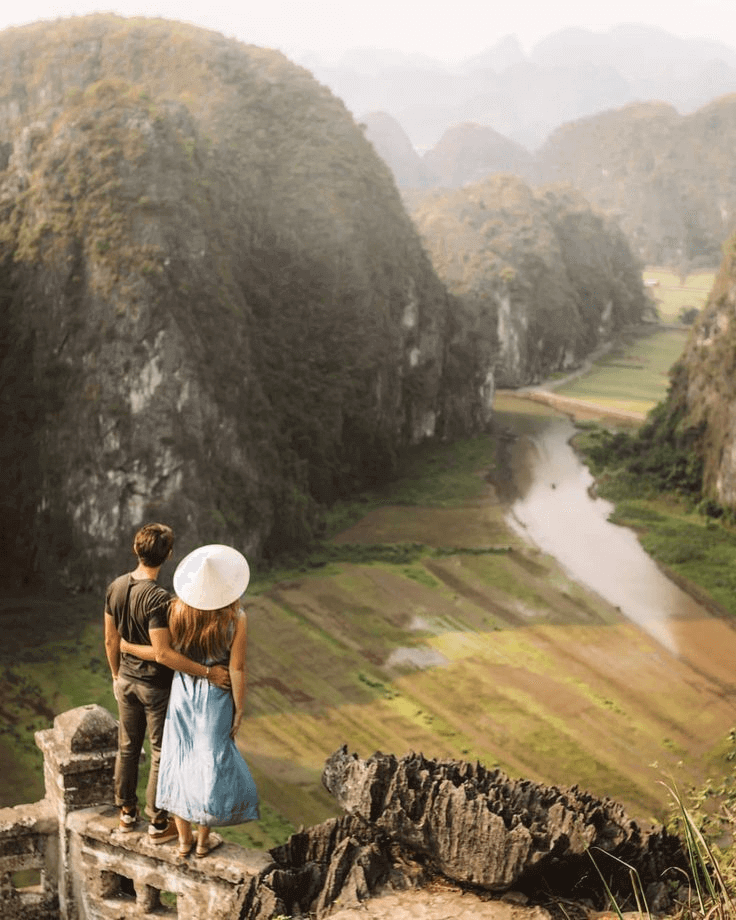 Ninh Bình
This place is a good combination of nature and human activities. In September, you will be able to travel between the rice field by small boat while admiring the mountain scene. Ninh Binh is fairly developed so that you don't have to worry about a heavy trip. Trang An and Mua Cave can be ideal locations for your proposal. Trang An has an unique water scene while Mua Cave is relatively high so that you can have an overview of the surrounding area.
Quảng Bình
Quang Binh is the home of the most untouched scenes in the world such as Phong Nha - Ke Bang, En Cave, Son Doong, etc… It never fails to impress with its beauty and rawness. This is a good location for you to consider if she is an active and adventurous lady. What can be better than hearing her say "Yes" after a long journey to nature.