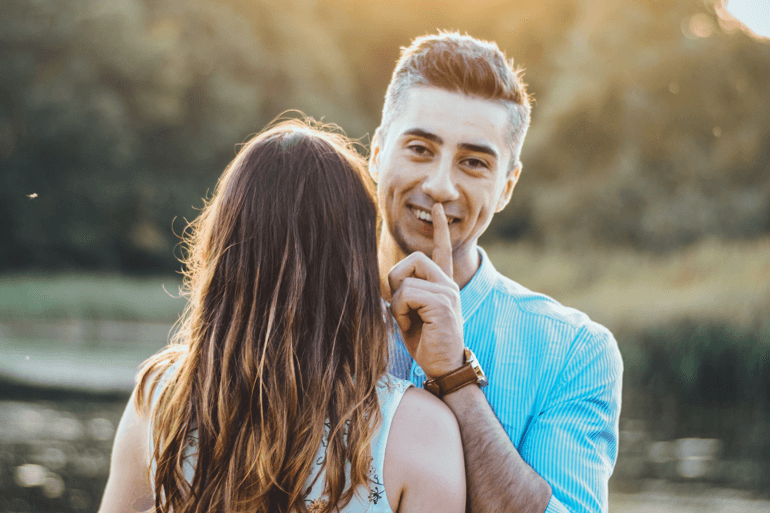 You might have learned the wisdom about the right moment. If you have already found the one, asking for her hand at the right time is a key to move to the next stage in life together. Or sometimes you wonder if you're ready for that moment? We will help you think through it and plan for your proposal.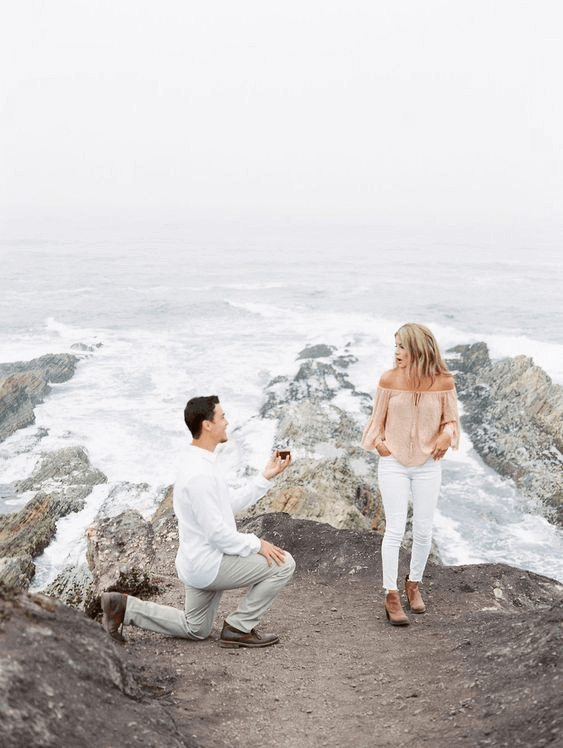 When is the good time to propose?
First, you should feel ready to propose to your partner. A proposal is the start of a life-long commitment between you and her. You should only proceed as you feel both mentally and financially comfortable to make that promise. How to be sure that you both are ready for it? There are some signals that can help you identify the right moment to ask. Paying attention to them will help you identify your timing.
Be on the same page
Let's reflect on your conversations. Do you share the same relationship goals and/ or the view of your future? While many women can't wait to fall in love and have a family, others might enjoy a co-habitat situation without any commitment. Regardless of how much you want to keep your proposal a secret, you should know if she ever wants to get married or not as well. Find an opportunity to learn her opinions about this topic by telling her related stories. Instead of asking directly, you can talk to her close friends and families as well. They can be your source of information on how and when to propose.  
Consider your current life status
A proposal is just the start of your long journey together. Normally, a wedding will come after 1-1.5 years from the proposal. And you will start living as husband and wife after that. You should look at your life status and see if you can spend your time and resources on a permanent life with your significant other or not. It includes financial situation, family obligations, career stage, etc... If you still have other responsibilities or are not ready to embrace that adventure, you might want to put a break on the proposal idea. For example: if you are in medical school and just matched with a hospital, the next 2 years in residency might not be the best time for marriage. You should discuss this topic openly with your significant other to manage their expectations as well.
Get the engagement ring
The proposal wouldn't be the same if you don't have your engagement ring ready. As you move toward proposing to your significant other, you should count in the time needed to get the ring. Would you use a special ring from your family or make a purchase? No matter which one, picking the best ring that fits her style is not an easy task. You might need to spend countless time researching jewelry stores online, visiting the boutique and placing the order. I know it sounds complicated, but I sincerely suggest you don't rush into the proposal if the ring is not ready.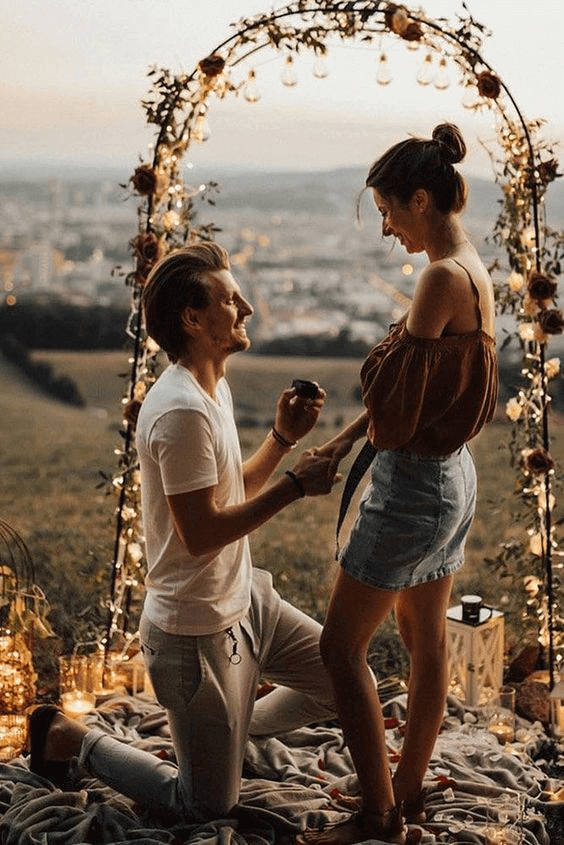 Best locations to propose
As you have got things sorted out, it comes the important moment. Wondering how to pick the best location to ask for her hands? These are some suggested location ideas for you to create your memorable moment.
Home
Home should not be equalized as boring. You can use your creativity to decorate the house, add some romantic touches and wow her with your proposal. This is a good location for a proposal as she might let her guard down and let you surprise her with a nice setup. As you get ready for your proposal, having a familiar location will be useful since you know all the corners and can be prepared for unexpected events. In addition, a proposal at where you will be living together shows your serious commitment to bring the relationship to the next level. You can make the promise of a warm, cozy and full of memories place to live in and build your family. 
A place that has special meaning
It can be your first date location, where you first met or first trip together. These locations always bring up good memories and contribute to the success of your proposal. As you are getting ready for your proposal, you can take those locations into consideration. It proves to your partner that you are paying attention to details and care about their emotions. What can be better than adding more good memories to the location that has been full of happiness? You will have a good chance to reflect on how your relationship has evolved beforing moving to the next chapter.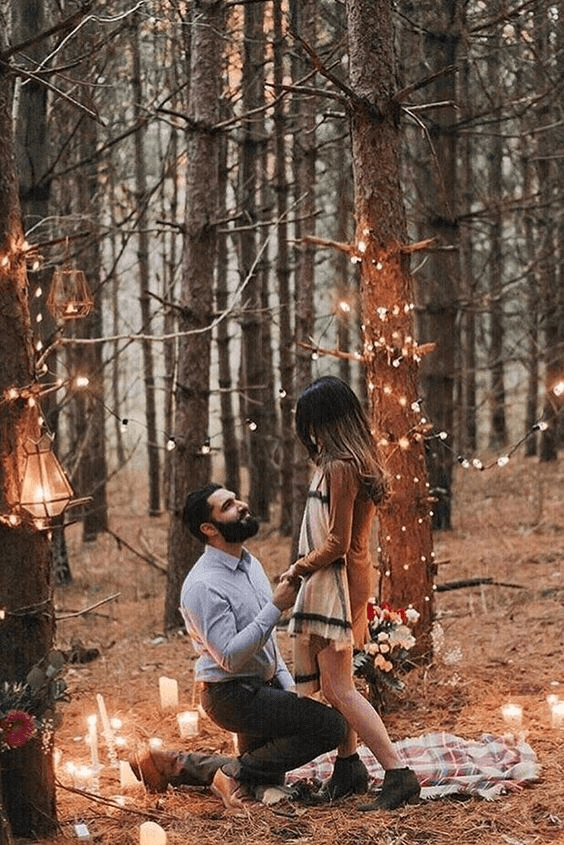 Family activities
This can be slightly risky but if it works out, the occasion will be memorable. You can choose a time where both of you are surrounded by family members of either side such as family gathering or a trip to propose to her. If you choose her family, it will show the big commitment that you're making to her while your family will give you the moral support as you go down on one knee. No matter which side it is, proposing in front of families is a significant promise for the future. This situation is particularly suitable for those who are close to his/ her family. However, you should give the family members, especially the parents, a head up before planning the action so that the elders feel respected. On the other hand, having family members in the proposal might put pressure on both of you to perform well.
Romantic date
The best background for a surprise proposal would be a romantic date. It can be either on a trip together or simply an eat-out dinner. You can plan everything to make her happy during that day before you ask her the big question. Some people choose to do romantic proposals on the beach while others prefer the adventurous style of hiking to a mountain top. The key is creating a good atmosphere around and waiting for the right moment during the date. That will add to your chance of getting her "Yes!".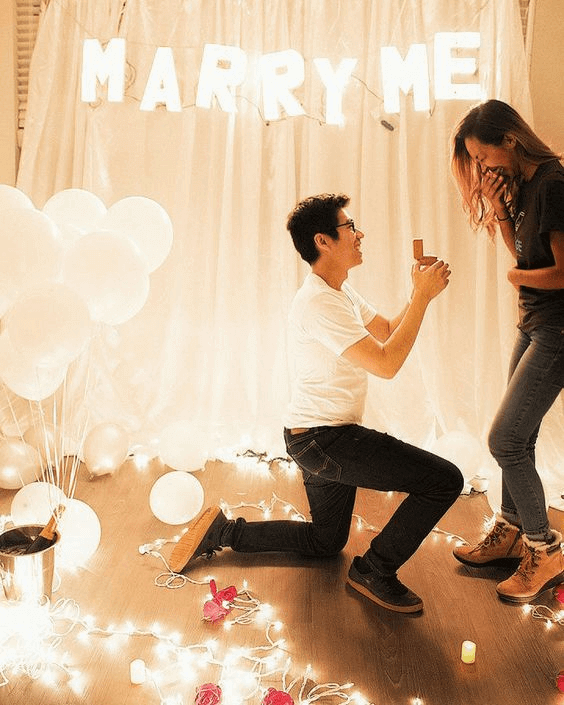 While there can be many suggestions, there is no one size fits all when it comes to the proposal. Once you have defined that is what you want to do, you should take into consideration your partner's expectation when you plan for that moment. An understanding partner will always be able to find the best way to ask for her hand.