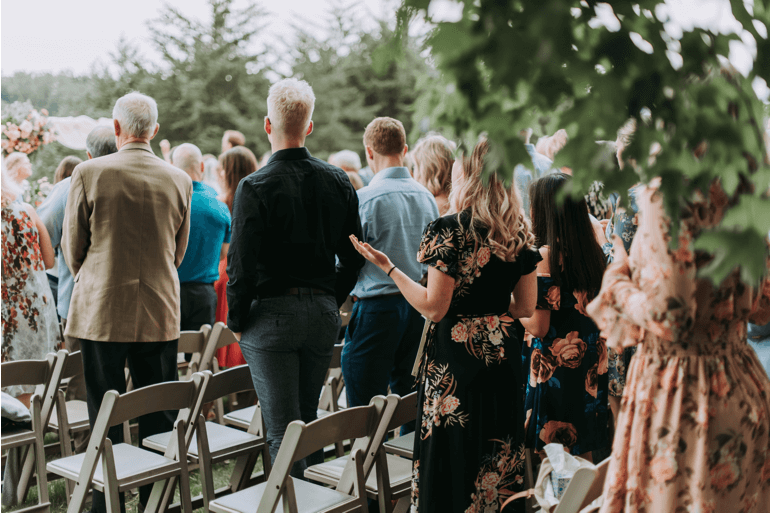 Do you find yourself struggling on what to wear when you attend a wedding? You are not alone. Being a wedding guest is not as simple as just joining the event. You should show your personal style while staying humble in this special event. What are the appropriate outfits for a traditional wedding? We have the answers for you in this article.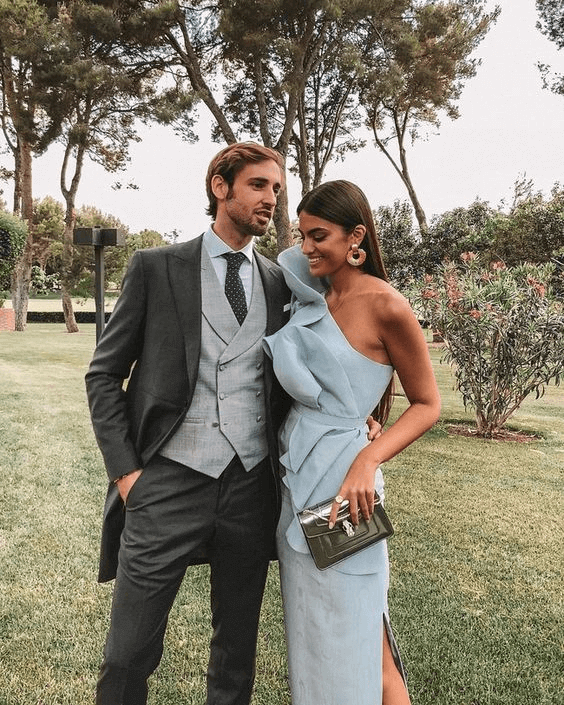 General rules to follow
There are 5 main rules that you should consider when choosing your outfit as the wedding guests. In summary, you should dress to impress but your outfit should fit the occasion. 
Follow the dress code
If the wedding invitation that you received includes a dress code, you can simply follow that guideline. Weddings in Vietnam normally don't have a dress code like the Western one but it is changing gradually. Couples nowadays invest more on their wedding with a clear theme and style that they want their guests to follow. Sometimes, it is also related to their beliefs on good and bad colors as well. As a result, you should respect their wishes and follow the wedding dress code. If you are not sure, you can check with the couple before the wedding date to learn their preference. 
Don't steal the show
Please keep in mind that the couples should get all the attention on their wedding day. You should try to be considerate and not compete with the bride and groom by being well-dressed but not overdress. Men should refrain from wearing a full 3-piece suit and a tuxedo unless requested. For ladies, it would be nice if you don't wear a full ball gown dress. Don't wear white or ivory since it can match the bride's dress. In general, people also advise avoiding all-black outfits for weddings in Vietnam since that color is normally used in funerals.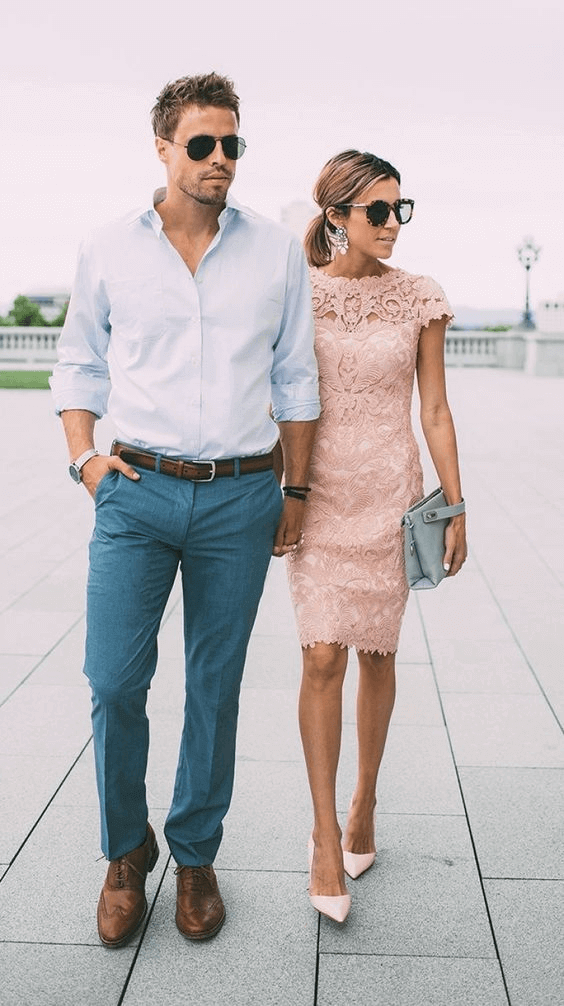 Consider the timing
Most couples try to have weddings on weekends so that guests don't have to rush in and out of the wedding. That also means you are expected to dress a bit fancier as you have time to prepare for your wedding outfits. If you are going to a wedding on a weekday, it can be challenging since you might need to go directly from work. The advice here is to have a nicer but formal outfit such as dresses for women and shirt and dress pants for men. You should try not to wear an office uniform to a wedding since it can be boring. In case your job requires a uniform, it can be a good idea to switch clothes before attending the wedding. Wedding guests tend to dress nicer for evening events than weddings at lunch. The reason might come from the fact that a lunch wedding is known to be a quicker check than the evening ones is a real festival. 
Fit the location
Traditional weddings normally take place in two locations: a wedding venue ballroom or the private residence. Understanding the location will help you not only prepare the red envelope but also pick your outfit. If the wedding is at a private residence, it is ok to have more casual outfits. On the other hand, the more formal the wedding venue is, the fancier your clothes should match. In case it is a restaurant or professional wedding venue, you can go with a smart casual outfit. Semi-formal is a good pick for those happening in big hotels in the city. 
Pay attention to the weather
Match your outfits with the season. You should think about whether it will rain or shine to choose what you will wear. It is inconvenient for both you and the host if you picked a long dress and got into a rain on the way. Seasonal factors also impact your outfit choice. If you are attending a wedding in winter, see-through outfits might not be your best option. 
Our recommendations for your outfits
Are you still wondering what to wear as a wedding guest? We have some recommendations for you that fit multiple wedding styles. Let's have a look.  
For the ladies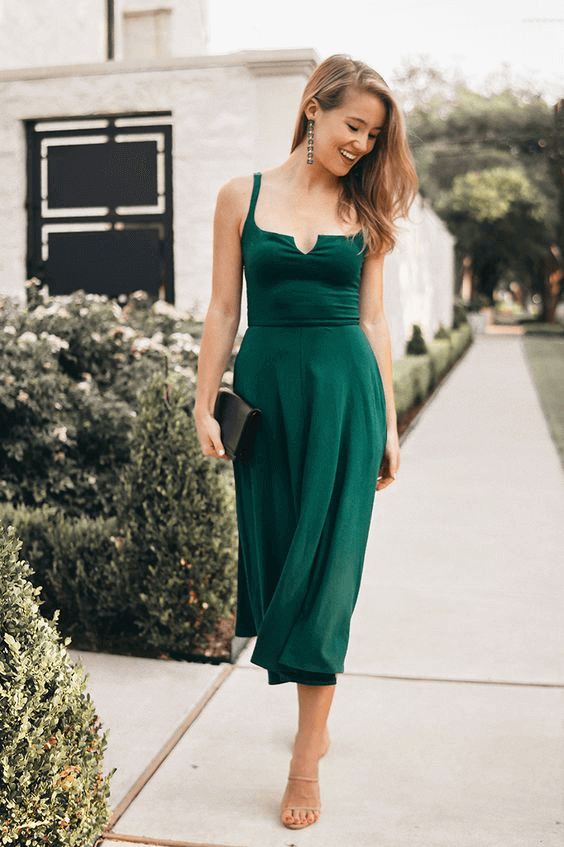 Ao dai: The traditional outfit is making its comeback in recent years. It is no longer viewed as a complicated and for-the-old choice. In fact, the younger generation is embracing this trend and wearing Ao dai to the wedding. It fits both the formal and casual occasion. One tip: you should avoid wearing plain Ao dai. Instead, the modernized one with interesting patterns and color mix match will help you show off your taste. Here are some good locations to buy modernized Ao dai:
Dress: A dress is always a safe choice for all ladies. Instead of staying safe in the casual dress, you can try out a more glamorous and feminine style when you go to the wedding. A dress is easy to mix with multiple accessories and bags to have your complete look. A few shopping options for your consideration:
A nice shirt and pant suits: If you have a stronger character or are simply bored of the safe dress, how about wearing a shirt and pant suits. Menswear won't fail to impress. A good color combination can help you stand out as well. You recommended stores:  
For the gentlemen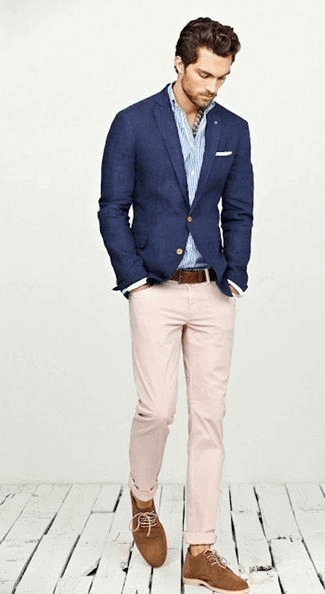 A suit: Suits are suitable for more formal occasions such as those at hotels and ballrooms weddings. To avoid matching with the groom, you can skip your tie and have a more casual shirt. A pair of dress shoes and potentially a fun pocket square will help you complete the look. 
Jacket and chinos: Instead of the full suit, jacket and chinos give you a smart casual look for any wedding. Choosing chinos over dress pants make you look younger and have more style. Oxford shoes can be your choice to complete the outfit. 
Polo: You can go to weddings in restaurants or private residences with this casual outfit. A combination of polos and chinos bring  out a sporty look. You should try not to avoid jeans and sneakers as it is too casual for formal events like weddings. A pair of loafer or slip on shoes will add to the full look as well.
If you are looking for shops to buy the items above, please check out:
We hope you find your comfortable outfit to attend the wedding. Want to share your thoughts with us? Feel free to comment below.