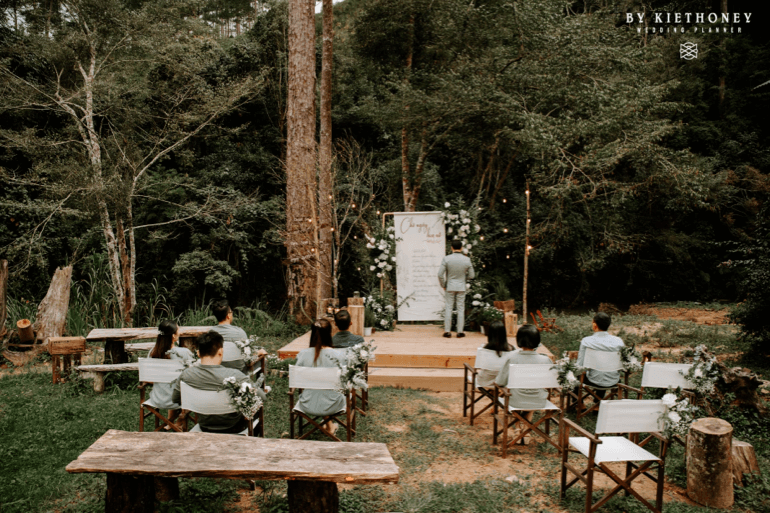 Wedding Plan
Can I Have A Wedding During COVID-19? | 2 Main Directions
What can stop marriage? Could it be the COVID-19 that harms billions of people on our globe? 
On the 3rd of June, 2021, the COVID-19 cases reached a terrifying number of 172 Million. The Vietnamese government strongly encourages everyone to perform social distancing and careful sanitization. Because of that, crowded events such as weddings and engagements are a far-fetched wish that is difficult to happen during this period.
There are the two most popular decisions made by brides around the world in the COVID-19 season: microwedding and wedding postponement. Let's jump in to see how your choice is through the information suggested by Getweady!
What is Microweddings? Why is it an option?
Microwedding is the term for intimate, private wedding parties which consist of less than 50 guests, with simplifying procedures to let guests have more time to share happiness with the bride and groom. Many weddings have even fewer attendees, especially when the COVID situation is still sensitive. However, don't assume safety as a fun-killer. Let Getweady suggest to you how to organize an ideal and memorable microwedding party.
How to hold a microwedding: 
1. Choose the location: keep it outdoor
There are many forms of intimate wedding you can refer to : buffet on the beach, BBQ outside, private party in a cozy restaurant, coffee shop, or a bar...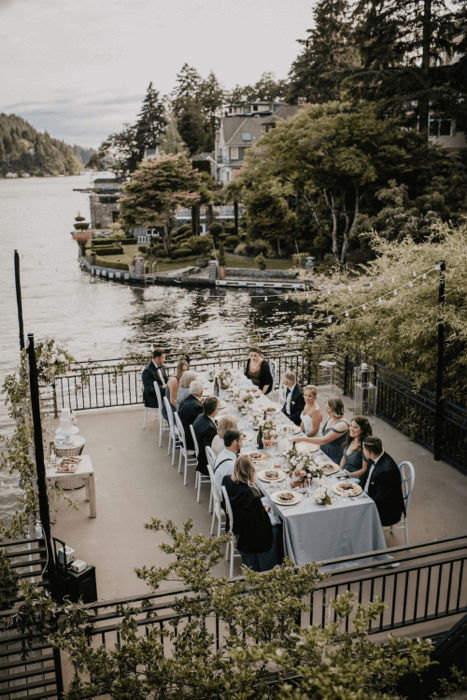 Nowadays, many restaurants, bars, and cafes accept this type of wedding at a very affordable price compared to a professional wedding restaurant. With a cozy decorated private space, the bride and groom can order food at the restaurant to their liking. We have some recommendations for you to hold your elegant wedding in Ho Chi Minh city, and Hanoi too. We have some refer microweddings for you to take as inspiration. 
Actress Elizabeth Lail and Nieku Manshadi
Planning the wedding with COVID-19 in mind, Elizabeth Lail and Nieku Manshadi decided to hold a private wedding in their backyard, with only the attendees on the same property.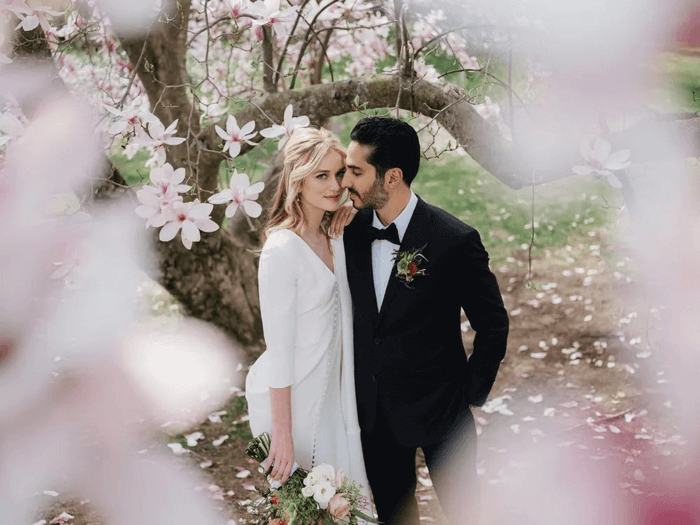 The majority of their decoration was what they have in the backyard. The trees, flowers, grass seemed to blend well together in the atmosphere of this timeless ceremony.
The actress also sketched her dream dress with the help of designer Andrea Hawkes via Zoom. Elizabeth chose a simple and comfortable white dress, which was convenient for outdoor movements.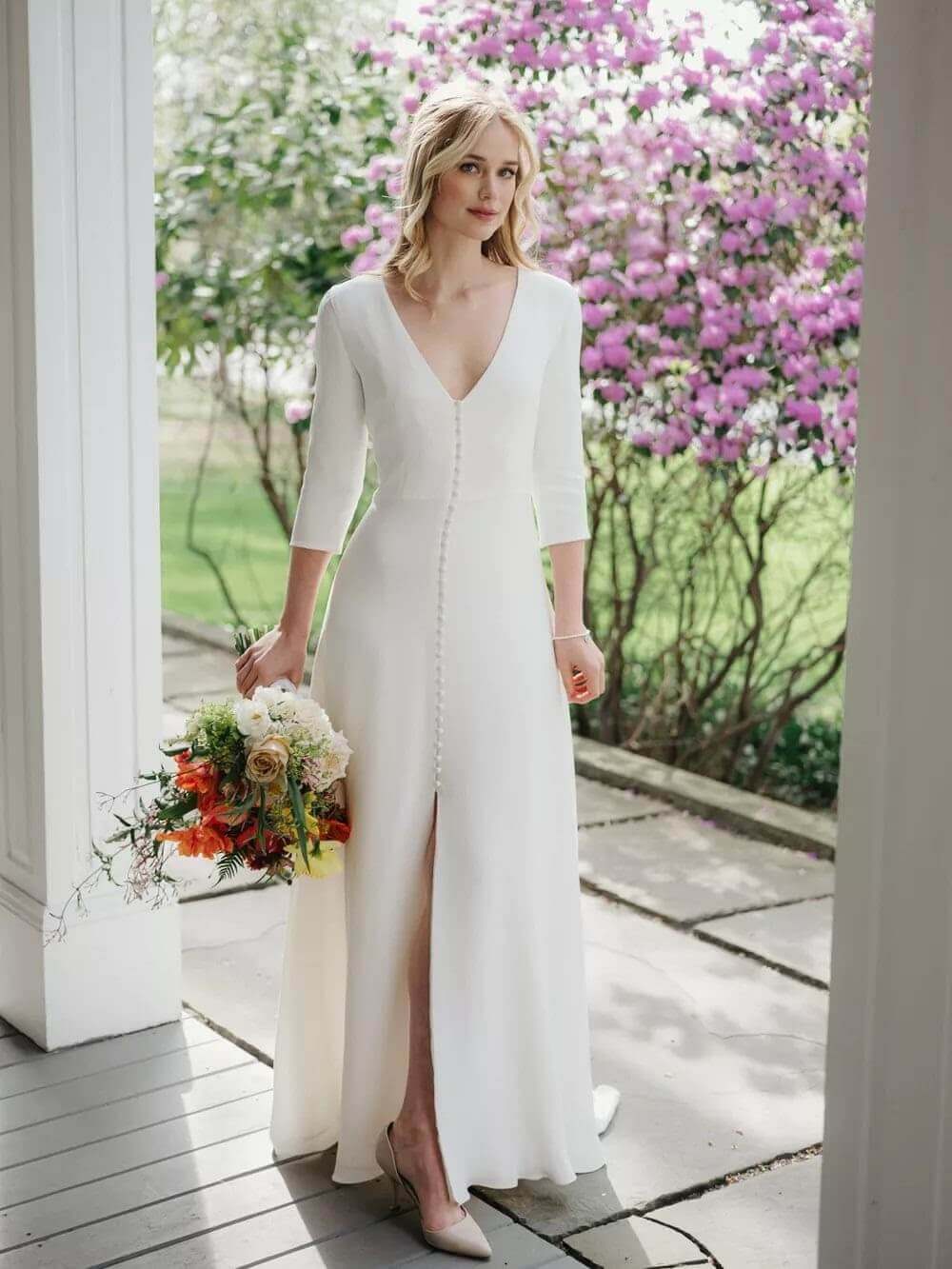 Enjoy something fancier? All you need is the increased investment into the decoration. Let's take a look at this couple. 
Television Star Jeannie Mai and Jeezy
Jeannie Mai and Jeezy decided to tighten the knot in the middle of the pandemic.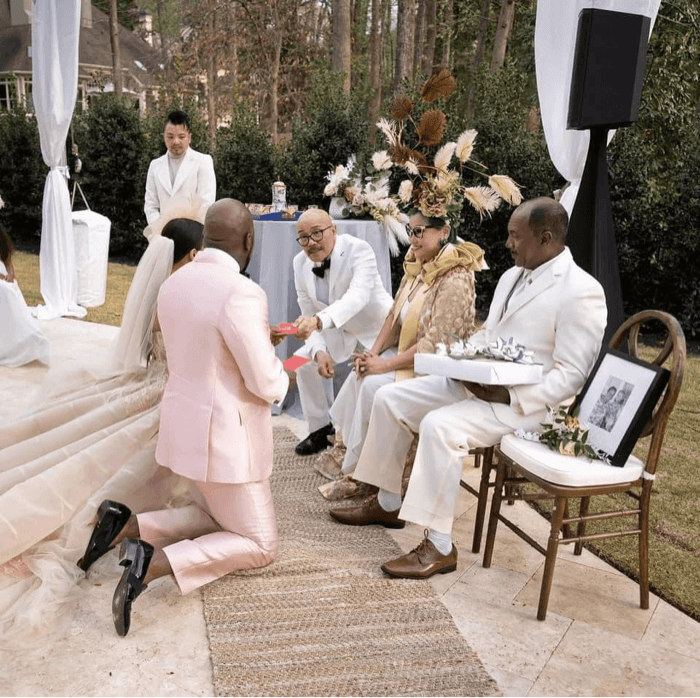 The couple took advantage of their backyard and made it a luxurious wedding hall. They also applied the COVID-19 safety guidance and asked the attendees to take the COVID-19 tests days before the party started.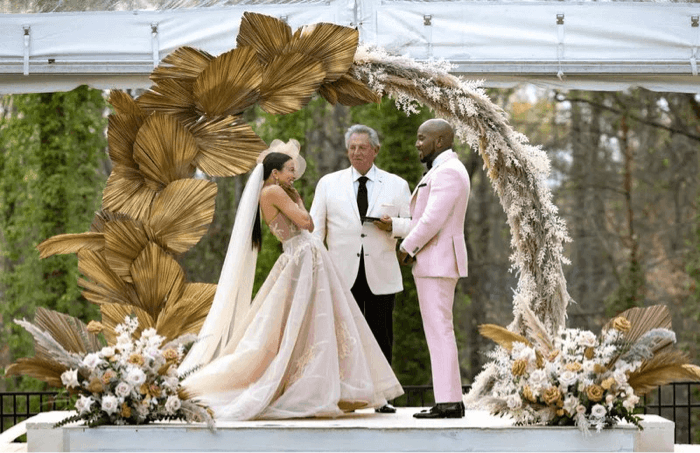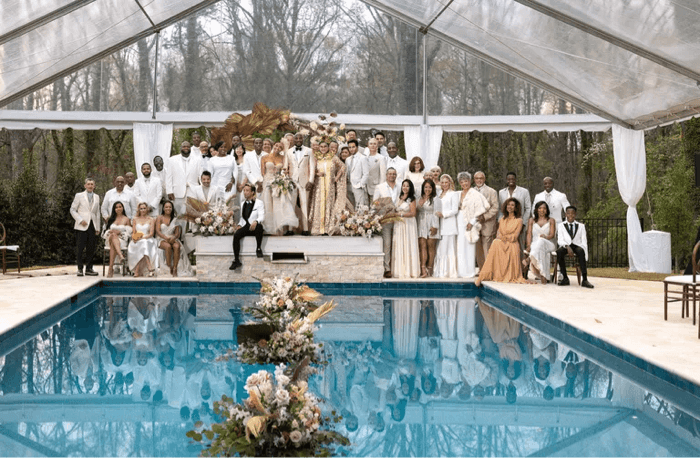 Moreover, if you have an unlimited budget for a wedding and you wish to make your wedding more special and memorable, holding a wedding at a tourist destination will help you have an intimate but very "luxurious" wedding. Enjoying the beautiful travel spot, combining the wedding and honeymoon with your loved ones, this is a very interesting choice that you should consider. 
2. Decide the concept: "Less Is More"
Fewer guests, more safety; and more safety doesn't mean less love. Instead of having a lot of acquaintances at a normal-sized wedding, the microwedding only lets you have some of your loved ones like your relatives, close friends. So definitely you will have more time to reach and share your happiness to each of them. 
Ariana Grande
And if you do not really like outdoor activities like two above couples, we suggest bringing your ceremony inside, like how Ariana Grande and her husband did in May 2021.The singer and her husband Dalton Gomez fulfilled their private ceremony in their house in California with the presence of about 20 relatives and friends in a cozy and lovely atmosphere.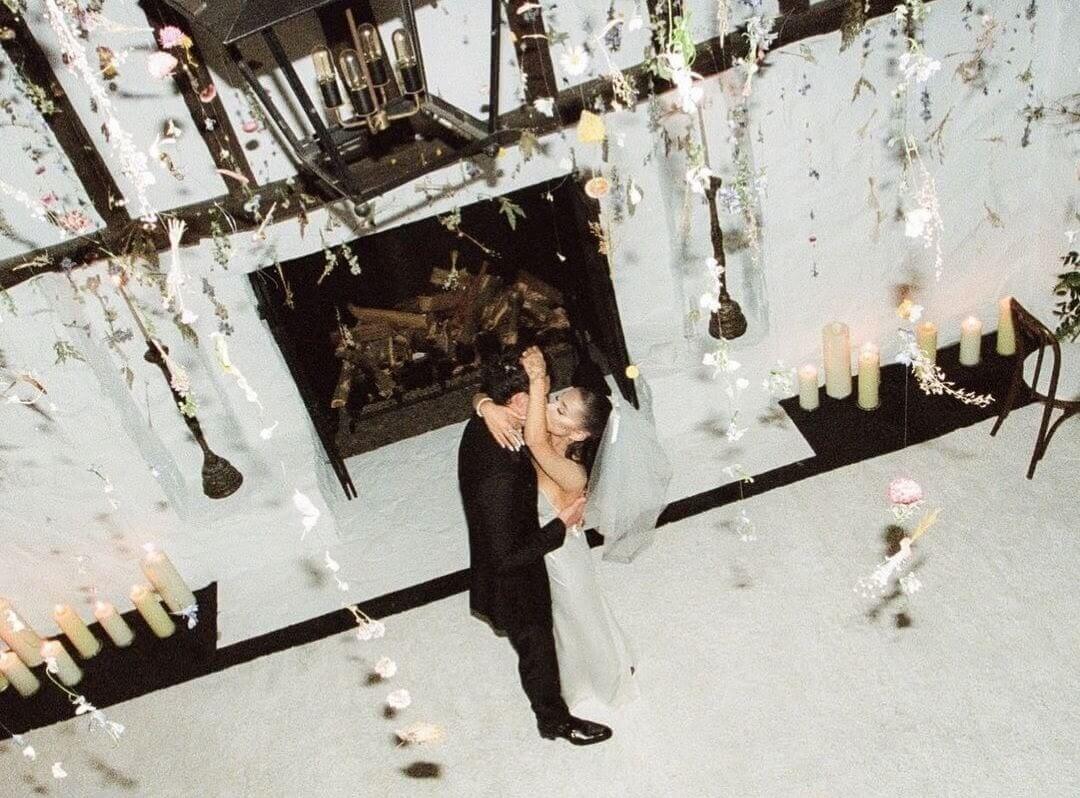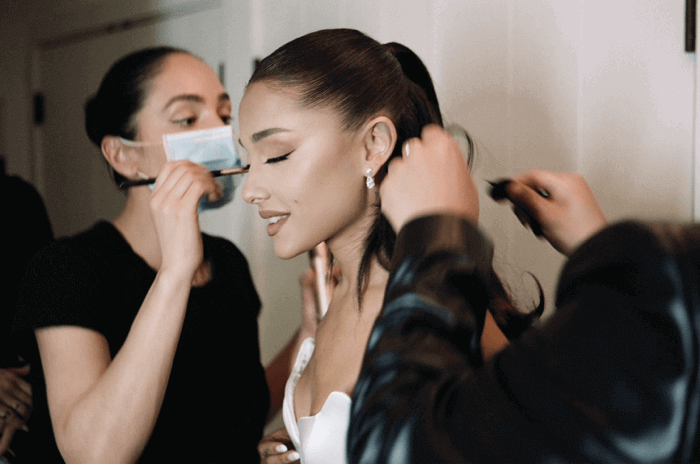 3. Reminding yourself and your guests about Covid-19 situation
Arrange sanitizers and masks for guests. 
The most ideal position to place sanitizers and masks for the attendees is the entrance. Make the sanitizers stand out with elegant colorful ribbons to catch everyone's attention. Besides the mentioned position, sanitizers should be everywhere including on the dining table, in the restrooms, next to the band, and so on. Moreover, if you want to prepare gifts for guests, sanitizer is also not a bad idea.
Distancing seat arrangement
Arrange seats with the recommended distance of at least 2 ft. For instance, you can organize two to four attendees at a table and place each dining table 2ft away from each other. You can also do a standing buffet.
Reminders everywhere
Put stickers, banners on the wall to remind the attendees' to use sanitizer, keep their distance... to make sure they are not having too much fun and forget about the pandemic. 
If you can, ask everyone to take a COVID-19 test
It is your right to protect yourself and your loved ones from the spread of germs. Don't hesitate to request your guests to bring the valid COVID test results with them before entering the gate. This is quite impossible in Vietnam at this moment, but hopefully, we can apply this solution soon as other western countries.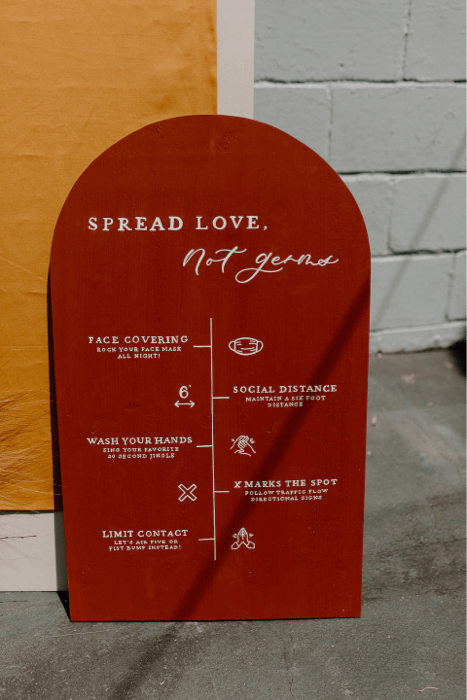 4. For those who couldn't attend: make it Online! 
This couple came out with the brilliant idea of inviting everyone via Zoom. It is a great way to have a photo with all the attendees with COVID-19 safety guidance. It is perfect for social distancing, don't you think? 
Why can't we have fun and safety at the same time? This would save us costs and time for the COVID-19 test. All you need to prepare is a mobile device with full energy, strong wifi connection, dress and vest, and a nice background.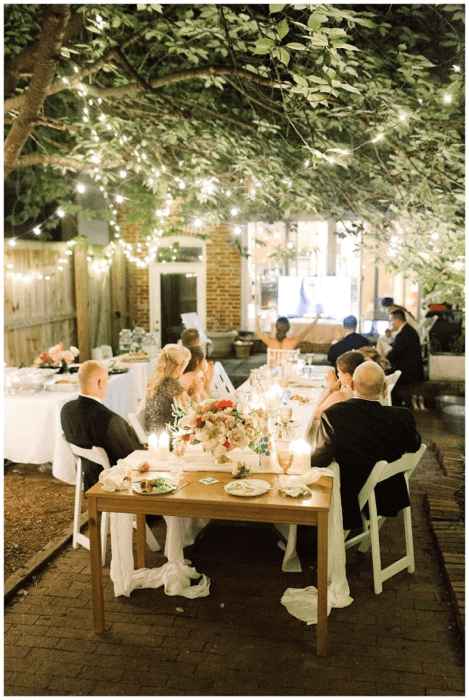 In doing so, we can reduce the stress and anxiety if the COVID test did not go through with the guests. Especially, in countries where COVID tests are not available on the market, this might be a suitable and ideal consideration. 
Microwedding is not for me, should I postpone the wedding?
Some parents of couples do not really support their children to hold a microwedding because the number of guests is limited, the guests of the father and mother's friends will definitely not be included in the guest list. You don't want to make your parents upset, right?
It depends on you to decide on postponement. If COVID-19 impacts your mental health with anxiety or stress, don't force yourself to bottle up your feelings and pretend everything is fine. Be frank with your loved one that you want to postpone the wedding and share your concerns with him or her.
You want to be with your partner as soon as possible? But you want to invite your friends and co-workers to your wedding? How about organizing a small engagement ceremony with your family first? You and your partner could be under the same roof and come up with an appropriate plan for your future wedding.
Like other couples, some Vietnamese stars planned to hold their wedding this year but were postponed due to the re-epidemic of COVID-19. Singer Phan Manh Quynh and bride Khanh Vy could not hold the wedding in time and decided to postpone it until the situation got better.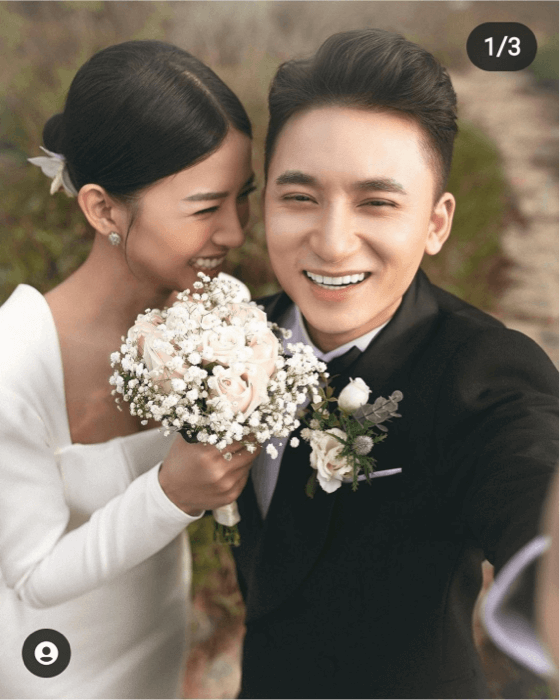 Fortunately, the couple could have the chance to have the impressive, full of happiness photoshoots in Dalat before the traveling restriction. After the decision to keep everyone safe and postpone the wedding to another date, the couple receives blessings from their fans as well as their appreciation for their wedding postponement.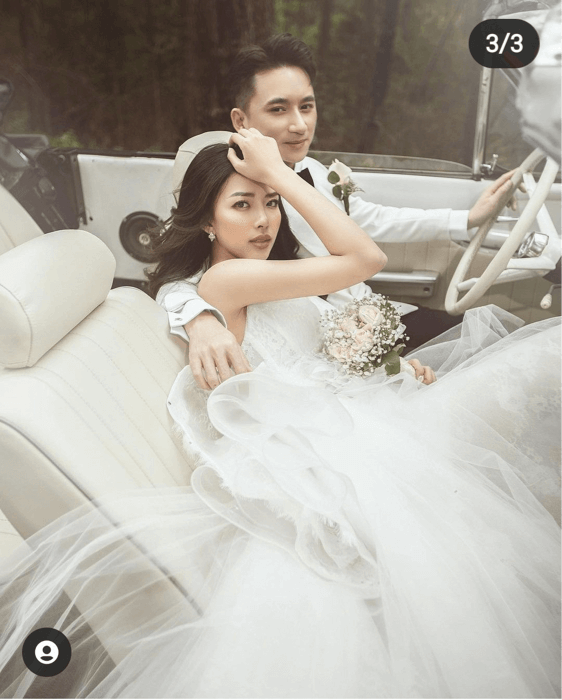 Like Phan Manh Quynh and Khanh Vy, singer Ho Bich Tram and her boyfriend decided to move the wedding date to another time. The couple had their wedding photos taken and held their engagement party just before the COVID situation turned tense. With the decision to postpone the wedding, Ho Bich Tram received many compliments from the online community.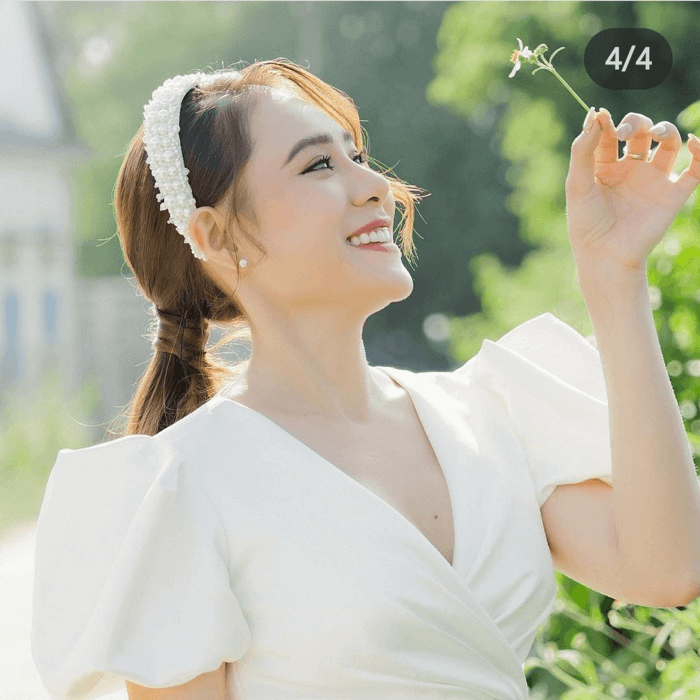 The important attentions of postponement 
Indeed, you need to act fast when you decide so.
Contact your wedding planners and other organizers as soon as possible
This situation not only makes you and your partner panic but also affects many wedding services, so to help everybody less stressed you should contact them as soon as possible to reserve another date for your wedding without the overlap of someone else's.
Give the invitation card makers a heads up!
If you haven't confirmed your wedding date, then ask your card makers to leave the date space blank. It will save you time and budget from reprinting the invitations when there are changes.
Compromise with your wedding organizers
Since the situation is unsteady now, you must be aware that a bad affair can happen at anytime. If you are about to prepare for your wedding day, make sure to discuss every unfortunate possibility to avoid any misunderstanding between you and your wedding suppliers later. 
"When life gives you lemons, make lemonade"
Let's look at it positively to feel that things are not so bad. The postponement of the wedding is an opportunity for you to have more time to take care of your health and appearance. Use this time wisely and you will become even more gorgeous and lively in the upcoming months. Specifically, take care of your skin, follow a healthy diet and exercise more.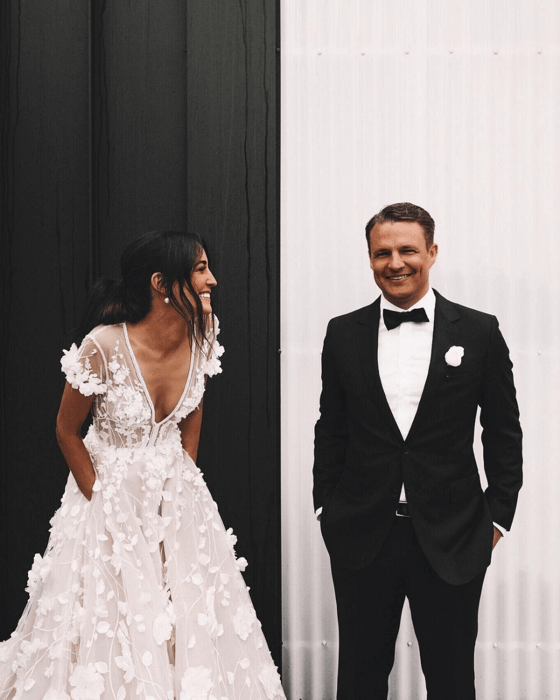 "What's for you won't pass you by," said Sarah Wilson.
This is your wedding and you have the right to make the decisions for it. Just do what you believe will make you happiest