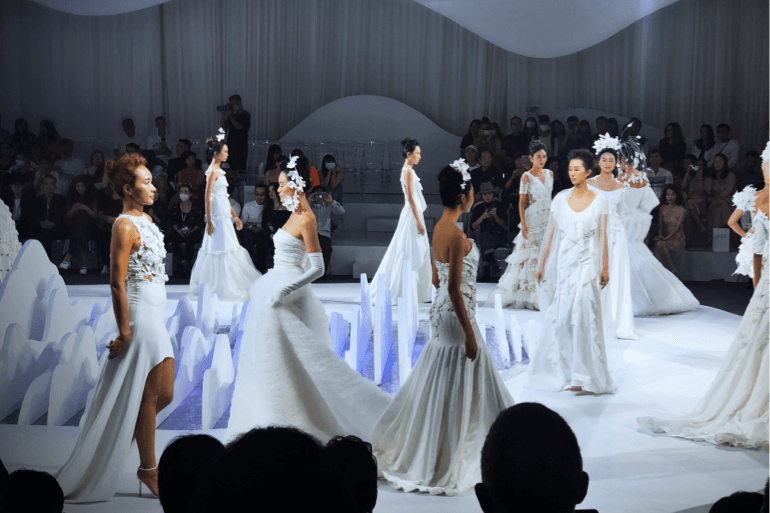 Fashion grows and each year is a different golden age of certain styles from casual to formal. In daily life, everyone wants to wear trendy and modern outfits, but when it comes to wedding dress, many people tend to think that it should stay traditional. However, wedding dress designers do not agree with this concept. Wedding fashion, like many other styles, changes from time to time. Let's find out the wedding trends of Vietnamese and international brides in these years.
The Shimmer, The Better
Shiny things always catch our eyes, especially when they are illuminated in a venue full of bright lights. To become the spotlight of the party, many brides go for glittering dresses in their wedding parties. Like a princess entering the hall of the palace, her beauty and splendid style makes everyone admire. Everyone is scrambling to talk to her before she falls into a charming prince's arms.
Reality is way more challenging than fairy tales. Interchange between these two is the existence of dreamers. If you are dreaming about being a princess on your special day, then, make it come true.
The costs of these wedding dresses varied from Luxury to Affordable. Luxury brands in Vietnam know how to make their products look unique and significant. Indeed, in 2020, the Vietnamese influencer Xoai Non put on a gorgeous shimmery wedding dress with 20 carats, equivalent to 6 natural diamonds from Linh Nga Bridal.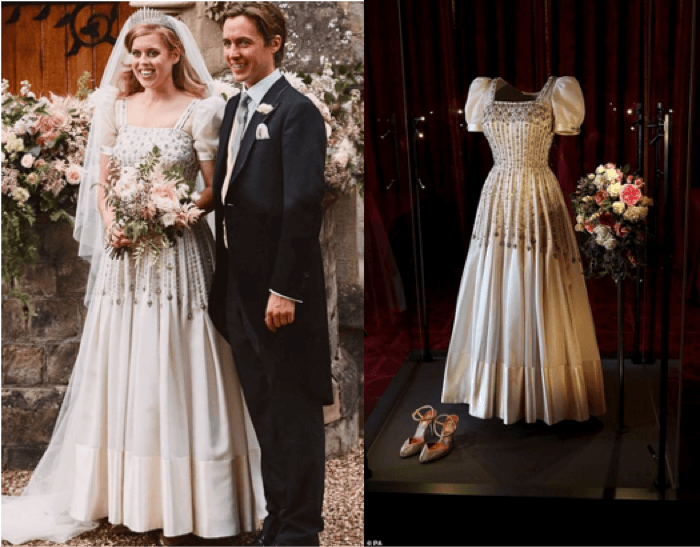 And in the same year, Princess Beatrice of York also decided to put a shimmery look on her wedding. Although this wedding dress has passed through generations of the royal family, our Princess proved that the magic of glitter never faded with time. The shimmer on the top elegantly revealed her beautiful waist and made her wedding look iconic in the fashion world.
On the other hand, if you are looking for more affordable dresses, a lot of other Vietnamese bridal brands will make you shine bright like a diamond with a comfortable budget.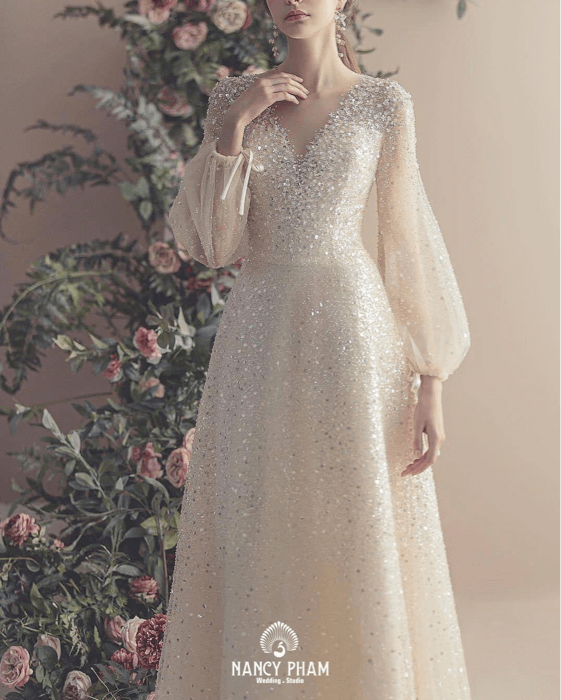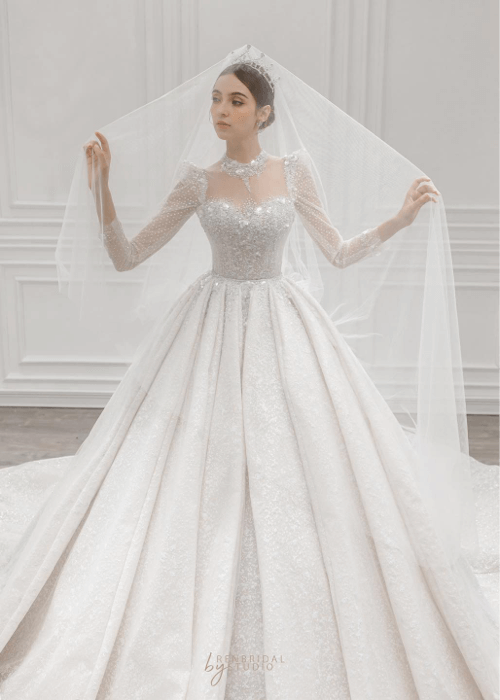 Layered skirt - The More The Merrier
If you are looking for a princess look on your special date, definitely consider a layered skirt designed wedding dress. Don't worry, layers will not make you look chubby. In fact, at the time the layered skirt gives a dramatic look, it could emphasize your small waist. So don't let negative opinions about your body shape stop you from being a princess. The moment to live in a fairy tale is waiting right in front of you!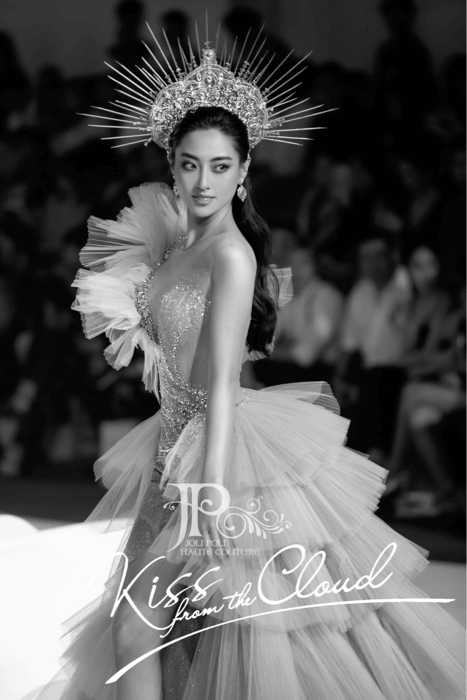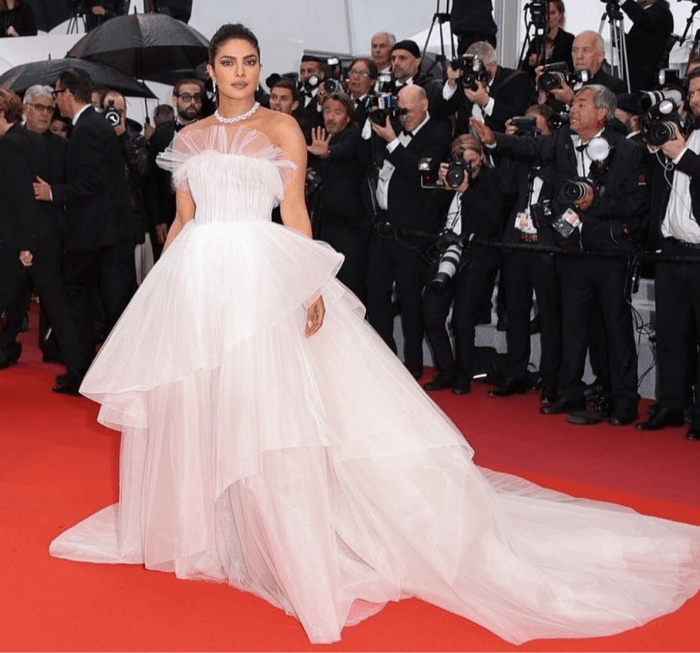 In the world of celebrity, wedding dresses are not limited to the wedding aisle. Walking down the red carpet with a layered wedding dress, such as supermodel Priyanka Chopra looked irresistible. According to the fashion magazine, this dress makes Nick Jonas's wife look younger than her real age. A great proof of her wisdom and flexibility of fashion taste. In addition, you can refer to dresses of other bridal brands with more affordable prices.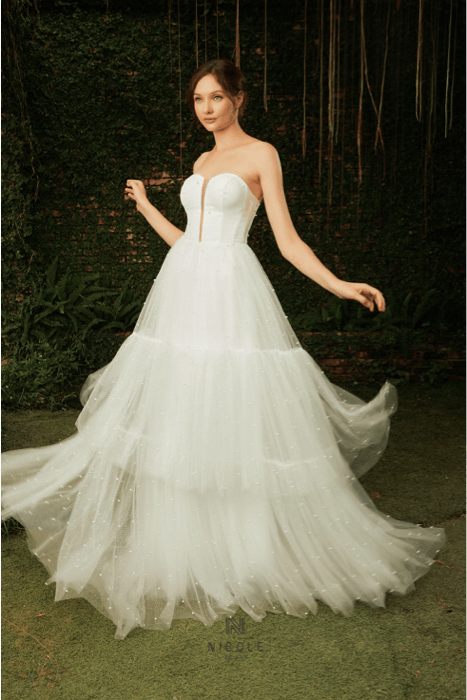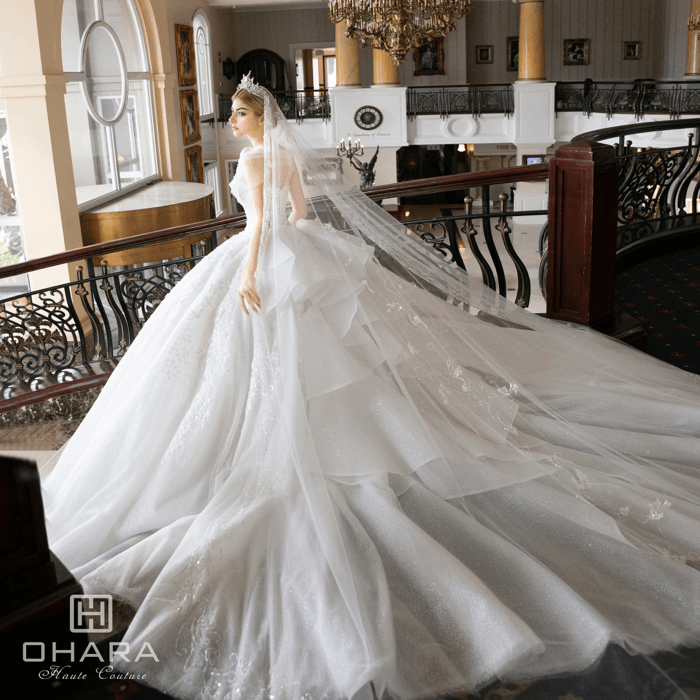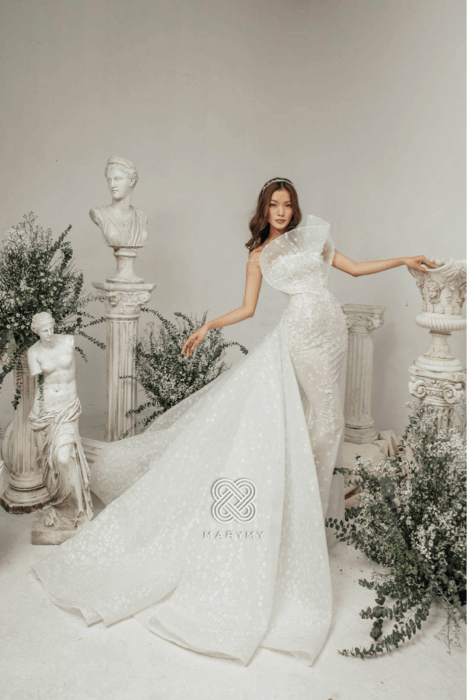 I'm In For Satin
Minimalism has been a fashion evolution for decades. Especially, among all the materials chosen for this look, satin is the most popular choice for fashion designers. Its elegance has been applied in casual and even formal looks. However, minimalism doesn't end its impact on a luxury dining table at a five-star restaurant. The slogan "less is more" is also favored in the wedding fashion world. These years, Vietnamese brides-to-be are wowed by the beauty of minimal wedding dresses. In 2020, singer Toc Tien tied the knot with Producer Hoang Touliver in an elegant 6,000 USD satin dress customized by Vivienne Westwood.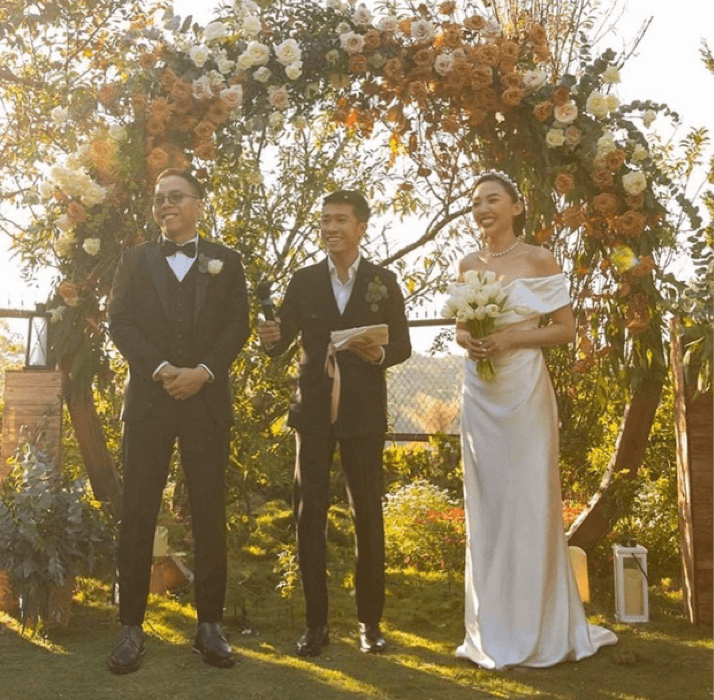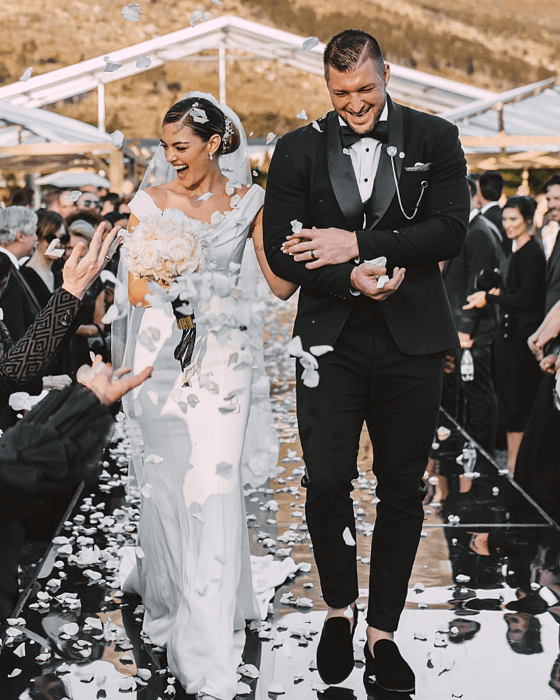 Miss South Africa, Demi-Leigh also has fallen for the satin design. Look how happy she is in the picture. The simple design didn't hide her shine, her laugh is so attractive that we can not move our eyes away. She was happier than ever. For some more satin wedding dresses, here, Getweady has listed down for you.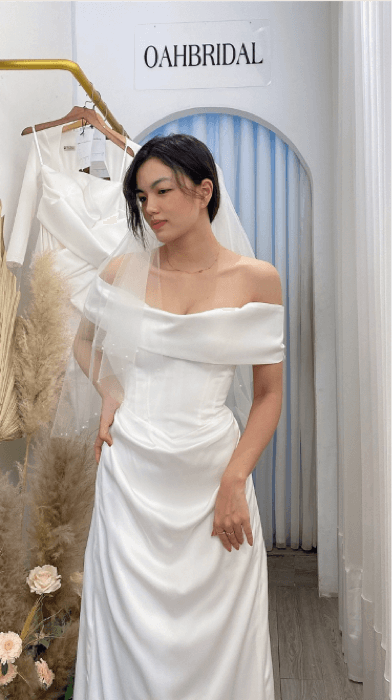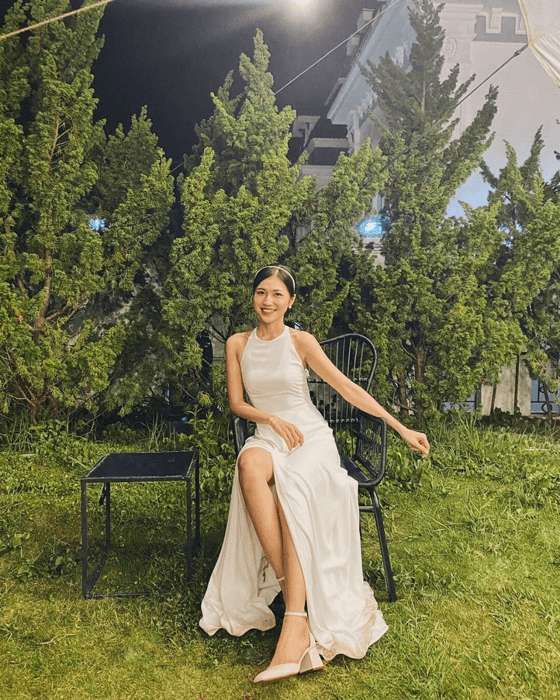 The Jumpsuit Style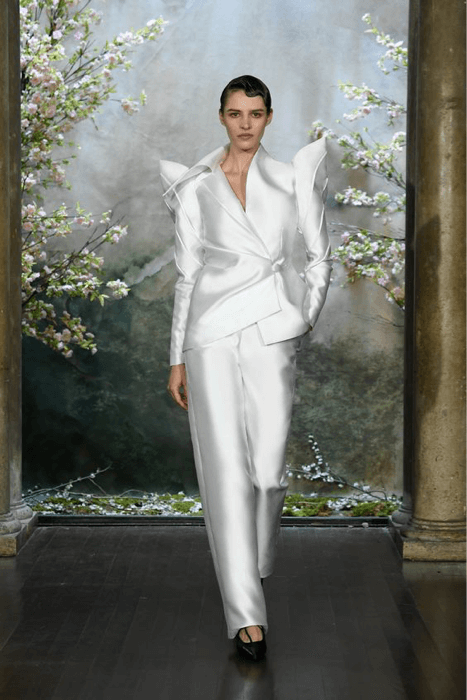 If you think all wedding dresses are too "girly" for you, this new trend is definitely made for you. Who says vests are only for men? Who says jumpsuits are too casual? Don't let gender stereotypes be the barrier in your fashion choice. If you are following fashion brands, you must have realised that suits are on the wave these days. Same goes to wedding dresses, a little masculinity element brings the "unusual" feeling and makes brides the spotlight of the party. Attention, this wedding jumpsuit trend is not only happening in western countries but also in Asia. Many Vietnamese brides have found it attractive and decide to walk down the aisles in an elegant white jumpsuit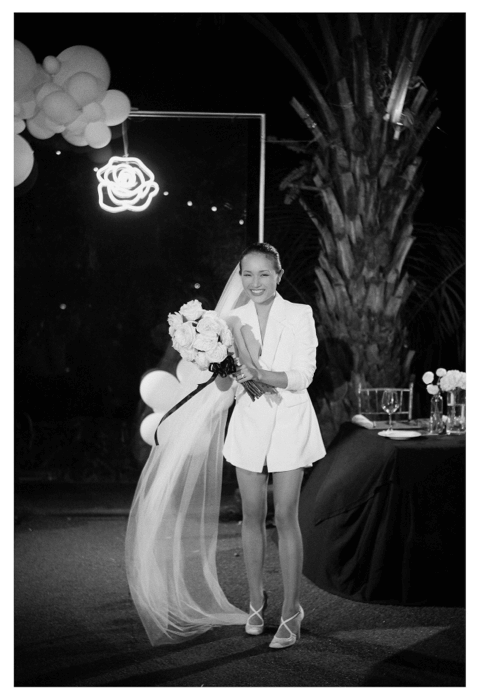 For this style, you can ask any local designers for your desiring look in your vest or jumpsuits. If you are looking for something fancy, global brands in Vietnam can also help you be satisfied and unique with their trendy designs.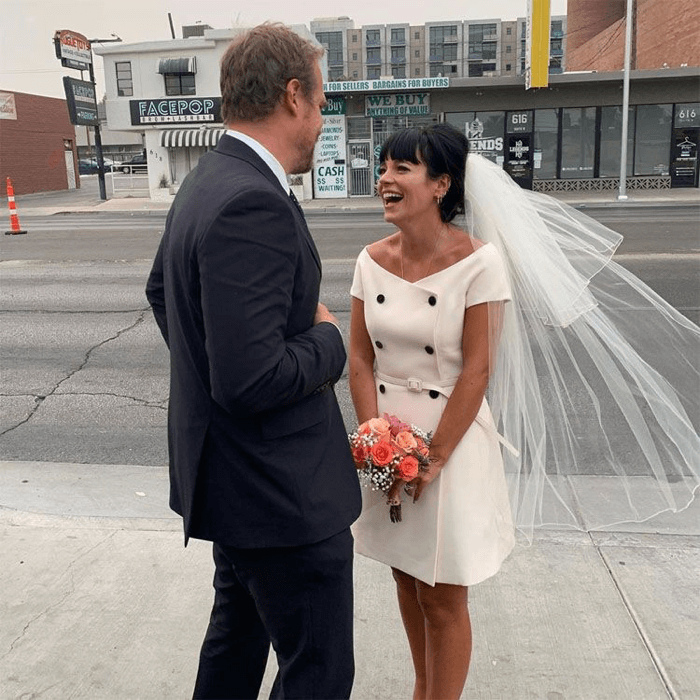 If you have listened to Lily's hits, you will know she has an admirable openness to new styles.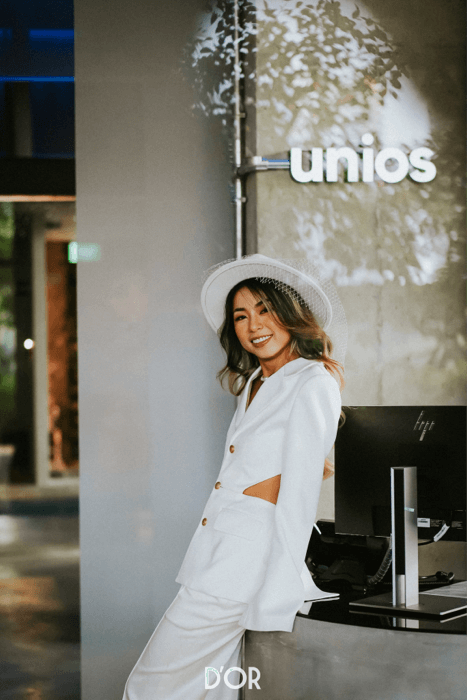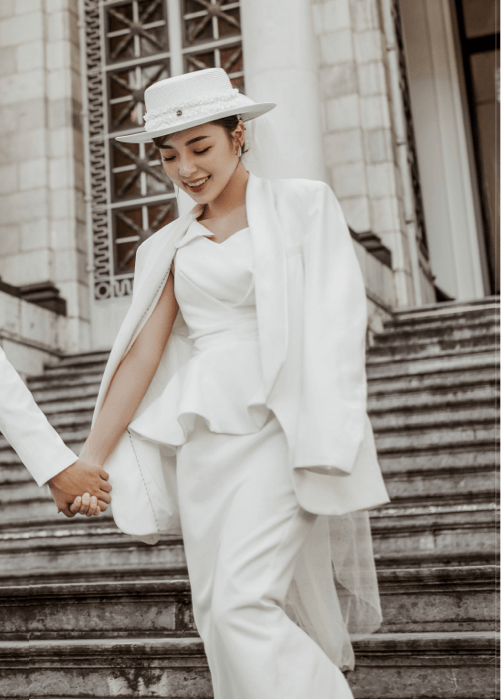 Which style impressed you the most? These are the most sought after styles of dresses these years. From simple, elegant to gorgeous, brilliant. Wedding fashion designers always try to create a variety of wedding dresses to suit each bride's personality. Therefore, don't let traditional stereotypes of wedding dresses stop you from your dream type.