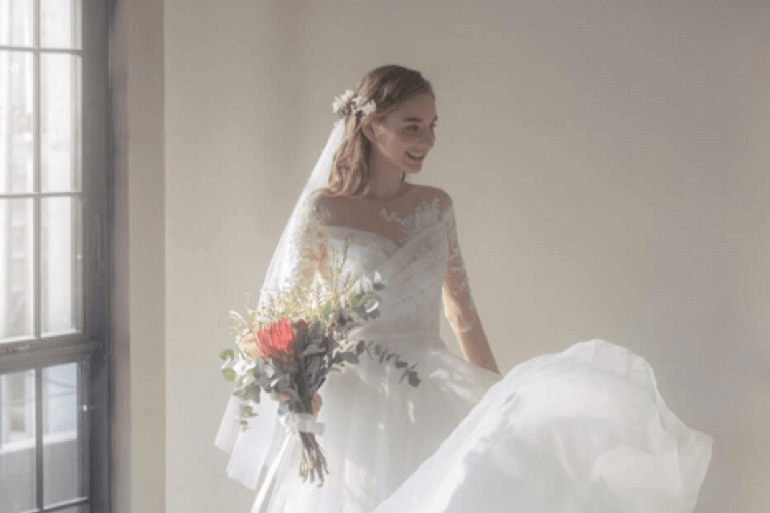 A good bridal salon is the bride's best friend in her journey to find the wedding dress. There are various options to rent, buy or tailor your own wedding dress available on the market. Instead of chasing the international brands, how about going local and choosing your outfit from a Vietnamese wedding designer? Let's have a look at our list and you won't be disappointed. 
The ball-gown dress
A ball-gown is your best bet for a big wedding with hundreds of guests. No one can miss the beautiful bride in her best wedding dress walking down the aisle. It helps you stand out and of course, never fails to make the princess dream come true. The only drawback for this style is the weight of your dress. A ball-gown can be pretty heavy and easily tire you out after a long wedding day. If you are a fan of this style, these three wedding brands are made for you.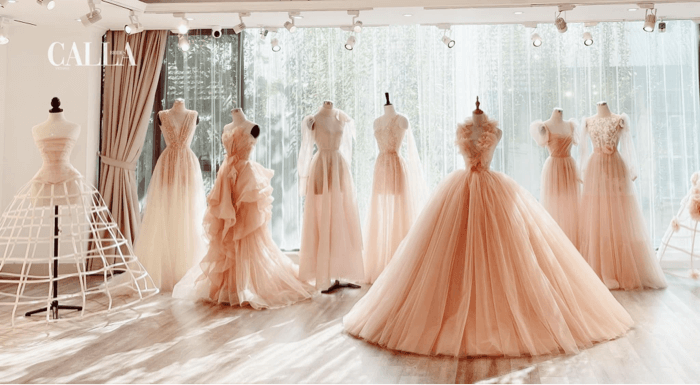 Previously known as "Au Co wedding", Calla Bridal has been around since 2010s in Hanoi and still remains a luxury wedding dress option for many brides. Their wedding dress design offers a royal feeling with the big silhouette and sleeves style. You can have a Cindella experience here. They have multiple tiers for wedding dresses including Limited, Luxury, Elegant....with different price ranges. The most expensive dress here can go up to 6 figures for the one.

Info:
Website: callabridal.vn
Address: 29 Mai Hac De, Hai Ba Trung District, Hanoi
Price Range: $$$/$$$


---
A frequent in the wedding fair, Joli Poli is well-known to both the brides and the A-list celebrities in Vietnam. Their signature wedding dress is the big ball gown with laces and rhinestones to blink it up. Not as other brands, the designer does not limit herself at the traditional white dress but also open to try multiple colors. You can find red, blue or any other design in this brand. Regarding the cost, having your dress made for you will be average at 30 to 100 millions and more based on your wish.

Info:
Website: jolipoli.com.vn
Address: 233 Vo Thi Sau, ,District 3, HCMC and 17 Phan Chu Trinh, Hoan Kiem, Ha Noi
Price Range: $$$/$$$


---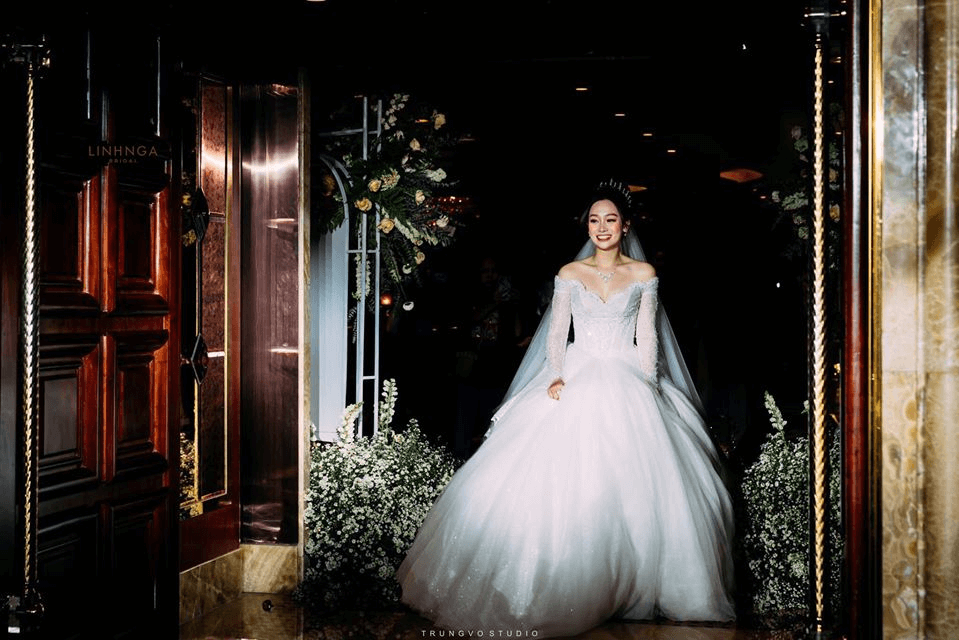 This is a well-established bridal brand in Ho Chi Minh City. It is known as a good option for the medium price range ball gowns. They stay loyal to the formal and feminie look for a classic bride but offer various shapes such as A-like and sheath. If you have always dreamt of being a princess with a tiara for your wedding, this can be your choice. The price tag at Linh Nga starts around 20 millions for a wedding dress.

Info:
Website: linhnga.vn
Address: 95 Nguyễn Thị Minh Khai, Quận 1, TP.HCM and 92-94 Triệu Việt Vương, Bùi Thị Xuân, Hà Nội
Price Range: $$/$$$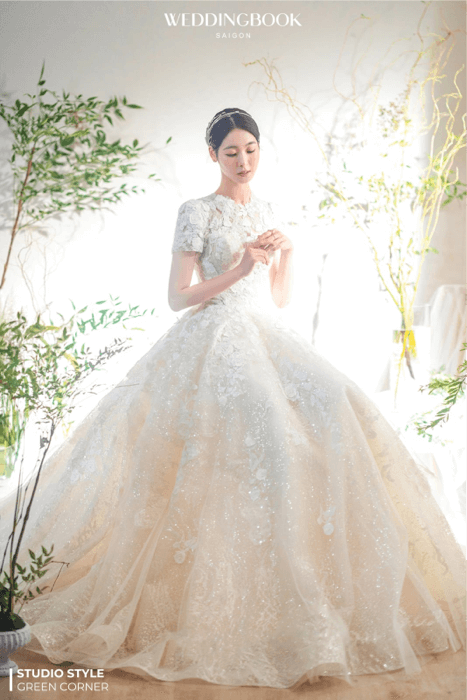 Weddingbook Saigon is a wedding center that includes many services from specific to full packages for brides who love Korean style. From simple plain dresses to classic lace ones, there are more than 600 wedding designs from Korean brands here for brides to choose, in addition, WeddingBook also has a professional wedding stylist service by blending trends and personal tastes, the staff will advise brides on a trendy wedding style that still reflects the aesthetic taste of each. With such quality, the price here is also quite high compared to the common ground with the lowest package of 40 million VND.

Info:
Website: Weddingbook Saigon
Address: 583 Sư Vạn Hạnh, Phường 13, Quận 10, TP.HCM
Price Range: $$$/$$$


A gentle touch of lace
If you want to add some feminine to your wedding style, lace is the way to go. While some people might associate laces with the old and outerage style, it is not always the story. Whether you go with a classic A-line dress or the attractive fit and flare, an appropriate touch of lace will make your outfit more romantic and flattering. The following brands will capture your heart when it comes to lace.
---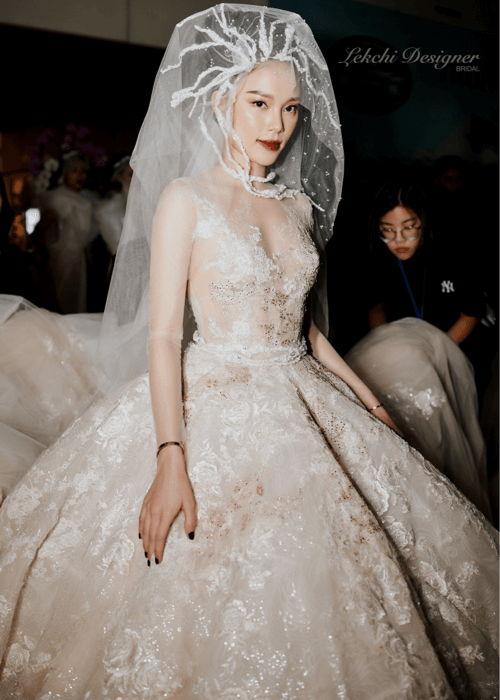 Lekchi brand is a popular designed brand among the brides-to-be. This brand has been around since 2000 and still manages to stay relevant to the wedding scene. Their wedding dresses normally have interesting back design, using laces and layers to make the brides standout in the wedding.  An ideal bride for this brand is sexy yet elegant. As they release new collections annually, you can have a variety of options to choose from. Their price range is a bit premium compared to other bridal brands, with rent options starting from 15 millions VND.

Info:
Facebook: Lekchibridal
Address: Số 2 Mai Hắc Đế, phường Bùi Thị Xuân, quận Hai Bà Trưng, Hanoi
Price Range: $$$/$$$


---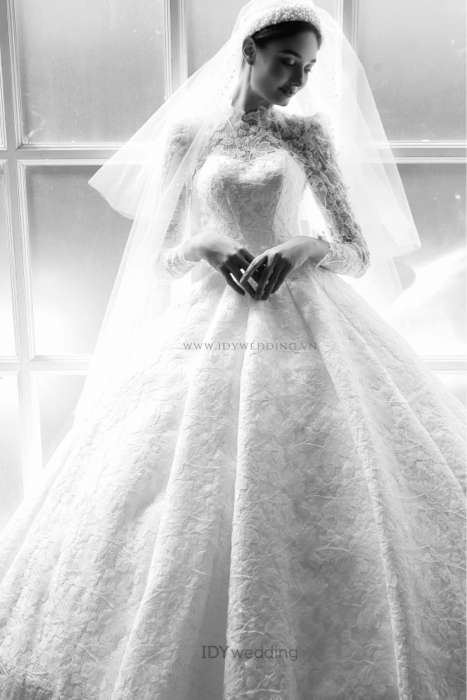 Just as their slogan "You are my muse", this Saigon bridal brand is very dedicated to their customers. They continuously update their designs to fit multiple customer categories. Most of their wedding dresses fit the popular wedding style with decent fabrics and easy to wear. They also have wedding accessories options to complete your wedding outfit such as shoes and tiara. A wedding dress will cost 6 millions or more to rent and it will be around 12 millions to get your own made.

Info:
Facebook: IdyWeddingHouse
Address: 24 Hoa Cúc Str., Ward 7, Phu Nhuan District, Ho Chi Minh City
Price Range: $$/$$$


---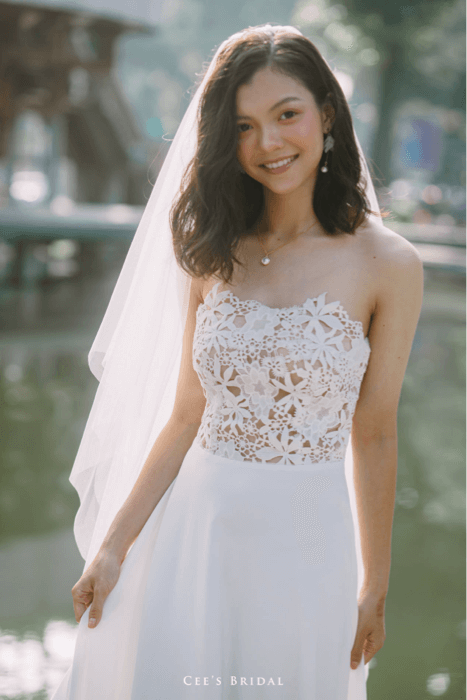 Vanilla House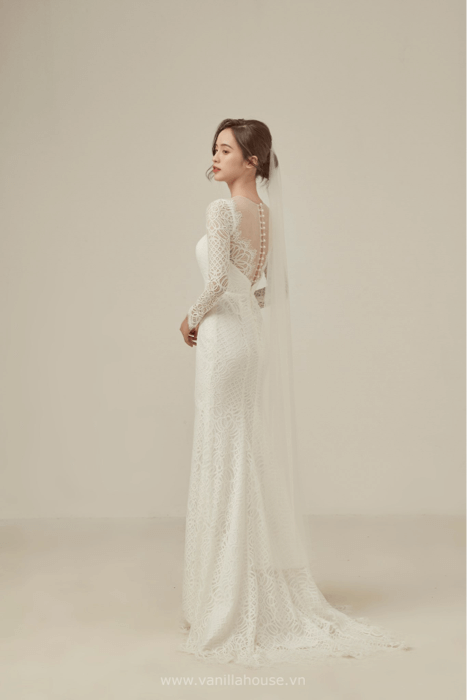 Vanilla House is a fashion design brand established in 2013, Vanilla House's designs focus on shape and fabric, designed on imported high-class fabrics. Minimalist wedding dress with a European touch is the choice for brides who love sophistication, no frills. Vanilla House's products have quite impressive quality from fabric choosing to form making, all carefully and skillfully, but the price is very comfortable, only from 1 to 3 million VND, you already own an extremely lovely dress from Vanilla House.

Info:
Facebook: VANILLA.VN
Address 1: 119 Hồ Bá Kiện, Phường 15, Quận 10, TP.HCM
Address 2: 441/3 Nguyễn Đình Chiểu, Phường 5, Quận 3, TP.HCM
Price Range: $/$$$


---
Tucked in a small alley in the hustling Ho Chi Minh City, Cee's bridal has an unique take on the wedding dress. The brand has been around since 2013 offering contemporary wedding dresses for the modern bride. Cee's brand has a bit of bohemian feeling, which is suitable for a laid back, easy-going bride. Beside the main wedding gown, they also have a more casual line for your after-party or the reception choice. Their showroom is available upon appointment. Renting costs start at 5-6 millions and tailoring costs around 10-15 millions.
Simple but elegant
Less is more. You might have a refined taste compared to others. The minimalist bride-to-be would want nothing but a timeless simple but chic wedding dress without too much details. It doesn't necessarily mean a boring dress. Some special details and good craftsmanship will be your best friends. Here we got you covered. These three suggestions will help you in your way to say yes to the dress.
🎥 watch my shopping experience in Cee's Bridal 👉 https://fb.watch/3zwp6NTXSZ/

Info:
Facebook: CeesBridal
Address: 16/8 Đặng Văn Ngữ, Ward 10, Phu Nhuan District, Ho Chi Minh City
Price Range: $/$$$


---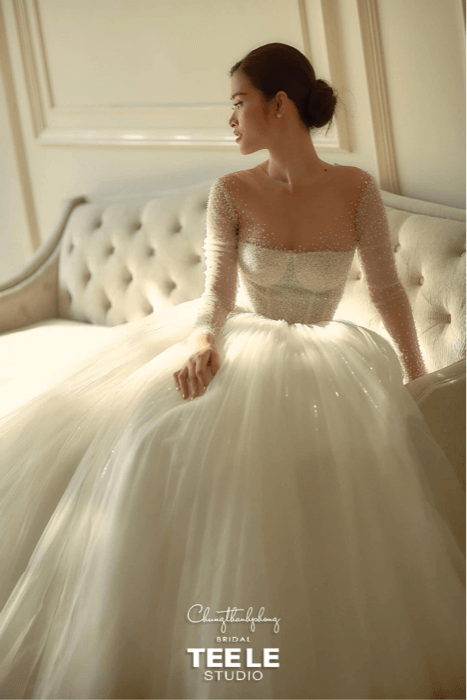 From a fashion designer to a wedding dress maker, Chung Thanh Phong has a huge fan base. His dresses are simple enough but still retain their own characters. He manages to bring out a strong and sexy look for the bride without sticking with the classic design. You can find many creative styles in this brand. His client portfolio includes celebrities and influencers across Vietnam, an evidence of the desire for his brand. However, that popularity goes with a high price tag. Renting a dress can cost more than 20 millions VND and made to measure it up to your need.

Info:
Facebook: chungthanhphongbridal Facebook/
Address: 189/1B Cống Quỳnh, District 1, Ho Chi Minh City
Price Range: $$$/$$$


---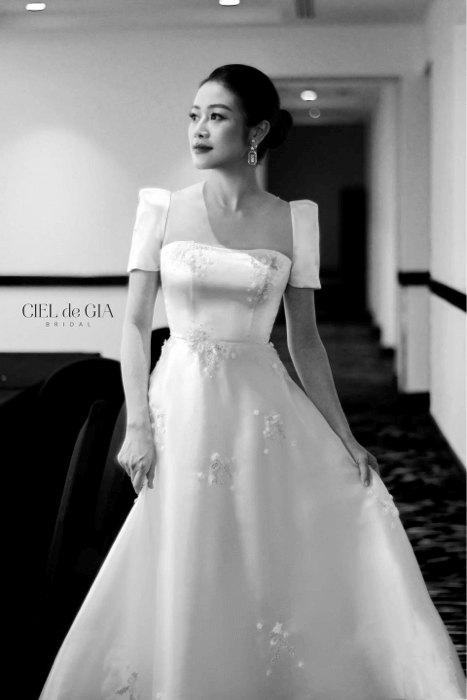 Ciel de Gia started in Hanoi but is now available in both Hanoi and Ho Chi Minh City. Influenced by the old city itself, wedding gowns from this brand portraits a classic yet chic bride, who smartly chooses her outfit for the big day. Their designs still stay in the popular shapes but manage to provide interesting tweaks in their details and show off their tailor skills. Their collection is not as big as the massive brand. However, it is more than enough for you to choose from.  Ciel de Gia has an upper medium price point, where some wedding dresses cost about 17-18 millions VND to rent. 

Info:
Facebook: CIELdeGIA
Address: 124 Mai Hắc Đế, Hai Ba Trung, Ha Noi & 240 Võ Văn Tần, District 3, Ho Chi Minh City
Price Range: $$/$$$


---
TRUONG THANH HAI is a high-end fashion brand founded by designer Truong Thanh Hai in 2002. The highlight of his designs is white, the white color has followed him since the first collections when he started his design path until now. It does not mean that as a repetition and monotony, it is attached to Truong Thanh Hai because it shows romance and elegance, because of the classicity and sophistication emanating from white itself. Wedding brand - Truong Thanh Hai is for brides who have a unique fashion sense and want to break through the prejudices of society as well as always want to discover other aspects of themselves.

Info:
Facebook: TruongThanhHaiBridal
Address: 3 Nguyễn Văn Mai, Phường 8, Quận 3, TP.HCM
Price Range: $$/$$$


---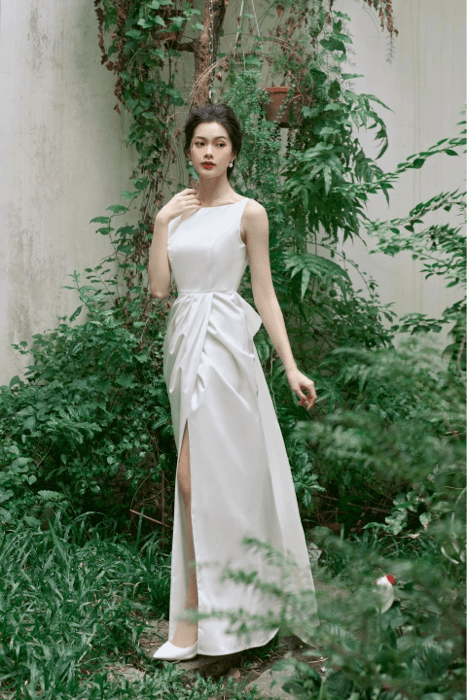 PANSY BRIDAL was established in 2018, a tailor shop that sells and rents self-designed wedding dresses. The style of Pansy Bridal is very simple but chic and sophisticated. Most of Pansy's designs are A-line dresses, flowing dresses or tight dresses. The price of Pansy's dress is also quite comfortable, ranging about 2-5 million, and there is also a tailor-made service.

Info:
Facebook: pansybridal
Address: 277 street 3/2, ward 10 district 10 TP.HCM
Price Range: $$/$$$


---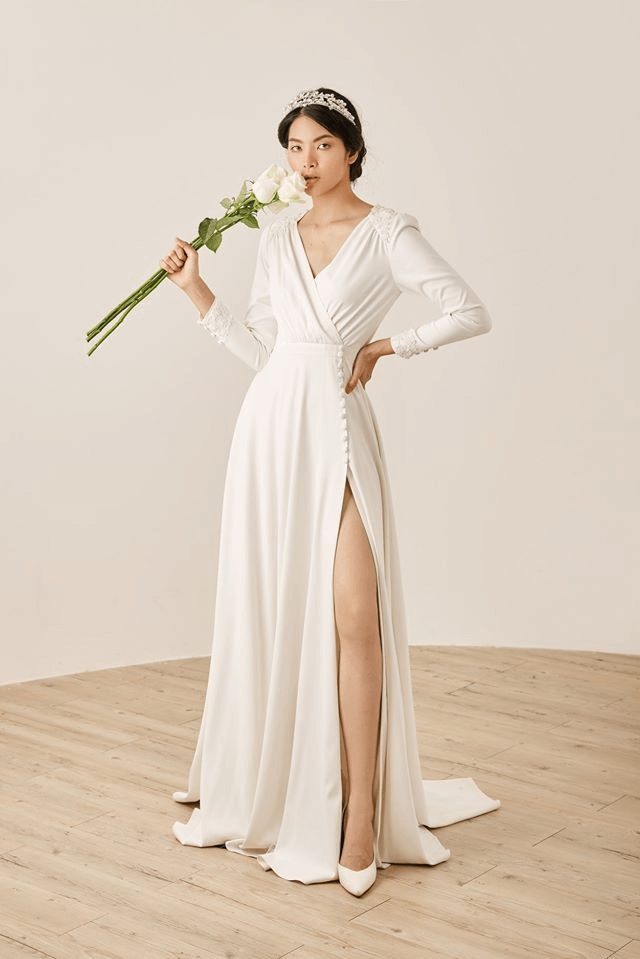 This brand is newly established in Ho Chi Minh City. They have a warm and cozy showroom in District 3 with very supportive staff for you to visit and try out the style. As a young and modern brand, their wedding dresses are soft but elegant and comfortable to wear. You can find various shapes and styles here from the basic A-line to the sexy mermaid. Some come with long sleeves, which are not very popular in Vietnam. It will cost you about 6 millions to rent a dress and 12-15 millions to tailor your own. 

Info:
Facebook: creamy.weddingdress
Address: 124 Mai Hắc Đế, Hai Ba Trung, Ha Noi & 240 Võ Văn Tần, District 3, Ho Chi Minh City
Price Range: $/$$$