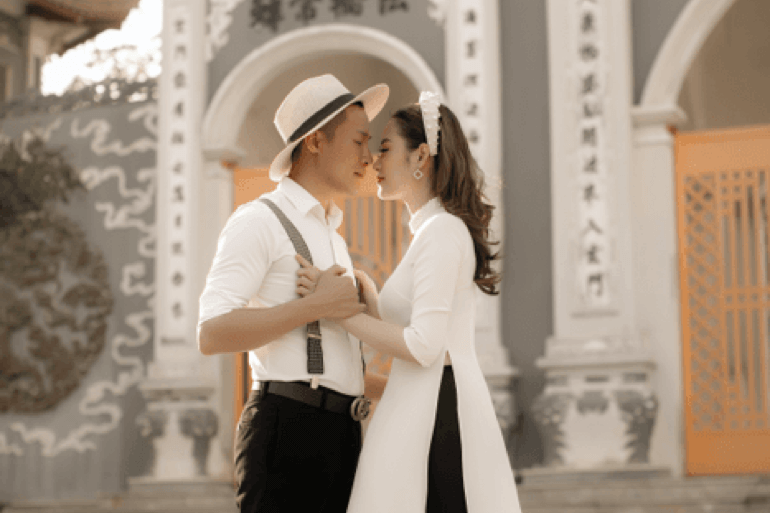 As Vietnamese, I grew up seeing her mother's wedding black and white photos. In the pictures, her mother dressed a humble single-colored ao dai.
However, the trend has changed. Although all wedding dresses are meant to make brides the most beautiful on the big day. In modern days, many brides prefer much more detailed and sophisticated designs.
Out of curiosity, I wondered and traveled back in time. By researching the Vietnamese bride style during the past 100 years. The changes are very interesting which you don't want to miss. Keep reading.
Vietnamese bride styles from 1900s to 2020s
1900 – 1950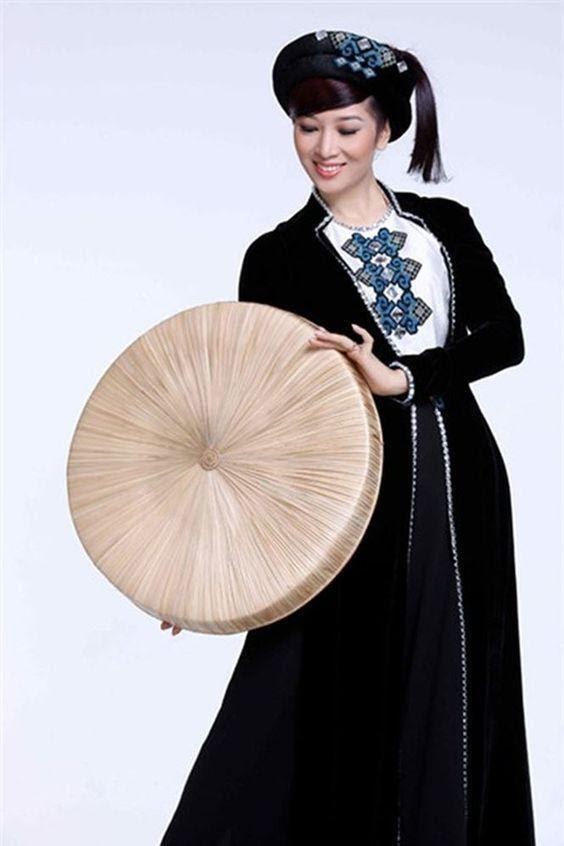 In the semi-feudal time, four-panel traditional dresses were crafted from brocade and decorated with meticulous hand-sewn patterns. This kind of dress is worn with a calico apron inside. Coming with the dress is a naturally dyed black midi skirt and a fabric hood.
1950 – 1965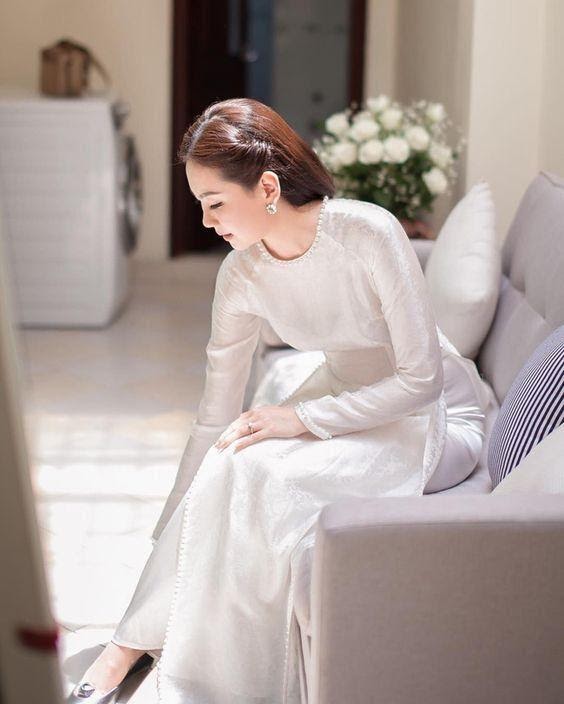 During the colonial time, traditional ao dai was the first choice for brides. The dress was not much different from what female students are wearing today. However, the materials were much more exotic. Brides at this time preferred smooth and polished fabric, which contributed to the body impression. Silk was the top choice of privileged families to craft a wedding dress.
1965 – 1975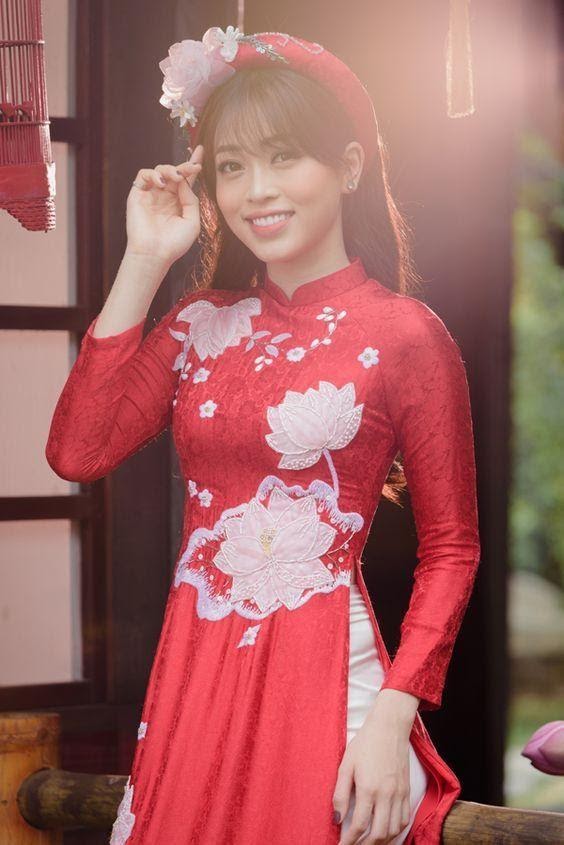 Ao dai, at this time, continued leading the wedding trend, but the designs featured more intricately – embroidered patterns. Dragon and phoenix, the two sacred symbols, were preferred on the dress to pray for eternal fulfillment. Tailors then focused more on detail. They usually made an upright collar that created a perfect slot for a sparkling necklace.
1975 – 1980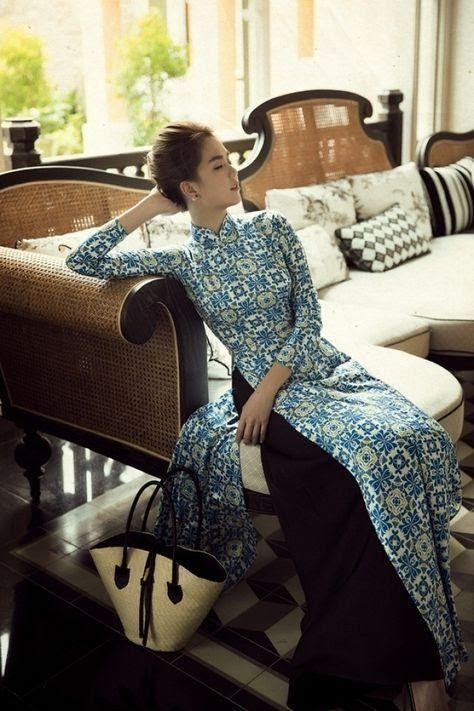 Dots were once the hottest trend on all kinds of apparel at this "doi moi" period. In the reform time, Vietnamese brides fell for ao dai with lots of dots from small to large on their dress. For the sake of the wedding day, the dots could be jazzed up to a Chinese character translated as "joy." Other than that, traditional abstract art decorations were also popular.
1980 – 1985
Again, bridal ao dai came as the first choice to wear at a wedding at this time. The difference lies in details. There were more patterns and decorations used to highlight the bride. Adding to that was a thin, long, transparent coat and bridal hood.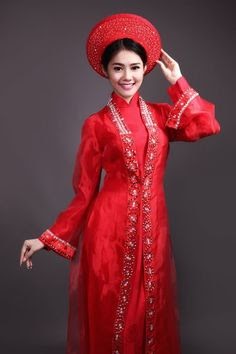 1985 – 1900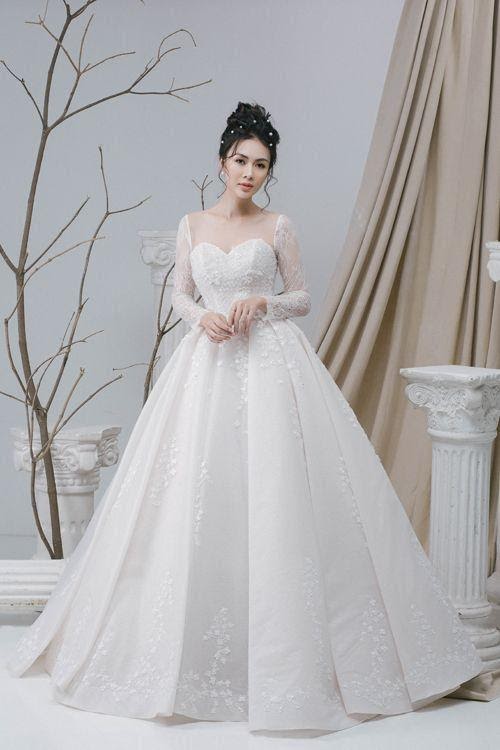 The introduction of the Western culture marked the most significant change in the wedding dress collection. It was when soirees with a range of designs. Most of them were inspired by the vibe of the social elite in the West. These long dresses with a wide bottom, long flare sleeves, and a hairpin are also one of the ideal choices as maternity wedding dresses.
1990 – 2000
Vietnamese brides those days were drawn by sexy cupped soirees that could show up their attractive shoulders and back. Necklines were what make these dresses unique. It ranges from sweetheart, straight across, off-the-shoulder, jewel, to scoop, V-neck. Halter,…which gave contemporary brides endless options.
2000 – Now
That goes with the flow of soirees. Wedding dresses nowadays are available in a large variety of designs and materials.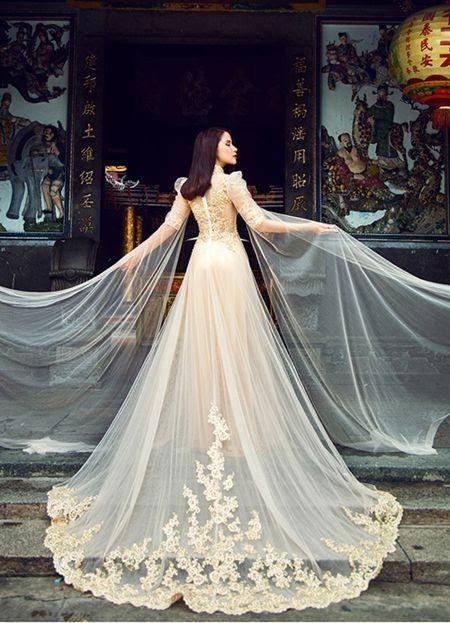 Following the wedding gown designed by Carolina Herrera that Bella Swan wears in Break Dawn, a series of local bridal brands produce dresses inspired by that cinematic one. That created a trend of Victorian wedding gowns that has not yet gone cold. These gowns usually come with accessories like boutiques, gloves, and a stylized hairpin.
In conclusion
Wedding dress trends change over time. But no matter from which generation, all brides treasure the very moment of their wedding day and wish to shine bright to catch the spotlight.