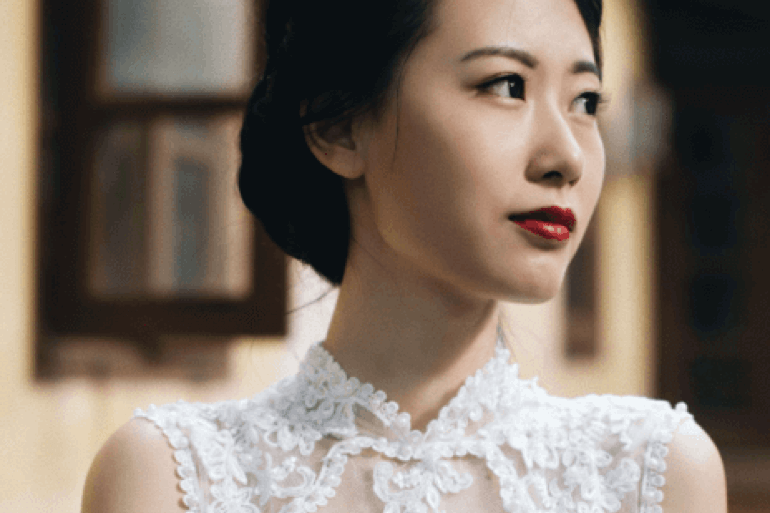 Fashion & Beauty
11 Popular Types Of Necklines and How To Choose Your Suitable One
When choosing a wedding dress, brides often pay more attention to the dress silhouette such as A-line, mermail, seath, etc... but easily forget about another important part of any wedding dress design: the neckline. Wedding dress' s neckline not only helps you draw people's attention, but also complements your body shape, neck and shoulders. It also affects how you choose your hairstyles and wedding jewelry. Join us to learn more about the most common types of necklines as well as wedding dress recommendations to suit your physique and style.
Sweetheart neckline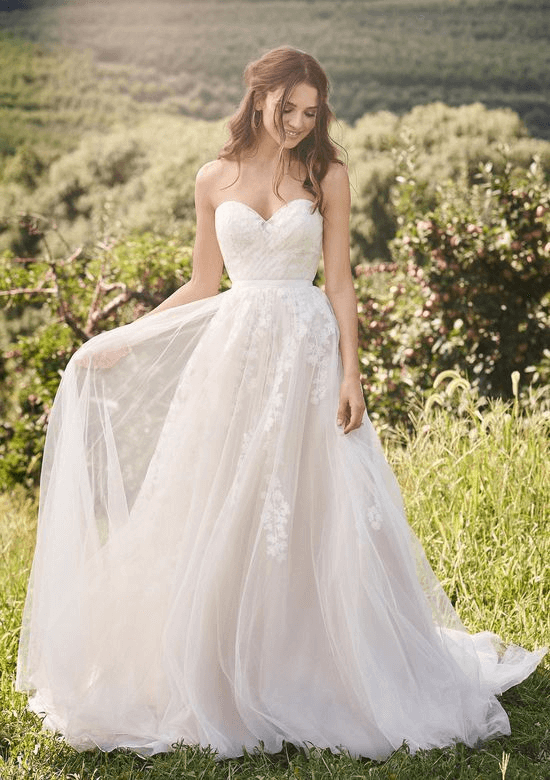 You can find a wedding dress with a sweetheart neckline in every bridal salon. This is one of the most popular wedding dress necklines due to its versatility. Brides with all body shapes and style can find herself wearing this daring wedding dress design. If you are slim, it helps you show off your beautiful color bone and body. On the other hand, brides with fuller body shape can take advantage of this neckline and show your attractiveness. Although this neckline is quite easy to wear, you might need to take into consideration if you have thick biceps as it can reveal this weakness.
Straight across neckline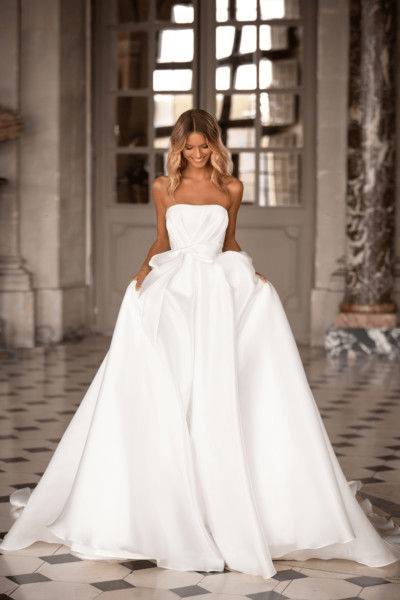 This is another strapless wedding dress design, which can help you show off your beautiful neck and shoulders. However, it is a bit less revealing compared to the sweetheart neckline. This wedding dress design is classical, easy to wear and favored by many brides. You can choose an A-line skirt to balance out the overall look. Together with the sweetheart neckline, this is a common choice of wedding dress for pregnant brides, who want to conceal their baby bump. 
Off-the-shoulder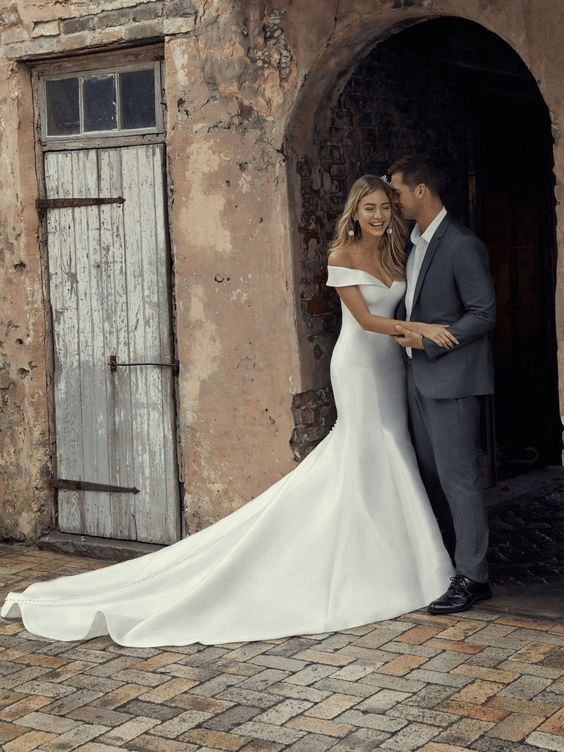 If you have felt for a strapless wedding dress design but have some concerns about your biceps, this is the best option for you. The slim part on your arm will help you cover the weakness while the open front stills complement your neck and shoulders. This neckline is the favorite wedding dress design for many brides. You can choose between chiffon, lace or more solid material on the arm part and build the overall look. Unfortunately, it is not the best fit for those who think their shoulders might be a bit too wide.
Jewel neckline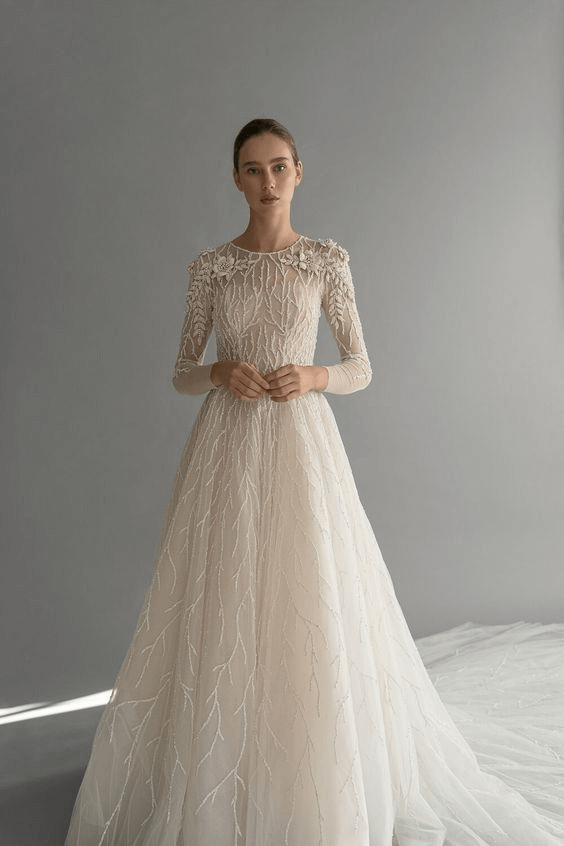 This neckline definitely reminds you of your favorite T-shirt at home. It is suitable for petite ladies, who want to look a bit fuller on their special day. In contrast, you might want to avoid this wedding dress design if you already have ample bust or have wide shoulders. It will add unnecessary weight on your body and take away the balance.
Boat neckline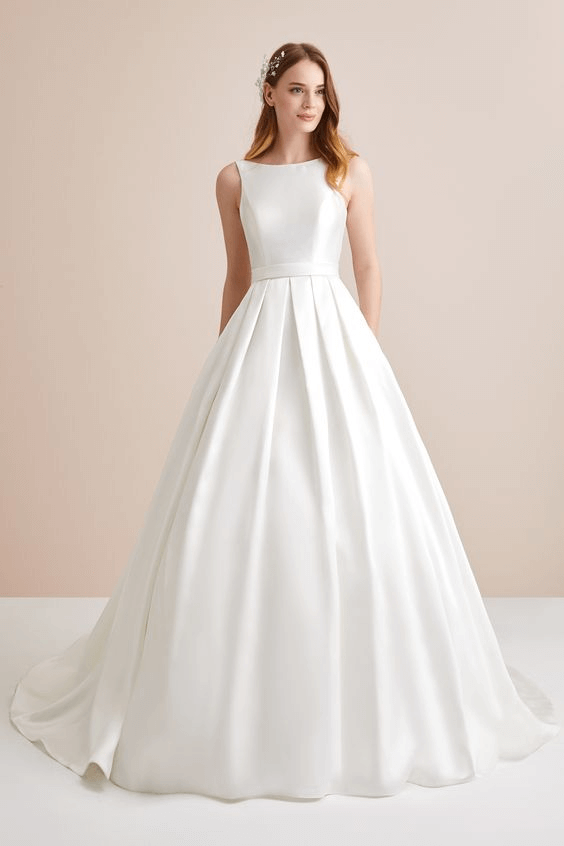 A boat neckline wedding dress brings out an elegant and timeless beauty for the bride, which somewhat reminds me of Audrey Hepburn's signature look. This wedding dress design suits brides with pear shaped bodies because it accentuates your shoulders and makes your shoulders look wider. However, avoid this dress if your neck is too short and your body is full as it can make you chunky.
Scoop neckline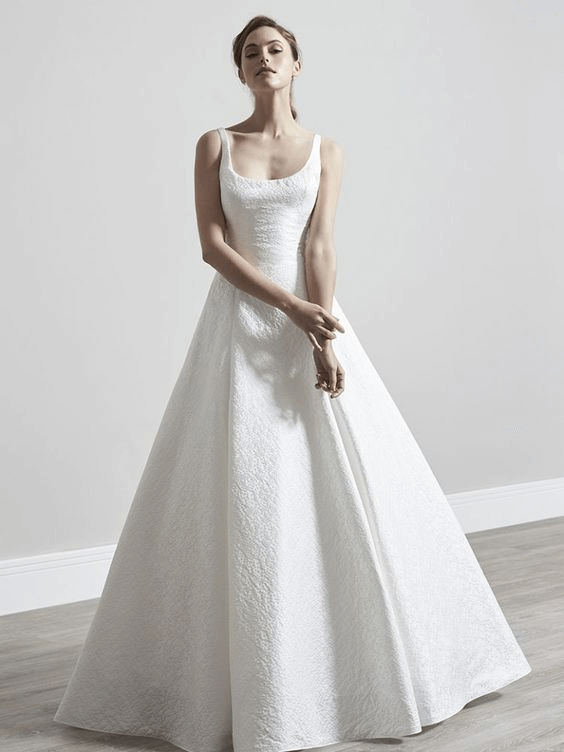 This wedding dress design could be much more accommodating than you have thought. It fits brides with pear-shaped, hourglass body type or even the small-busted one. All the attention will be put to the neckline so that people worry less about your body. The deeper and wider the scoop, the more attention it draws to the below section and makes your neck look much longer. 
V-neck 
A V-neck wedding dress will capture everyone's eyes to the cut in the front. It is up to you to decide the depth. If you are more conservative, choose the medium cut. Want to offer the really sexy feeling? Go with a plunge neckline where the cut goes all the way to your waistline. The V-neck offers a visual effect for brides. It can make your round face look slightly smaller and add some extra height to your body. This dress fits the best with ladies with B - C cup size. It will be a bit loose and awkward if you have small breasts while the D cups might be a bit too revealing. In addition, be sure to pick the right lingeries for this wedding dress design to avoid unexpected accidents with your wedding outfit.
Halter neck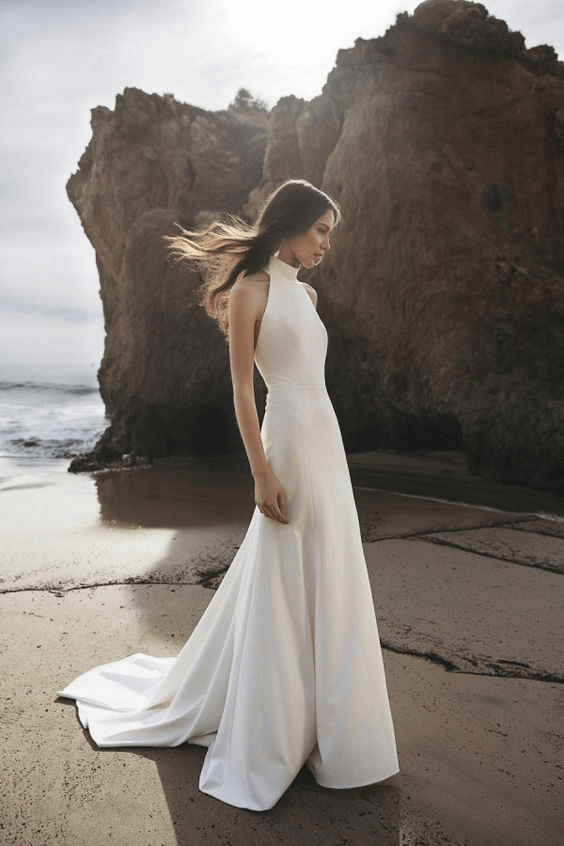 It is hard to resist a halter neck wedding dress. Unfortunately, it is not the design for everyone. This neckline fits the best for brides with decent height and wide shoulder. The design accentures your heights and complements your upper body. In contrast, petite and narrow shoulders brides should avoid this design unless you want to gain some artificial visual weights.
High neck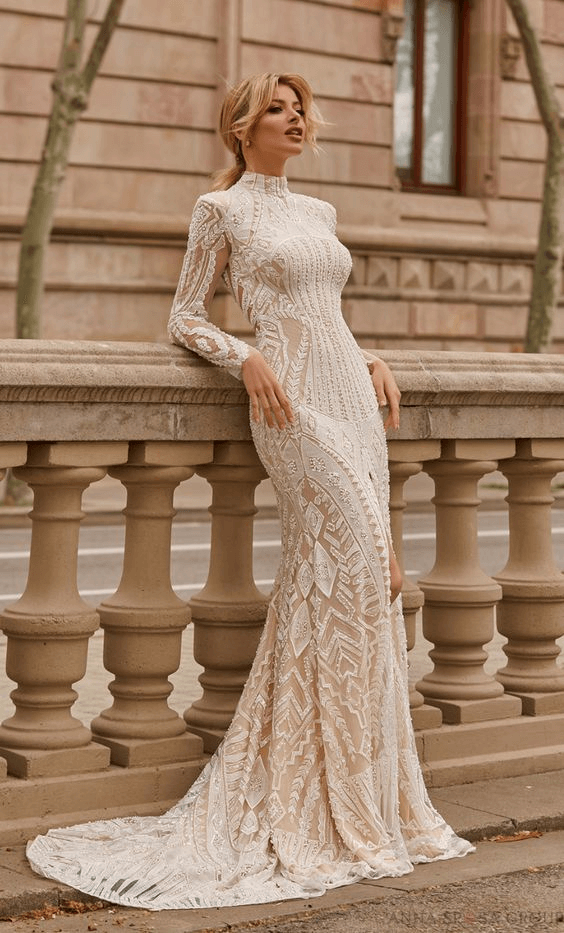 The name already said it all. The neckline will cover most of your neck by hugging around it. Most wedding dress designs with this type of neckline use lace for the neck to create a softer feel. If you like a discreet and classical look, this is the right design for you. However, brides with shorter necks should not consider choosing this wedding dress design because it might take away your whole neck. If  you opt for this style, you should skip the necklace and choose an updo hair to further complement your neck.
Asymmetric neckline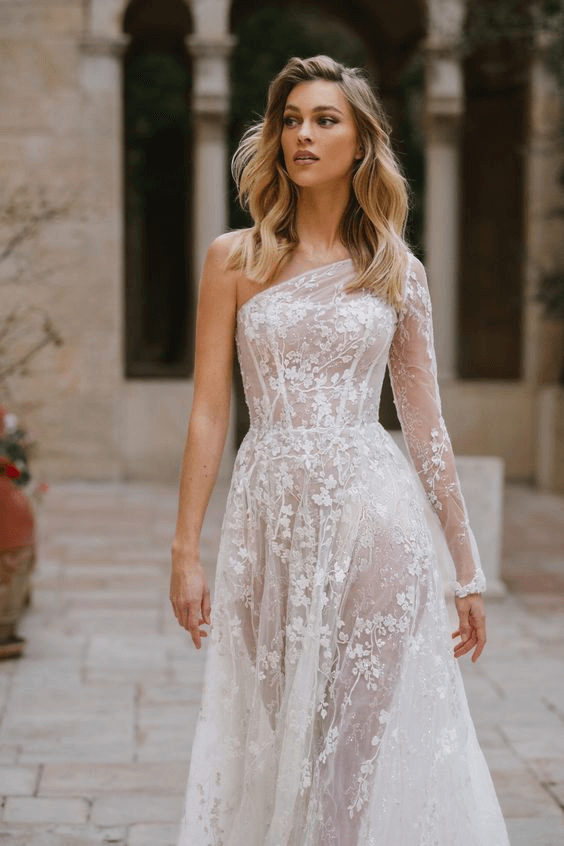 Asymmetric neckline will work if you are looking for an unconventional and modern wedding dress design. It has great visual effects, which enhances your shoulders. This will be very useful for petite brides with narrow shoulders. It is not only popular in wedding dresses but is also commonly seen in the bridesmaids' dresses.
Illusion neckline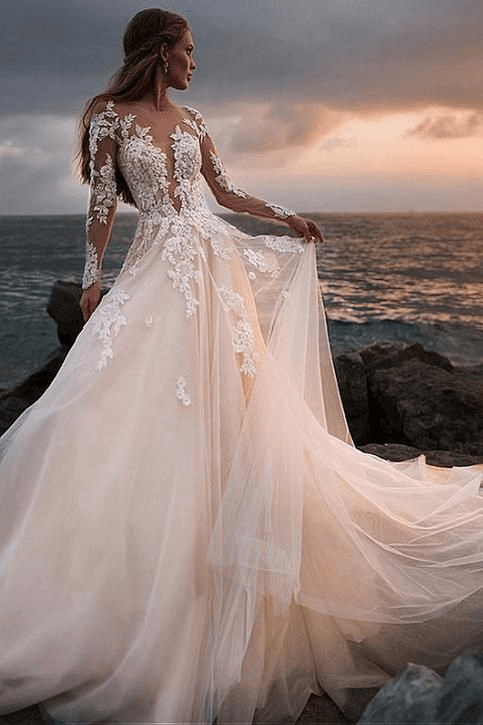 If you really like the V-neck or the sweetheart neckline but feel uncomfortable showing off too much of your skin, this will be an option for you. It also helps support and secure the wedding dress on your body. Instead of staying with the cut, this wedding dress design includes more sheer, lace and beads to create an illusion neckline. It is flattering and romantic on any bride.