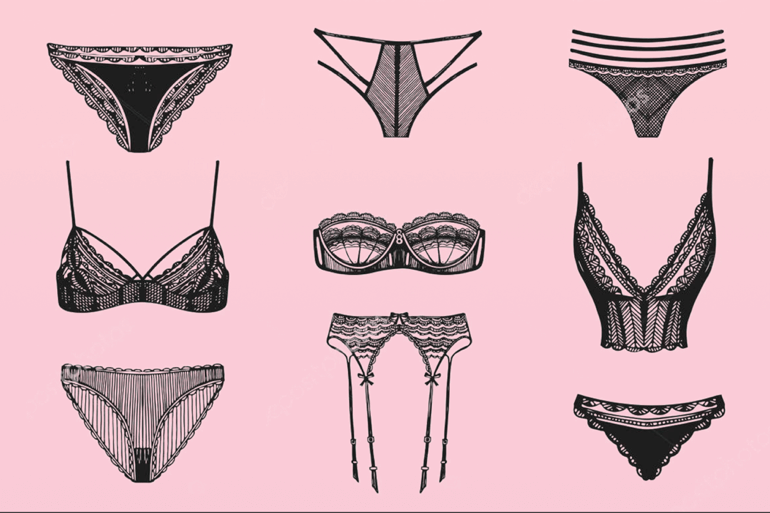 Beside all accessories and jewelries, the undergarment is an important part that contributes to your overall look on the big day. Picking the right lingerie not only helps complete your wedding outfit but also shows off your body and makes you feel more confident as you walk down the aisle. Don't let the wrong bra or underwear ruin your most important day. We have a few tips on what kind of bra you should wear for your wedding and how to mix-match them with the right wedding dress. 
Choose the right bra for your wedding dress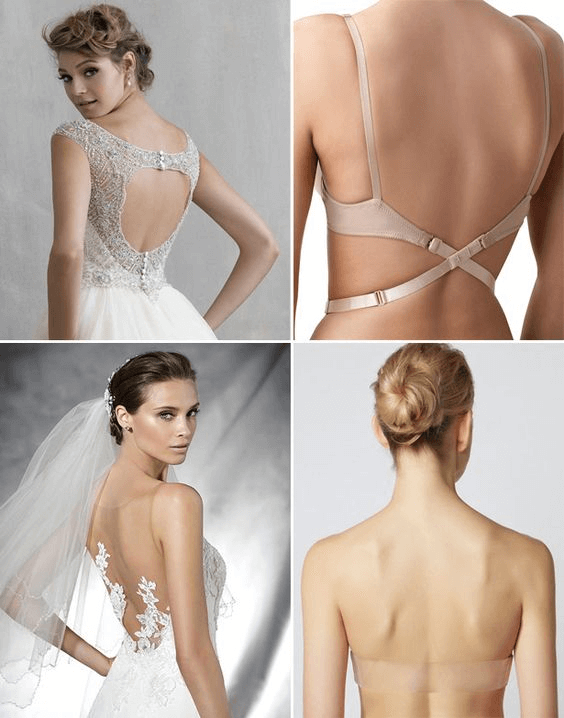 The neckline of your wedding dress plays an important role in deciding the bra you need on your wedding day. A suitable bra will make you become more attractive in your wedding dress. 
Low or Keyhole neckline
This design draws all attention to the neckline on your wedding dress. You would want to keep the bra out of sight while still showing off your sexiness. The plunge bra will be your best friend as the cut in between will help you hide the inner wear while still providing support for your breast. Another option is for an adhesive bra. However, this option is more suitable for brides with a full cup or those who have done the breast surgery.
Open back wedding dress
If you have felt for that open back dress, an adhesive bra is the optimal option. No strap, no back line. You are 100% covered by the gel cup. In case your wedding dress is not fully open-back, you can also consider the convertible bra. Some brides feel it a bit safer when there are some straps involved rather than just the sticky gel.
Halter neck wedding dress
It is actually not that easy to pick the right match for a halter neck wedding dress. You would not want to have the strap sticking out while wearing this sophisticated design. The best option is to use a convertible bra, which you can transform the strap to a halter neck one to go with the dress. You should pick a transparent or very slim strap in this case to make it harder to notice.
Off-the-shoulder or Strapless wedding dress
Off-the-shoulder wedding dress is a favorable option for many brides as it helps cover a part of your arms. This outfit goes well with the strapless bra. Not only does it push up and make you look more full, the bra also helps you look a bit slimmer. You should go with one that has similar color as your wedding dress to prevent unexpected incidents.
Mermaid wedding dress
A mermaid dress hugs your body tightly and shows your ideal body shape. It makes a bride look much sexier. If you opt for this wedding dress, a full corset will be your best bet. It contributes to the neckline and at the same time, tighten up your waistline to match the outfit. You can draw attention to both the neckline and the bottom part of your wedding dress and shine on your wedding day.
Some helpful tips for brides
Beside the basic rules on what kind of bra you should wear on your wedding day, there are also some helpful tips to help you complete your look. Just as your outfit needs accessories, your lingerie should be a complete set.
Pick the right color
The safest option for your undergarment is to go with matching color with your wedding dress or your skin color. That way, they would not stand out if they were accidentally shown during your wedding. You should try to test out your lingerie by wearing them as you go try on your wedding dress. It will help you have an overall look and spot any potential issues with your outfit.
Pay attention to the material
Remember you will have to wear your outfit for a whole day. Therefore, opt for an airy material that can absorb the sweat well. At the same time, your undergarment material should fit your wedding dress so that they won't be shown. For example: it might be risky to choose bold lacy material on a thin chiffon wedding dress. Before your big day, you should spend time checking all the materials, strap and gel of your undergarment to prevent any potential issues.
Complete with some accessories
Last but not least, safe choice doesn't need to be boring. The undergarment that you should wear in your wedding day means more than just the bra. Invest your time in picking the right underwear, sock and garter as well. They together make a complete look for your lingerie. You can be playful and show your personality in your wedding garter choice.
Where to buy wedding lingeries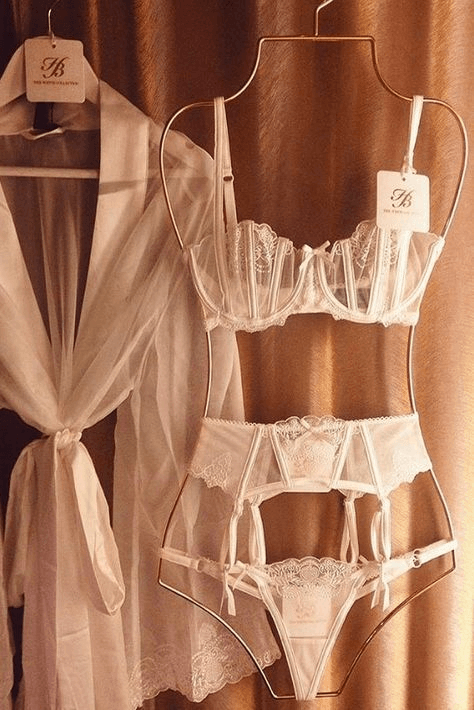 No matter what you want to save in your wedding budget, your wedding undergarment should get an appropriate investment. Spending your time and resources on choosing the suitable set will contribute to your confidence on the wedding day. The best place to shop for a wedding bra would be the bridal salon, where you get your wedding dress. The consultants are experienced enough to give you advice on what kind of bra you should wear on your wedding day. You should ask them for the full package that includes those options as well. If you want to have more shopping choices in Vietnam, there are a few options:
Vera:
the local brand has been around for a long time. Their designs are on the feminie and sexy side. They have a large store network across the country that you can find easily.
Triumph:
the imported brand has become a go-to option for many brides. Their products are simple but sophisticated. You can also find their stores easily in Vietnam.
iBasic:
The name said it all. iBasic focuses on simple and easy to wear designs, which can fit your minimalist wedding dress. They have a reasonable price range that fits cost-conscious shoppers. You can find this brand in both stand-alone brand and malls.