Don't underestimate the power of your wedding jewellery. They can complement your wedding dress and help you shine on your wedding day. The art of choosing jewellery has never been simple with many rules to follow. No worry, we got you covered as you get ready for your big day. We have put together some quick guidance for you to add the best jewellery and create your complete wedding look.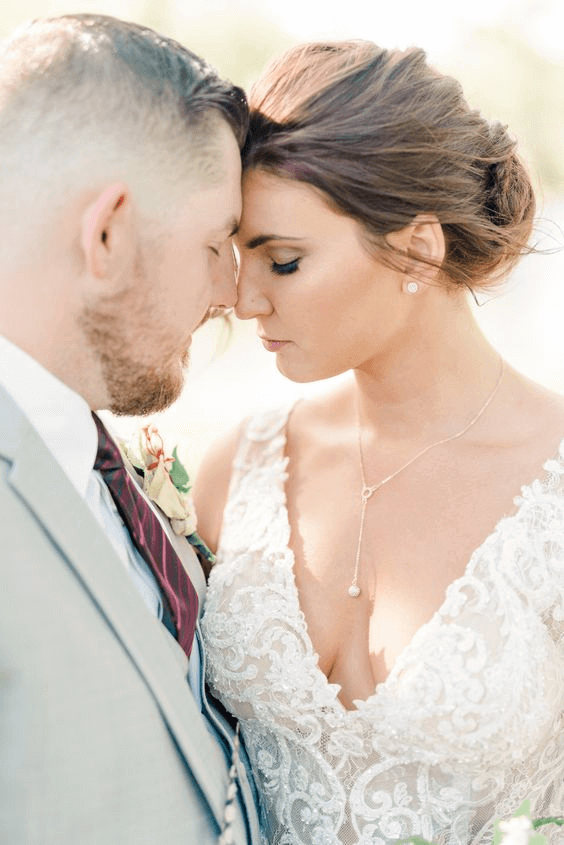 Pay attention to your neckline
One important indication for choosing jewellery is the neckline of your wedding dress. The neckline design brings out the vibe for your wedding outfit. Each design has their own characters that can define which type of jewelries you will need as well as their shape. There are 5 main designs of the neckline:
V-neck and Sweetheart Neck
This is the most popular neckline for wedding dresses. Their openness gives you a chance to show off your style with both earrings and necklace. You should use these accessories to decorate your décolletage. A necklace with pendant or a choker can be a good choice. Since the V-neck has a deeper cut, you can opt for a long necklace while a short one goes well with your sweetheart neck. Both these designs encourage dangling earrings as well. If you go with a big pendant, tone down on the earrings so that it won't become too overwhelming. 
Off-shoulder
The off-shoulder wedding dress is an easy to wear option for many brides. It is frequently used on wedding jumpsuits as well. To add on to the off shoulder design, you can choose long statement earrings without a necklace. That will draw more attention to your face. It can be paired with a bracelet of the same materials if your wedding dress is sleeveless and your engagement ring to create the complete look. In case you really want a necklace, the best option is wearing a choker or a tennis necklace paired with a pair of stud earrings. 
High or Closed Neck
Needless to say, this classical neckline doesn't encourage an additional necklace. This look actually encourages a minimal wedding jewellery style. Consult your hair stylist before choosing your accessories in this case. If you choose to put all your hair up, drop earrings will be your best friend. On the other hand, the subtle stud earrings will add to the classiness of this neckline.
Halter Dress
Instead of a necklace, this flattering neckline will go well with hair accessories. You can pull your hair back and add some glam by using pins, combs or even vines to decorate your hair. There is no need to limit yourself in the stone accessories. You can try to add some flowers and create a more natural look. If you want earrings, a short-length drop earrings will go well with this neckline.
Asymmetrical or One-Shoulder Neckline
Best jewellery to go with this neckline is the drop or post earrings. They will bring attention to your gorgeous smile on this special day. Try to resist the temptation to add a necklace in this case. These accessories will create an imbalance look and discount your outfit. You can wear a cocktail ring or a bracelet instead.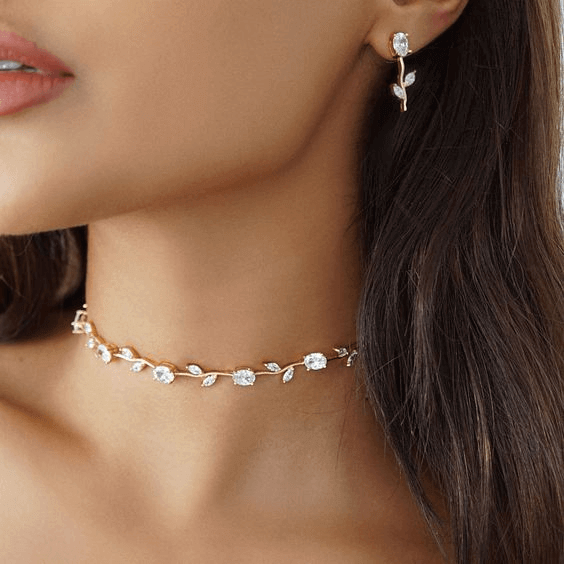 Match your wedding dress color
Once you have chosen the shape of your wedding jewellery, the next step to get ready for your wedding day is to pick their materials. The rule of thumb is to match them with the color of your wedding dress. This is crucial that they are in harmony. Let's look at the popular wedding dress colors:
Plain white
While color can be paired with almost every type of jewellery. Among them, the best option is the shiny sleek one such as platinum, white gold and silver. You can even add a touch of diamond to add the blink effect. In case you buy all your wedding jewellery, platinum might cost a bit more upfront but lower maintenance cost in the long term compared to white gold. 
Ivory
This creamy shade wedding dress will be complemented by yellow gold wedding jewellery. They shine together as a pair. In case you are afraid of the old-fashion vibe of gold, pearls can be a good substitute. It not only matches the dress color but also adds to the timeless beauty.
Champagne
It is safe to choose jewelries that match the bright and yellow-ish shade of this wedding dress. Your options can include gold and champagne pearls. This wedding dress color can also be used with burnished silver to create a more antique look if you feel a bit adventurous. You should test and try this option. 
Silver
There is no surprise that silver color wedding dresses will go well with silver. They compensate each other well. Another option to consider is using grey-color wedding jewelries. To add color, you can choose subtle pendants for your necklace or a color stone for your cocktail ring.  
Other colors
Adventurous brides no longer limit themselves within the traditional colors. Many brides venture out to red, blush pink and even strong colors such as black. You can apply the rule of contrast when you choose those wedding dresses. The safe option is always gold since it can match multiple colors and bring out a lavish look for your outfit. One rule to consider is not to overdo it or you will become too showy.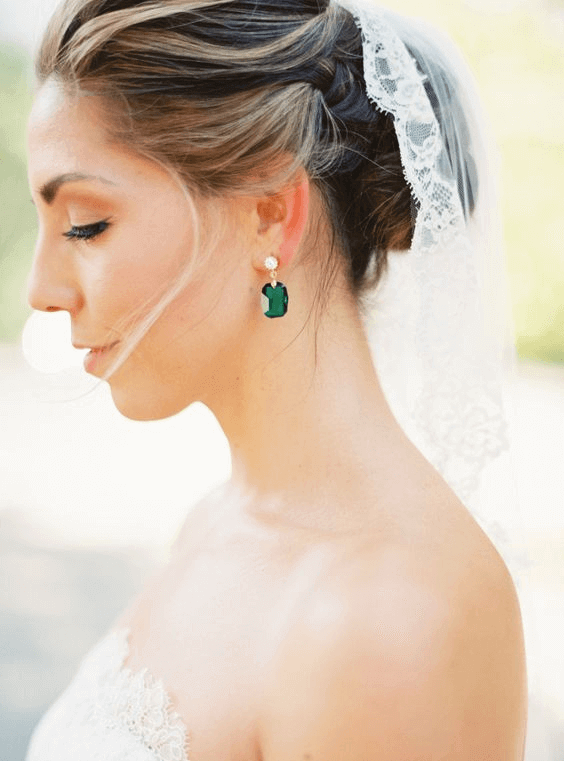 Consider your veil
The veil plays a crucial role in your decision on the tiara. Its length and the way you plan to wear your veil can also influence other wedding jewelries. If you opt for wearing a long and well-decorate veil, wearing less jewellery will be your optimal choice. It will draw attention to your veil as you walk down the aisle. When you don't wear this accessory or choose the short one, you can add more details such as long statement earrings or tiara.
Fit your wedding venue
The outdoor and natural settings will call for less showy wedding jewelries. Instead of big diamonds, you can switch to using flowers or natural stones for a garden or farm wedding. Your beach wedding will go well with pearls, aquamarine or sapphire gem jewellery. Integrating the surrounding background to your accessories choice will put a strong impact on your wedding theme. It also applies to the indoor weddings. If your wedding venue is classical, it can fit vintage or timeless design. On the other hand, loft-style wedding venues will go well with the contemporary designs for the wedding jewelry.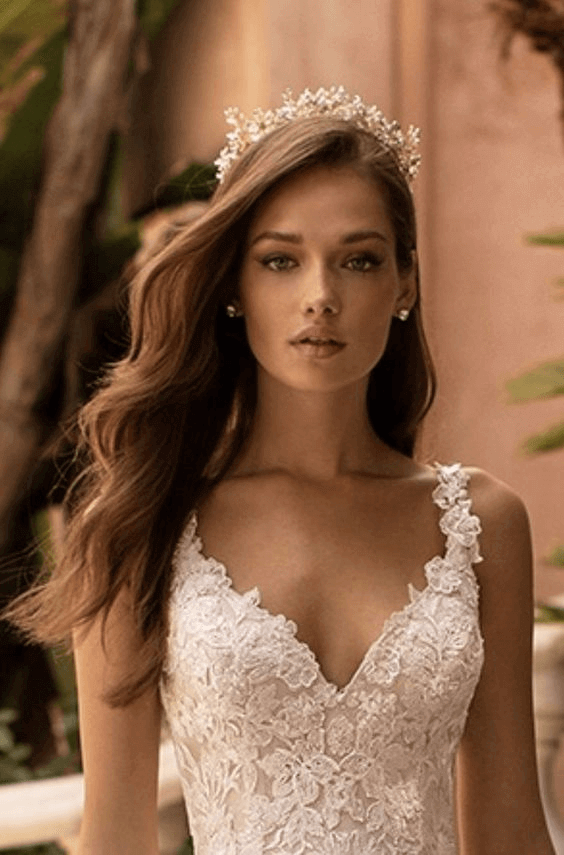 Have a consistent overall look
Wedding jewellery is only a part of your wedding outfits. There are also the wedding dress, shoes, hairstyle and your bridal bouquet. They should have the same theme and create an overall look that fits your wedding vision. Crashing between these elements shouldn't be encouraged. At the same time, all your wedding jewellery should be consistent. You might not want to have yellow-gold earrings while wearing a platinum necklace and a rose gold cocktail ring. Try not to use too many colors in one bridal set. They might make each other look good but can also sabotage your whole outfit. 
Less is more
Every bride wants to have the best look on her wedding day. It is understandable that you might have fear of missing out and look to wear all the accessories possible on that day. However, the timeless rule of fashion also applies to wedding outfits. Less is more. It is recommended to go with simplicity and elegance when it comes to your wedding. Your wedding dress can already have many details. Wedding jewelries should only add a little more to that rather than overshadow the main dress. Have a look at the royal weddings. They actually don't need to wear that much to be the real life princess.
Stay true to yourself
Your wedding costume should always reflect you as who you are. While it is true that people tend to go a bit fancier on their wedding day, you should still go with the accessories that make you feel comfortable. If you are a minimalist, you can wear subtle size statement jewellery instead of multiple one. In case you like adventurous and freestyle, don't limit yourself on the safe options of pearls and diamond but expand out to other gemstones. The most important part of choosing wedding jewellery is that they should add to your confidence as you get ready to walk down the aisle. That is how you will become the most beautiful bride.