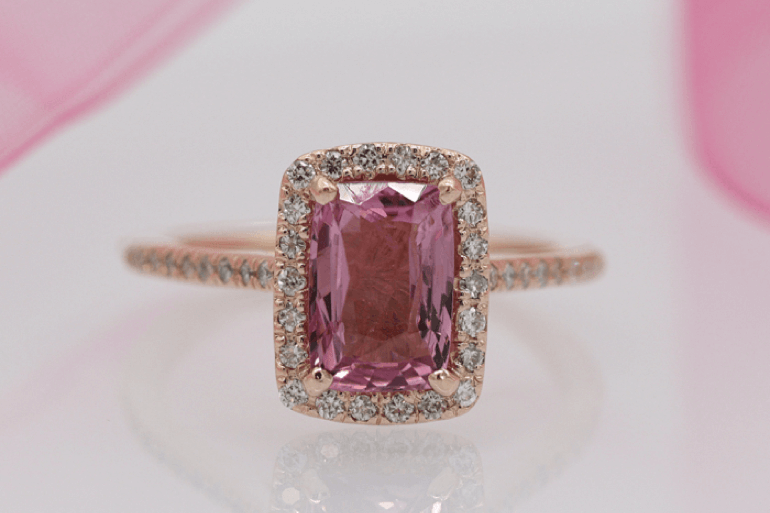 Engagement
Wedding Ring: The Meaning Behind Each Kind of Treasure GemStones
Are you still looking for the perfect wedding rings? Finding yourself struggling on how to select wedding rings? Maybe it's time to change the strategy. Commercials from jewelers have been successfully shaping our thoughts on wedding rings with a big, shiny white diamond. However, it is not uncommon to see the increasing numbers of non-traditional, colored engagement rings on the hands of modern brides. From Kate Middleton's 18-carat sapphire piece to Jessica Simpson 5-carat ruby engagement rings, treasure stones with vibrant colors are making a comeback. Let's have a look at these nengagement ring options and the meaning behind each of them.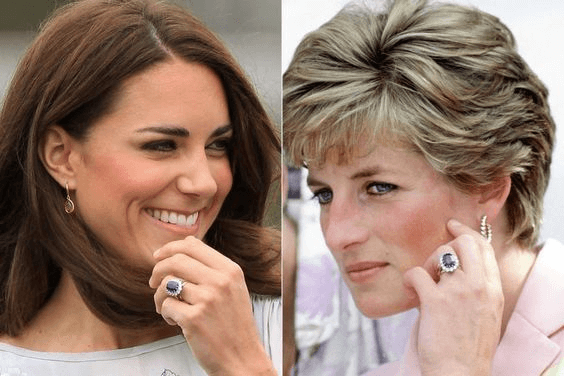 The most precious treasure stones
Beside diamond, there are 3 other main treasure tones that have high demand on the market. They are ruby, sapphire and emerald. They are all rare gemstones and highly valued by the jewelers around the world. 
Ruby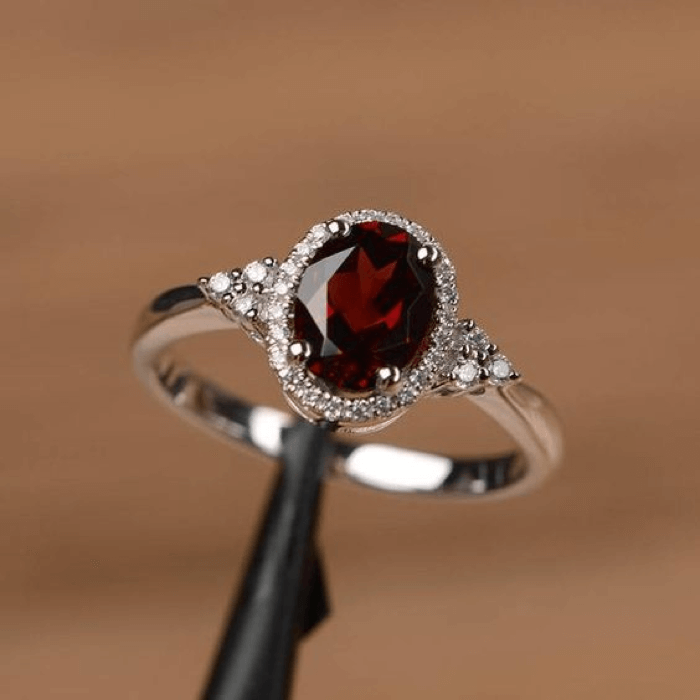 This treasure stone comes with an unmistakable deep red color. Some rubies even border the purple or orange colors but red is still the all time favorite by bride. The most expensive rubies are one with deep color that is evenly distributed on the surface. You can either opt for one main ruby stone in the engagement rings or a pave-setting with multiple small ones. Ruby has been used for a long time throughout history and best known as a symbol of prosperity. When it comes to wedding and engagement rings, this treasure stone represents a deep and passionate love. You can show your commitment by proposing to her with a ruby engagement ring. In addition, this treasure stone can be seen as a representative of fire, which brings life and youthfulness to the relationship and keeps it lasting forever. 
Emerald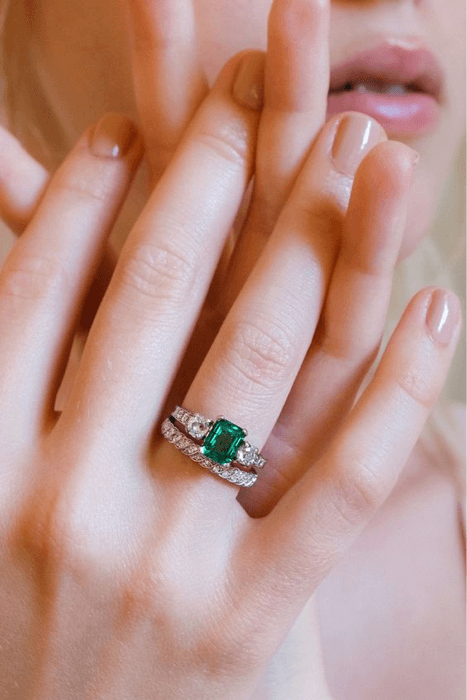 People believe emerald is the symbol of faithfulness in love. It shows your love is true and represents the trust you have on each other, which helps keep the relationship stable. This treasure stone normally comes in green, but sometimes can also be found in yellow. The more transparent the color is, the more valuable is the stone. Fun fact: this color stone is associated with Venus, the God of love and beauty, who will help protect your relationship forever. The popular choice for an emerald engagement ring is mixing multiple sizes. You can choose one big emerald as center and small white stones as halo setting around it or vice versa. An emerald stone ring will never fail to set her engagement ring apart.  
Sapphire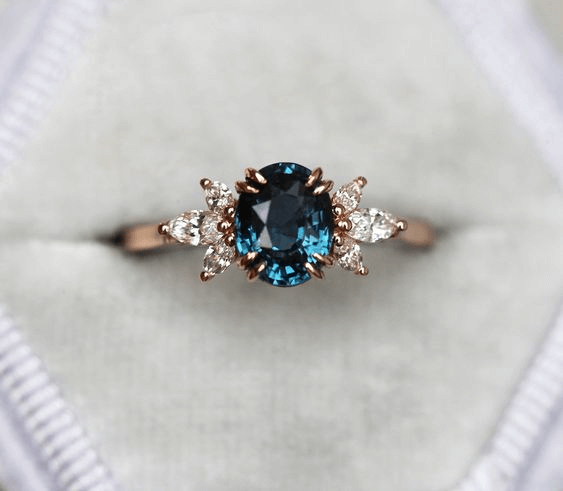 Sapphires have multiple colors from blue to orange, pink or even purple. You will mostly see the dark blue color being used. It is also the most expensive color among all the sapphires. This treasure stone is a very popular choice for wedding and engagement rings for couples thanks to its sturdiness. Its special color stands out effortlessly but is still easy to mix in an outfit. It is said that sapphire is the gemstone of truth and purity. As you ask for her hand with a sapphire ring, you are showing your sincerity and strong commitment to this marriage. Thanks to the rich blue color, sapphire is easy to set with multiple metals such as platinum, gold or white gold. It looks good by itself as a single stone but can also be mixed with others to create a special shape ring.
Other options
If you want to be more creative with your wedding options or want to opt for a more reasonable price tag to fit your wedding budget, there are a wide range of semi-precious treasure gemstones that you can choose from. Here are the most popular options.
Amethyst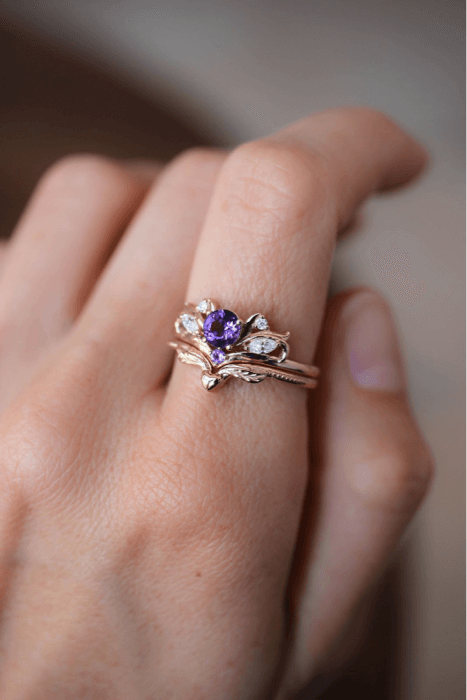 The purple color of this gemstone can capture everyone's attention. It represents the integrity and purity of your heart. Despite being a relatively new option for engagement and wedding ring, people also believe this stone is a symbol of nobility and pride.
Topaz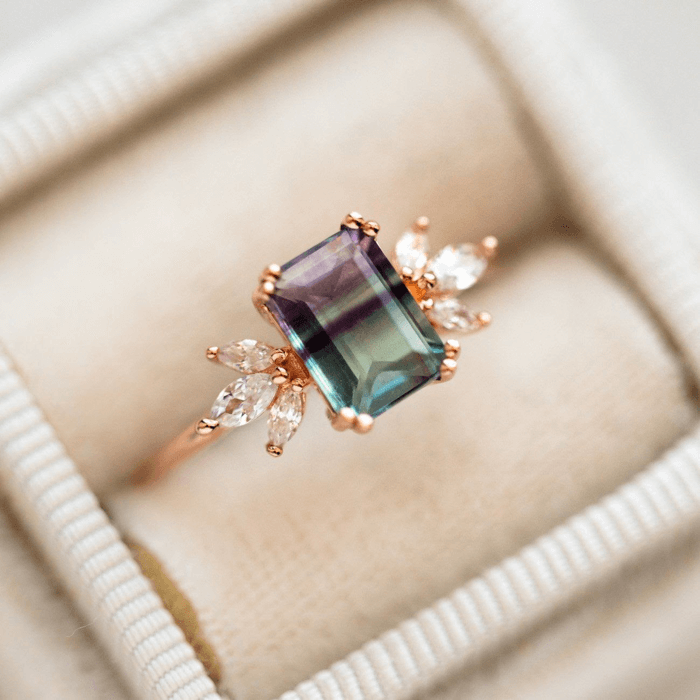 True topazes don't really have color. However, the light shining through its cuts brings out various colors for this treasure stone from light blue to yellow. It is said that topaz has a strong power to protect its owner from sorrow and bring out positive energy and happiness.
Aquamarine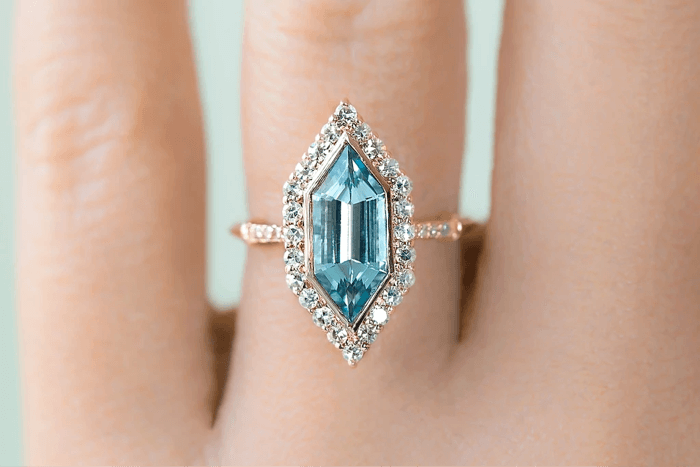 In contrast to the bold deep blue of sapphire, aquamarine has the lighter shade of blue from the ocean and sky. It will make a stunning engagement ring. People believe aquamarine is the symbol of courage and communication. Giving out an aquamarine ring is your commitment to keep the communication going and express your love to her.
Pearl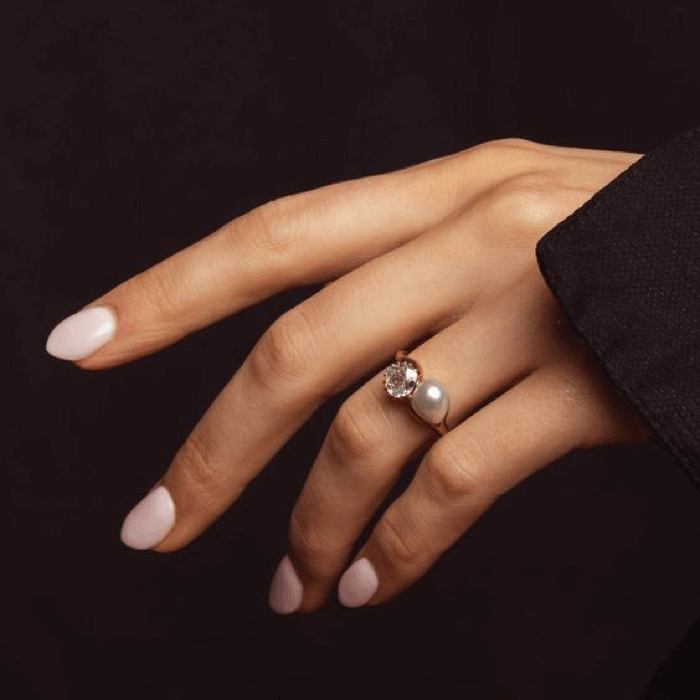 Despite not being categorized as a treasure stone, pearl is a classical and elegant choice for wedding rings. Known as the symbol of loyalty, integrity and purity, it can help you express your strong promise to your significant other. In addition, a timeless pearl ring will never fail to impress. 
Tips for your shopping
Choose a more stable setting 
When you opt for a diamond-alternative, be sure to check out their Mohs scale. This number will show you the hardness of that particular treasure stone. Diamond has the Mohs scale of 10, which means it is the hardes to break. Most precious and semi-precious stones are at a lower scale so that they can be damaged easier. As a result, you should go with a more stable setting such as the bezel one to provide a solid foundation to keep the treasure stone. 
Shop with credible providers
Needless to say, shopping for wedding rings is not an easy task. If you are still wondering how to buy the wedding ring, it is advisable that you go with more established and well-known jewelers to avoid counterfeit products. You should always ask for the certification of the treasure stones before making a decision.  
Be creative with your style
Picking a color stone is a good opportunity to create your unique style. There is no need to stay in the limit of one single stone like when you choose diamond, it is common to see a mix stone wedding ring with the color treasure stone as the centerpiece. Remember to consult your significant other's closet to choose the right metal as well. Gold and rose gold can bring out the vintage look while white gold and platinum will give your wedding rings a modern and luxurious style.