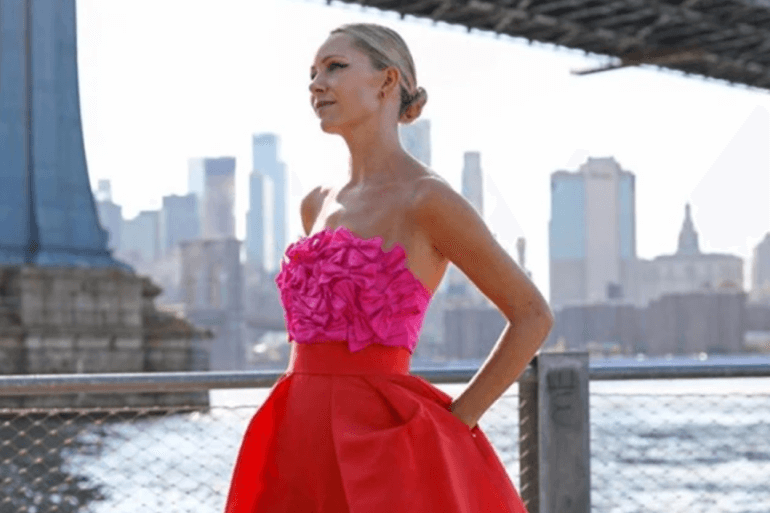 It is an unspoken norm that brides wear a long beautiful wedding dress on their wedding day. Whether you want to show your minimalist fashion style or realize your childhood dream of being the princess, there is a wedding dress that can make it happen. How about wearing pants on your special day? The modern brides are no longer limiting themselves in that fairytale wedding ball gowns. Bridal jumpsuits have become a new favorite outfit for chic brides on their wedding day. Would you want to join us to step out of your comfort zone and pick a special wedding outfit design on your big day? 
Show your characters with your bridal jumpsuit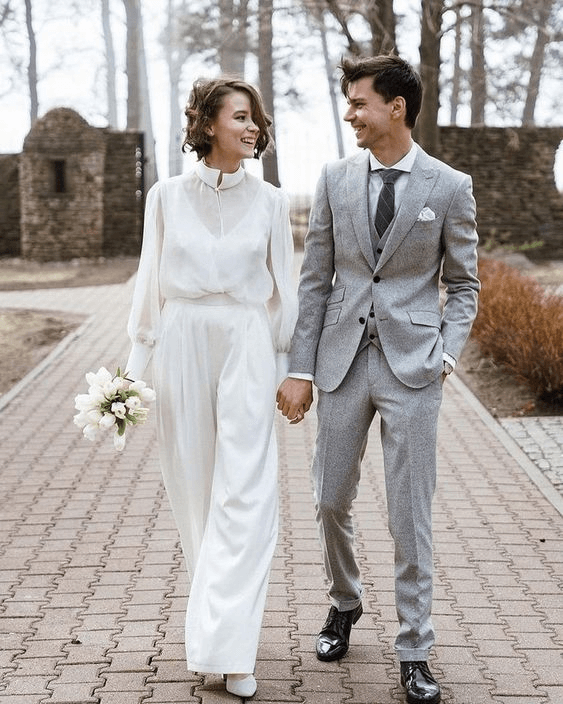 Jumpsuit has been around for quite a long time. This unique one-piece design made its first appearance in the 60s and 70s. It has been promoted by fashionistas and celebrities around the world since then. The trend had it come back in the 2010s and expand from comfortable streetwear to the fashion for brides. If the wedding dress shows off your feminie and soft side, the bridal jumpsuit is made for chic and modern brides. You can show your characters when still looking flattering in this special wedding outfit design. There are many pros you pick a jumpsuit for bridal outfits: 
Easy to move:
Say goodbye to the big and heavy ball gowns and welcome your favorite pants. Jumpsuits make it much easier for brides to move around during the big hectic wedding day. This special wedding outfit design is classy yet comfortable to wear and most importantly, improves your mobility.
Lower cost:
In general, it will cost your less money to tailor a bridal jumpsuit than a wedding dress. This comes from the material, design and labor cost. Instead of spending a fortune on your one-day outfit, you can save a significant amount by investing in a bridal jumpsuit.
Usability & Recyclable:
What will you do to your wedding dress after the wedding day? There is a high chance that it will stay in the closet forever as a souvenir. How about the bridal jumpsuit? It is much easier to make a quick fix and recycle your bridal outfit into a beautiful jumpsuit for a party. Brides will make more out of their investment in their bridal jumpsuit.
Tips to choose the right bridal jumpsuits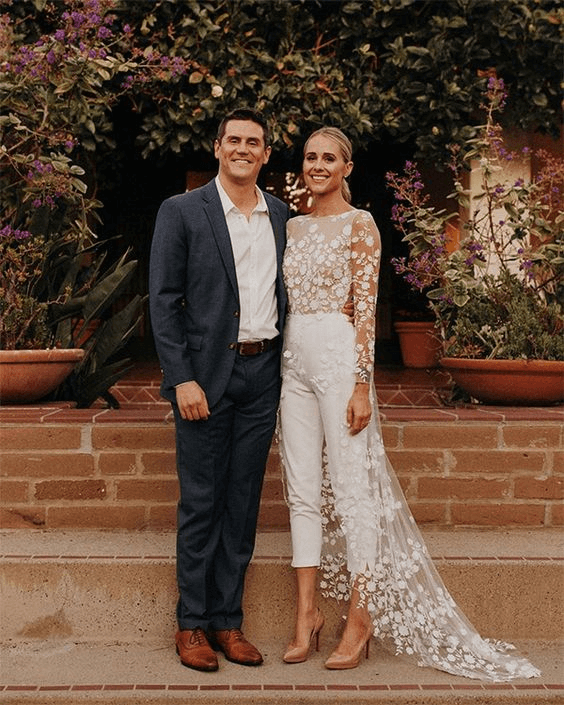 Wearing a bridal jumpsuit can become a signature of your wedding day. While the jumpsuit might look more simple than the wedding dress, there are small details that you can tweak to make your outfit more special. We have some tips for you to choose the suitable jumpsuit:
Consider your body type:
There is no one size fits all solution for wedding outfit, especially if you decide to go with jumpsuit. You should opt for a design that can help you show your strengths and cover the weakness. If you want to add some heights, pick a long and wide leg trousers. Want to show off your legs? A skinny pants might be your better fit. You should also consider the materials. A soft material like silk and chiffon can make your wide leg trousers look more flattering while a tough one can bring out the boldness in your outfit. Talk to your designers about your vision and work with that person to find the best fit.
Add a wow factor:
Don't stop at the simple and plain design for your bridal jumpsuit. There are many details that you can add to make sure your outfit still has the wow factor that draws people attention. Would you want to add a cape to our outfit? If you still feel missing out about the dress, how about the detachable skirt with your pants? They can surprise people and show your fashion taste. At the same time, you don't need to limit yourself in the traditional white shades. Be bold and play with different colors such as red or gold as well.
Don't forget your accessories:
Just like the wedding dress, your bridal outfit can't be completed without the jewellery and accessories. Many brides still choose to wear their veil as they choose jumpsuits for their wedding day. A short veil can contribute to the overall look. If you are going with a menswear-inspired look, try to go minimalist on the accessories, makeup and nail colors. At the same time, wearing a jumpsuit might give you more room to choose undergarment compared to a wedding dress. You should pay attention to all the small details to have the best outfit.
Where to buy the bridal jumpsuit?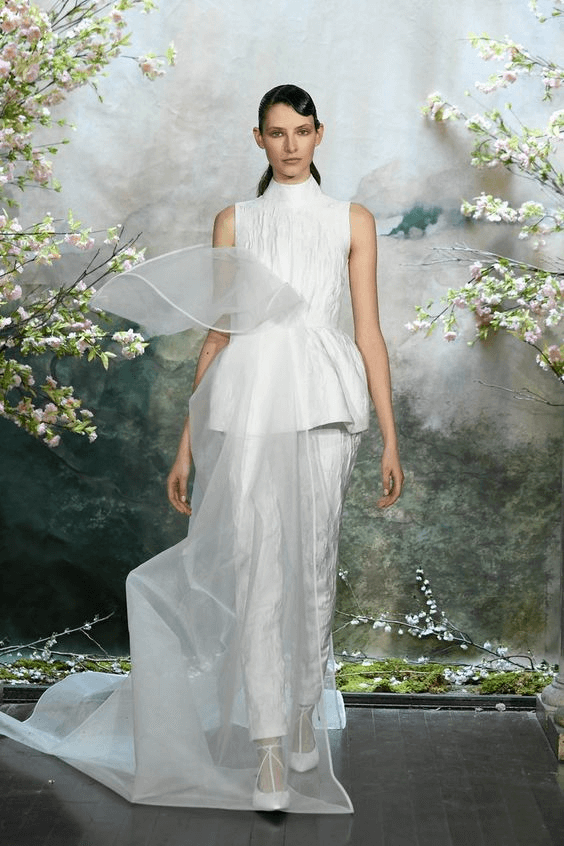 Bridal jumpsuit is an upcoming trend not only internationally but also locally. You can find various options from high-end to mid-level bridal jumpsuit in Vietnam. The best option is to have it made-to-measure, which fits you the best. However, if you want to shop around for more inspiration, you can check out these brands:
Phương My:
Phuong My is one of a few Vietnamese fashion brands that have gained credibility around the world. They have their bridal collections shown in New York annually. At Phuong My, you will find the very unique design and high-end material. Their service is also top-notch in the local market.
Gias Studio:
Rebranded from Lam Gia Khang, Gias Studio is known for their classy, timeless and feminine designs. The fashion brand doesn't have a separate bridal collection but many of their designs can be used as one. You can also make an appointment and request a special design by order.
Wephobia:
Wephobia is not a bridal salon but a local high street fashion brand. They have been around since 2012 and well-received by young, modern customers. Their signature designs are a good combination of menswear and feminie designs. You can visit their stores in Hanoi and Ho Chi Minh City for more details.