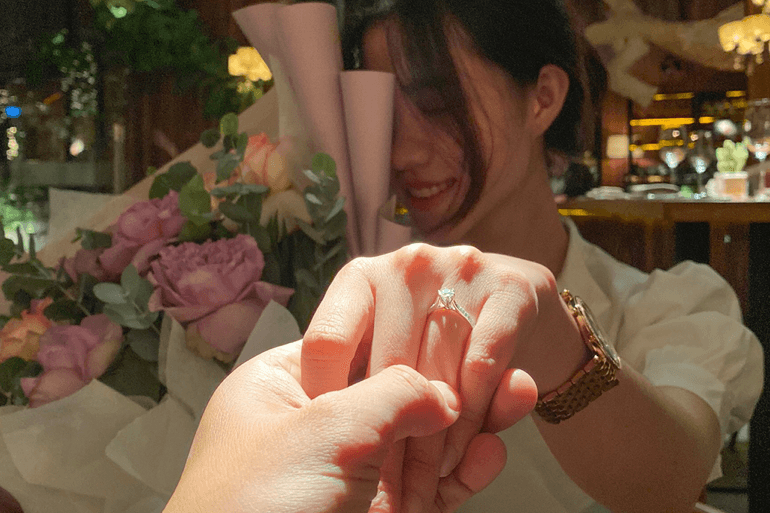 Engagement
Review: Make Your Wedding Ring The One And Only With Great Value
Even the most confident male friend of mine feels anxious when it comes to buying the engagement ring for his significant other. Just as how difficult it is to find "the one", they have to go through an equally difficult process to find the best ring that deserves that person. Many of them spend months and even a whole year shopping for that important ring. Leaving aside the big question that only she can answer, they all face the same challenge of acquiring basic knowledge about diamonds (read about: 4C of Diamond - Everything You Need To Know Before Ring Shopping), learning all the terms and designs, reading the wedding ring reviews, touring different stores until they say yes to the ring. Not everyone is a frequent diamond shopper so that it is definitely not an easy process. The more I help consult my friends during their process, the more I realise the importance of finding a supportive and trustworthy jeweller that knows their crafts. They will not only save you a lot of time and money but also make the process much easier. Tierra Diamond is one of those that provides a painless shopping experience that I have experienced.
🎥 watch my shopping experience in Tierra Diamond 👉 https://fb.watch/28pAt8qNI5/
Personalised shopping experience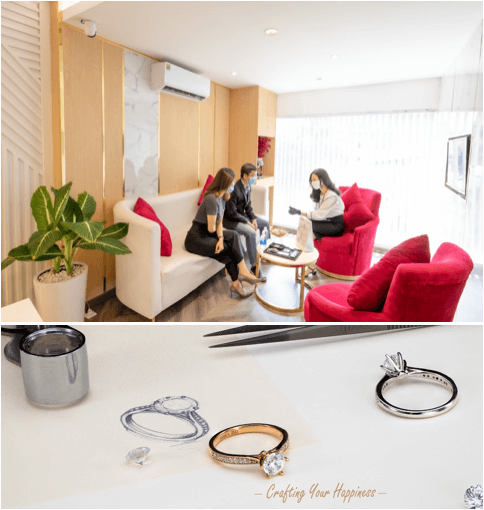 There is something about buying an engagement ring that makes it a very private experience. It takes time to have a careful look at each diamond, to evaluate whether it will fit your significant other, and sometimes just to feel if it is right. You might also have a lot of questions for the sales representative, especially as a newbie who doesn't know much about the gemstone (read about: The Meaning Behind Each Kind of Treasure Stones). No one wants to rush into purchasing the wedding rings. Unfortunately, it is hard to get that experience in Saigon.




You have a few options: go to the traditional gold stores and face the very hustle sellers; visit the established brands with dozens of curious shoppers walking around and peeking at the items you are looking at; or booking the boutique stores, who most of the time don't have stocks in-store and send you photos of similar products. That makes it unnecessarily difficult to make the decisions. After experiencing all those options, I came to a great appreciation for my shopping trip to Tierra. As I walked into their store in District 3, there are three consulting areas, in which I can talk 1 to 1 with a consultant to find the answers for all my questions in a quiet and private space. There is no curious look from other shoppers or judgemental feel from the sales representative. I can take my time to think and make decisions. Although both walk-ins and appointments are welcome, I learned later that you can get some online consultancy before making a reservation to visit their physical store and get better service. That saves lots of time. Honestly, it has been a while since I have had a relaxing shopping experience in town (except if you visit luxury brands) and it somewhat makes me feel like they are on my side in this purchase.
Know what to expect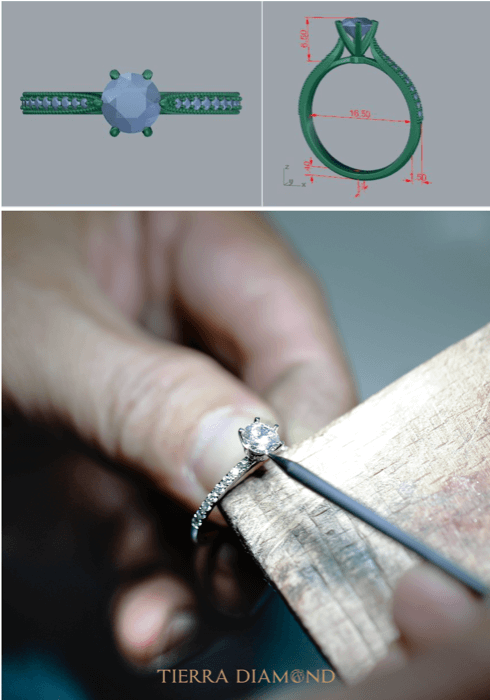 Since having a proposal and buying an engagement ring is a new trend in recent years, there is not that big of a market for this type of jewellery. One issue that many of my friends have to deal with is that it is hard to find their ideal ring in the local stores. It is not surprising when you look for a Western inspiration from Instagram and Pinterest and then no jewellers in Vietnam carry that design. On the other hand, the readily available items are too popular and sometimes boring while purchasing from an international brand can go over your wedding ring budget. Consequently, many people opt for the option of custom ordering an engagement ring based on a photo or adding some twists to an existing sample.




That comes with a risk of receiving a result that is far different from your imagination. At Tierra Diamond, they make this process a bit easier. You will have a chance to see and confirm the 3D design for your order, which partly reduces that risk. It also makes it easier for you to visualise your design. This service is free of cost for customers who make reservations. When I visited their store, I could see their open workshop there for customers to see their work. Tierra has all the processes in-house and they also directly import natural diamonds from the world's largest natural diamond manufacturers so that you can feel more reliable on quality control. It will take from 3 to 15 days for you to receive your order. One potential drawback is the brand is relatively young so that their existing collection is still limited, mainly focusing on engagement and wedding. You might need to do research before visiting and adding the details you like with their free customisation and 3D design service. 
Value for the price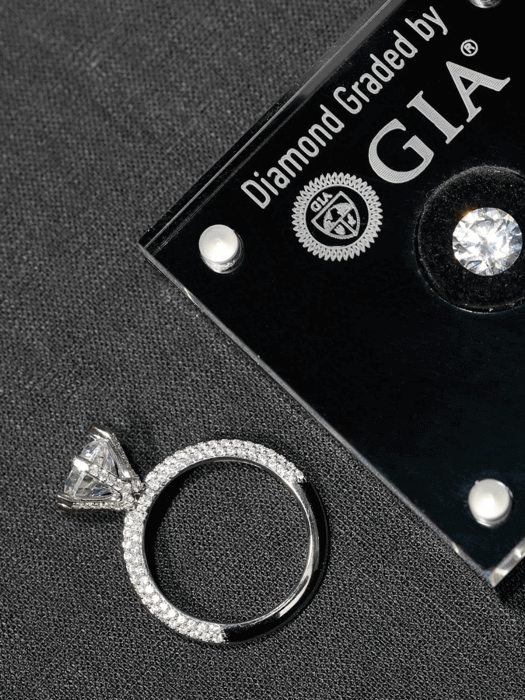 Now that you have your ring design, it is time to visit the price tag. Diamond rings are undoubtedly an expensive purchase. It is also important to find a qualified one so that you can keep the value for your investment. Tierra guarantees to use only top quality melee diamonds on their rings to give them the best effect. When you discuss with the sales representative, you can tell them your wedding ring budget so that they can help you find the best value in that range. (read about: How To Save Your Wedding Budget) The brand claims to have 5 to 10% cost saving compared to customising and personalising rings compared to established sellers. I haven't got much time to shop around and validate this but you should definitely do a comparison before making your purchase decision. In addition, Tierra uses GIA-certified diamonds which come with a certificate to guarantee your purchase value. If you can't find your ideal cut or size in-store, they can help you pick the one you like, in just 10-15 days, from thousand options around the world, thanks to their global sourcing network. It is a nice option to have in case you are a particular shopper. 
About Tierra Diamond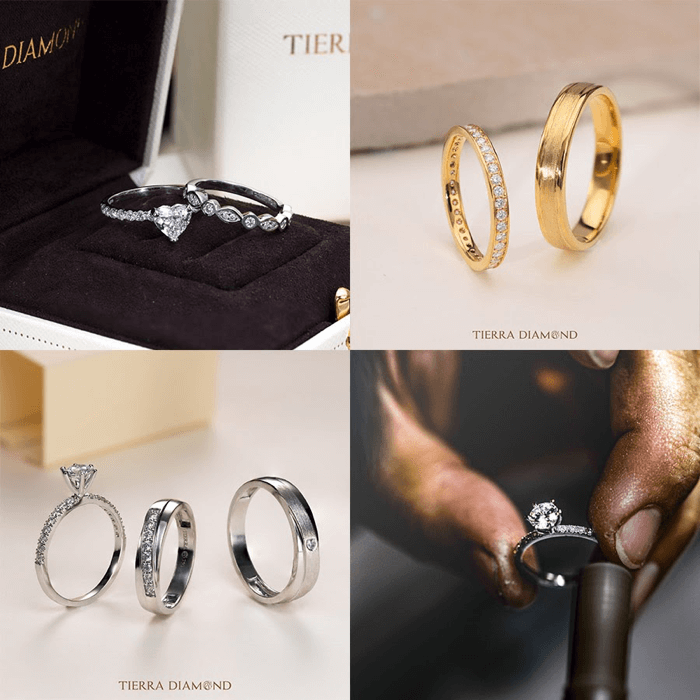 Tierra Diamond, found in 2016, is a relatively new brand in the jewellery market. The brand provides a new approach to diamond shopping, in which they focus on elegant and western-inspired design philosophy, provide personalisation and customisation service and a hassle-free shopping experience for customers. Diamond rings and diamond jewelries from Tierra are sourced from reliable providers and processed through excellent craftsmanship to make sure they look good at all angles. Tierra strives to provide the best shopping experience from reservation to after-sale services to ensure customers are happy with their purchases. You can always visit their physical store or have a look at their online presence as bellow:

Tierra Diamond
Website: tierra.vn
Location: 3rd floor, 168 Vo Thi Sau, District 3, Ho Chi Minh City
Phone number: 0938 25 65 45
Facebook: Tierra Diamond Vietnam
Instagram: Tierra Diamond
Getweady shop review video: https://fb.watch/28pAt8qNI5/