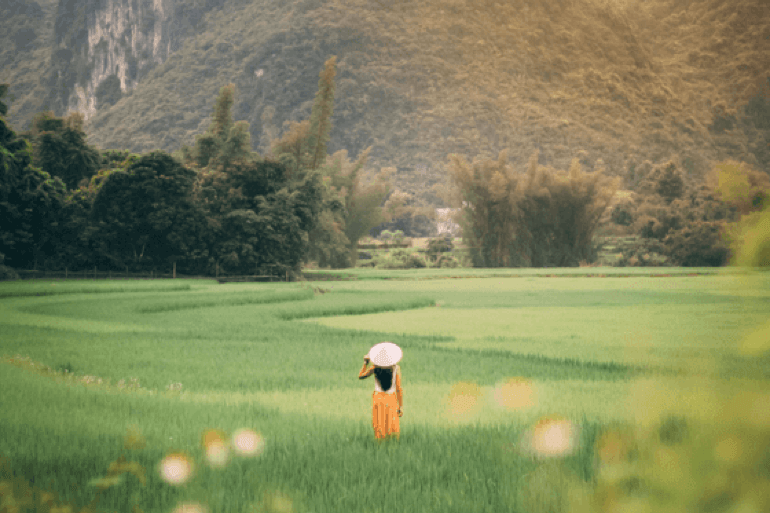 Every newlyweds longs for the honeymoon, when they can finally relax and take off the pressure from all wedding preparation to spend valuable time together. Honeymoon in Vietnam is a popular choice among couples. You do not need to spend too much effort doing research and preparing for the logistics. There are destinations with a well-developed service industry with very reasonable prices, a perfect option for couples looking for a budget-friendly honeymoon. We have gathered a list of our favorite honeymoon locations in Vietnam for your reference.
Sapa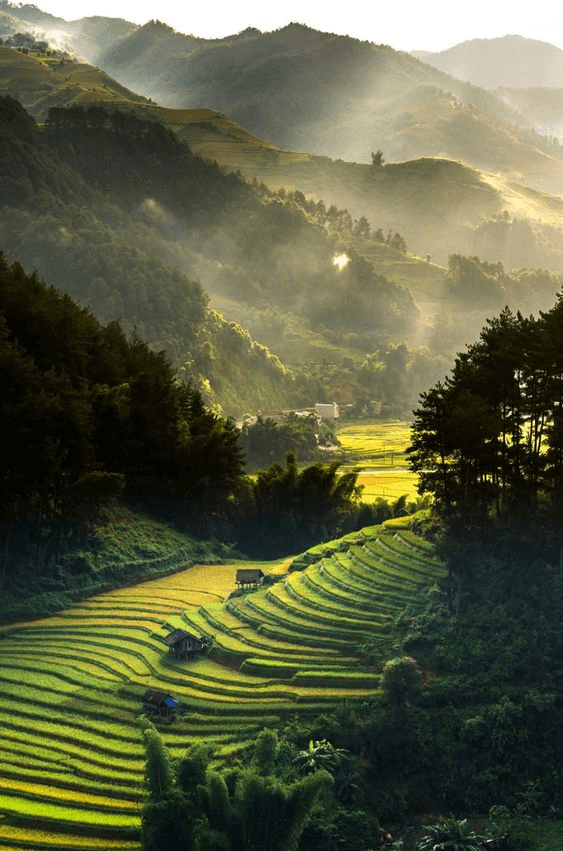 Sapa is a well-known destination on the tourist map of Vietnam. This destination is suitable for year-round honeymoons where you can experience different landscapes depending on the season. From the apricot flowers in spring, amazing mountain views in summer, gorgeous golden rice fields in fall to some rare snow in winter, Sapa has it all. This mountain town has everything you need for a perfect honeymoon in Vietnam. Many of the locals speak fluent English and have been working in tourism for a long period of time so that you can get a good service. There are a wide range of accommodations for you to choose from including the homestays in the tribal villages, hotels and resorts inside the city or immersing yourself with nature in distance places such as the Topas Eco Lodge. You also have various activities to think about from trekking through the rice fields, hiking the famous Fansipan or simple admiring the typical mountain views of Vietnam. You can't go wrong when picking Sapa for your budget-friendly honeymoon.
Cat Ba Island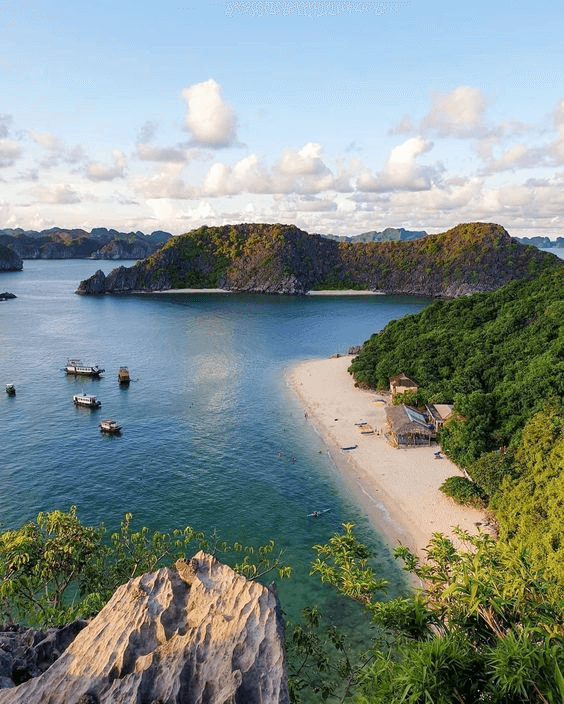 Cat Ba is famous for their amazing white sand beach and the National Reserve, where you can spend your time trekking with your significant other and enjoy the stunning view. If you are looking for a good mix of mountain view and the ocean, this is one of the best options. In addition, you have an option to get on a cruise and visit Lan Ha Bay, which is not too far away from Cat Ba. How romantic it will be spending nights on the ocean with your loved ones. Lan Ha Bay offers a similar ocean scene as the well-known Ha Long Bay but with less tourists. Cat Ba is accessible from Hai Phong Airport or just almost 2 hours drive from Hanoi, the capital of Vietnam. You can design a 3 or 4 days honeymoon here to relax and enjoy the fresh air with your significant other. It is not only romantic but also very budget-friendly as you save significant time and effort travelling around. 
Co To and Quan Lan Island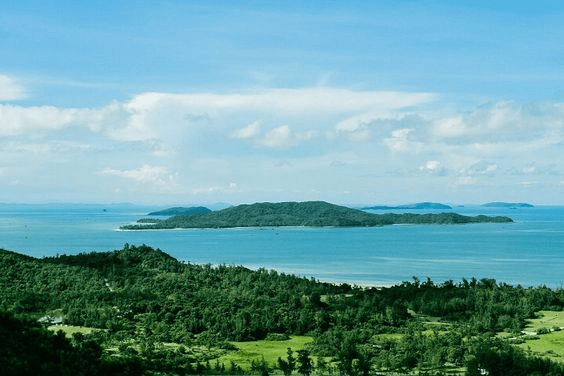 If you are bored of the highly popular Ha Long Bay, check out Co To Island and Quan Lan Island, the two hidden charms of Quang Ninh Province. These islands are best fit for couples who are looking for a private and remote honeymoon in Vietnam. You will truly escape the hustle urban lifestyle and transfer to a tranquil small town near the ocean, where you can break in the fresh air and appreciate the pristine beauty. It is time to relax and immerse yourself with nature. Thanks to the special location, Co To and Quan Lan are surrounded by clear ocean and white sand beaches. You have various options to choose from. Despite being distant from the mainland, the service industry for tourism in these destinations is fairly developed. There is a wide range of accommodation options including the hotels, resorts, and homestay with locals such as the Homestay368 They come with reasonable price tags for your budget-friendly honeymoon. One important note about these islands: you should avoid the storm season. During this time of the year, transportation between the mainland and islands are very limited and inconvenient. 
Hue - The Imperial City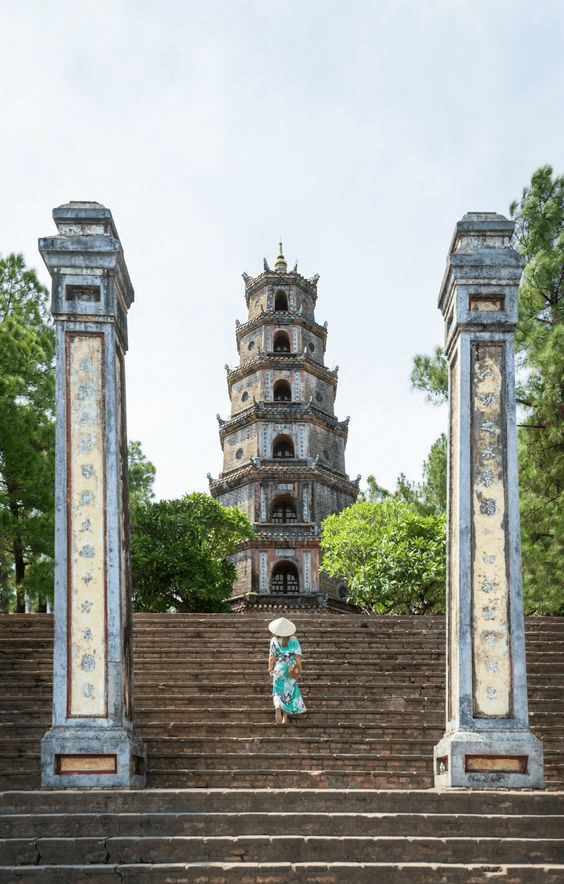 Hue is a must-visit travel destination in Central Vietnam. At the same time, it is a very good location for a honeymoon. The imperial city is famous for its historic sights including the old city, famous tombs and hundreds-year-old pagodas. On the other hand, it is also home of the romantic Perfume River and close distance to Lang Co Bay, a splendid beach location. You can take advantage of all these features at once during your budget-friendly honeymoon in Hue. This destination is also known for many famous cuisines such as Bun Bo, Banh Hue, Bun Thit Nuong, etc… If you happen to be a foodaholic, you are at the right spot. Hue is good for couples who want to take things slow and treasure each moment. You can ride on a motorbike around the city or hop on a boat to visit the river, take some cooking classes and learn more about the history of Vietnam. Hue will get your cover. 
Blogger's favourite - a pinky homestay: The Chill - Homestay In Hue
A Chill hidden villa with pretty river view: Hue River Side Villa
Don't miss this if you are looking for a luxury getaway: Lapochine Beach Resort (formerly Ana Mandara Hue)
Phu Yen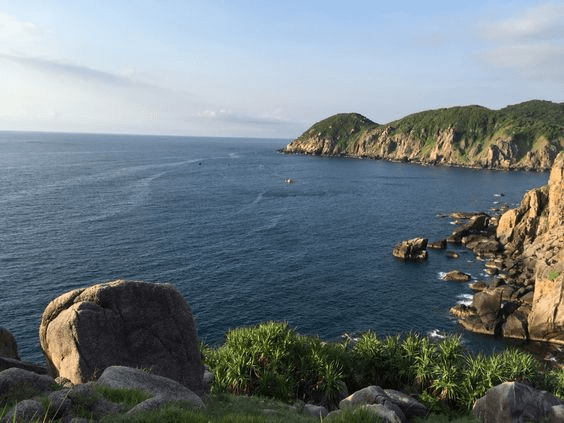 Phu Yen is relatively new on the Vietnam travel map. The province recently gained its popularity after being featured in a box-office movie by Victor Vu. Thanks to the relatively new discovery, Phu Yen still manages to keep its raw beauty and very reasonable price tags. You can stay in Tuy Hoa and commute to different locations to discover this province. One notable attraction is Dien Cape, the furthest point to the East in Vietnam. You can pay a visit to Dai Lanh LightHouse and observe the sun rising up from the ocean. It makes the trip here all worth it. In addition, Phu Yen is relatively close to Nha Trang, just 2 hours drive. Many couples split their honeymoon into a few days to discover in Phu Yen and spend the rest relaxing in Nha Trang. This option gives you a taste of both relaxation and adventurous honeymoon in Vietnam. Don't forget to try out some fresh seafoods here to complete your beach experience. 
A fabulous high-end resort with a descent design: Zannier Hotels Bai San Hô
Beautiful modern beach front resort: Stelia Beach Resort
Da Lat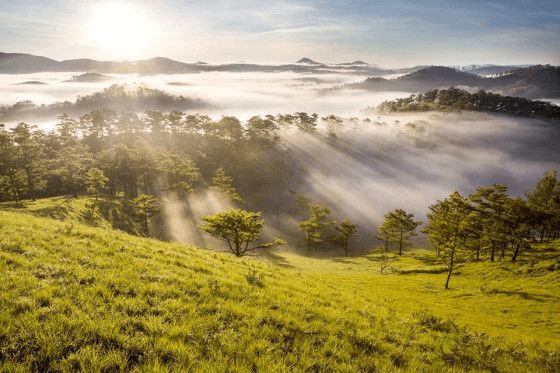 This list cannot be completed if we forget to mention Da Lat. The highland city is credited as one of the most romantic travel destinations in Vietnam, which can't be missed even in your budget-friendly honeymoon. You can get here by just a short flight from Hanoi and Ho Chi Minh City. It is hard to resist the charming call of Da Lat, home of the endless pine forests, gorgeous Tuyen Lam lake and numerous French villas.There are many honeymoon activities that you can do during your stay in this town. If you are into hiking, you should definitely visit the Lang Biang or some small hills, where you can touch the clouds. Couples who are in love with plants and flowers can visit farms and greenhouses. As the sun goes down, it is time for BBQ and having some intimate moments in the nicely chilly weather. There are a lot of accommodation options ranging from big hotel chains to small cozy homestays in old villas like Emai. Dalat will make your honeymoon in Vietnam memorable. 
Enjoy a fancy pool side floating breakfast: Zen Valley Dalat
A cozy resort surrounded by natural site: Ana Villas Dalat Resort & Spa