The wedding dress is an important decision for all brides. While it has sentimental value that you want to keep forever, a wedding dress can cost a fortune. Should you rent the outfit that you will wear once in your big day? It will be helpful to look at these criteria before you head to the bridal salon.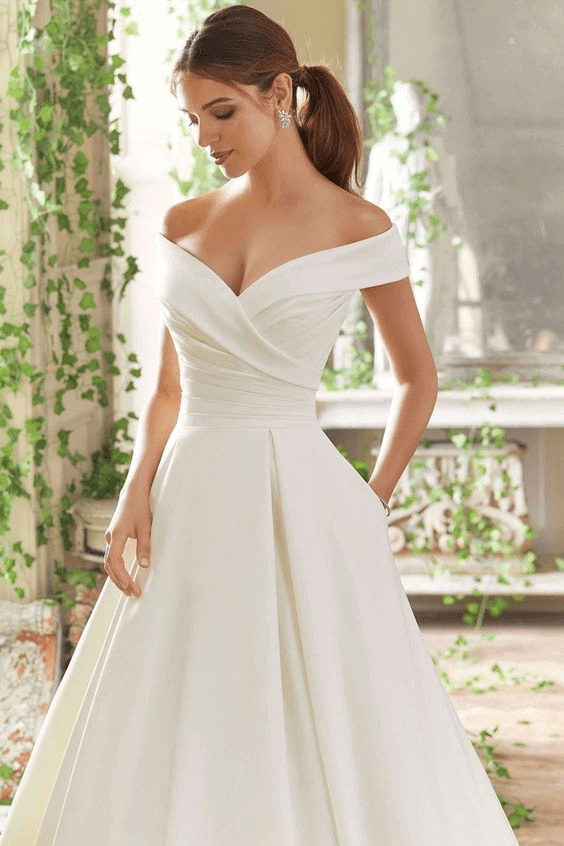 What you should consider?
We suggest you to think about these 5 following factors that can influence your purchase decision.
Usage
You can start with thinking about how you will use the wedding dress on your wedding day. Are you having a destination wedding in which you might need to transport the dress? Would you want to use the same outfit for pre-wedding photos, the ceremony and the reception? In Asia, the brides normally change multiple outfits to fit different purposes during the wedding day. Owning all those outfits can be costly. You might want to consider renting or buying the main outfit and renting the rest. In the case of a destination wedding, transportation can risk damaging your wedding dress. You can consider buying or renting from local brands at the destination.
Body shape
Wedding dresses for rent are generally premade for common body shape since they need to rent it for multiple brides. If you have trouble buying clothes on a normal basis, you might want to reconsider renting a wedding dress for your big day. A custom dress will fit you better and show your beauty.
Budget
There can be a big gap between renting and buying cost. If you have a limited budget, renting a wedding dress can be your choice. In addition, you can rent a dress from a premium bridal brand or rent multiple dresses with the amount you will use to  buy a dress from an average brand. Using your budget wisely can help you have better options.
Timeline
Rental dresses are readily available for you to try on and place the order while tailoring your own wedding dress will take time. It will add at least 2 to 4 weeks to your wedding timeline if you go with the tailoring option. If you are in a rush and don't have much time, you should consider the renting option. If you can wait, buying can be your friend.
Personal style
Dressed for rent normally have safe and mainstream designs. They target the mass market. If you want to have your own style and show your characters as you walk down the aisle, having your own wedding dress can enable you to do that. Also, you can find another bride wearing the exact same dress as yours if you rent your wedding dress. It can be a good option for reference but having your unique one is always better.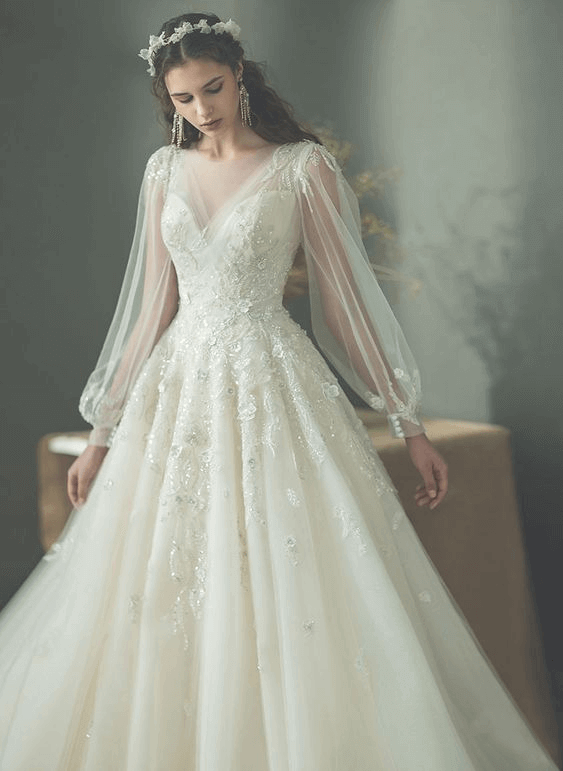 Why should you rent your wedding dress
You will have variety of choices
Almost every bridal brand in Vietnam has not only rental options but also rental packages that allow you to rent multiple dresses. There is no need to limit yourself to only the options that can fit multiple purposes on your wedding day. You can choose a fancier style for pre-wedding photos, formal style for the ceremony and getting one that is comfortable for the reception based on your wedding venue. In addition, changing multiple styles in one single day helps you stand out.
You can try the exact dress
You will know exactly what you will wear and how it will look. There are no unexpected risks in this case. In contrast, when you tailor your own wedding dress, changing small details such as the sleeves or the material can impact your look. You might get frustrated on your fitting day and have to rush into finding alternatives.
You will have to spend less effort
Renting your wedding dress means your responsible is done when it is returned to the bridal salon. You don't have to worry much about washing and taking care of your dress after your wedding. Besides, you will have to do multiple fittings if you choose to buy your own wedding dress. It will take at least 3 fittings to get the dress done not counting the time you have to spend picking your designs. Those activities will take up your wedding plan time.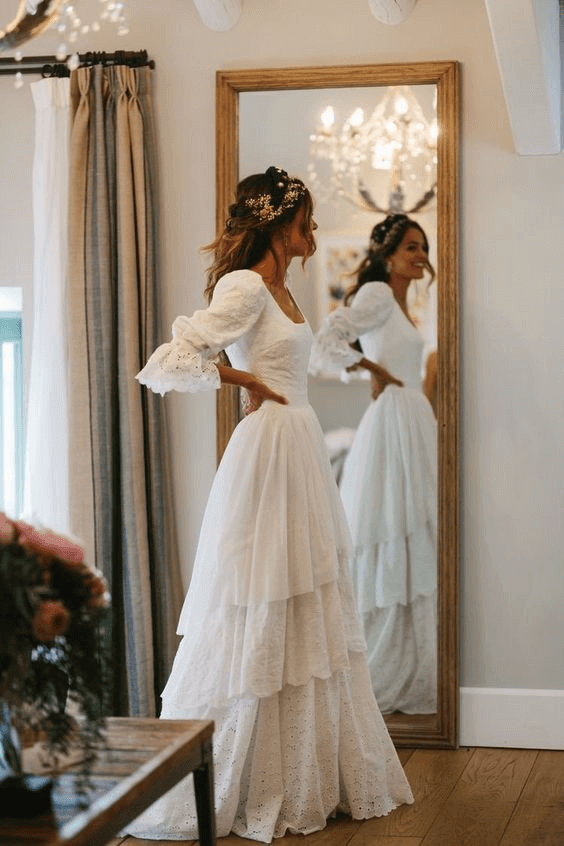 Why should you buy your wedding dress
You can customize your wedding dress
First, you don't have to worry about your body shape. Since it is customized based on your measurements, the dress will fit you perfectly. Second, many local bridal brands offer the service to design wedding dresses based on your own story and style. Whether you choose an existing design or creating your own, you can have final say in every detail of your wedding dress from the material to the cut and details. You can show your taste and style through the wedding outfit. Sometimes rental dresses are not made by the best materials to keep the cost low. Having your own allows you to have a better quality wedding dress as well.
You own your dress
You can keep your dress forever. Wedding outfits are valuable memories that you should treasure and take good care of. Sometimes, it is also a tradition to pass the wedding dress between multiple generations in the Western world. If you want to be practical, it is entirely possible to make adjustments to the wedding dress and use it in other occasions. Also, having your own dress means no one else has worn it before. You don't need to worry much about hygiene or existing marks on the dress.
You don't need to worry about liabilities
Renting a dress can have hidden fees as you have to be responsible to keep the dress clean. It is not an easy task for a long day with multiple activities. It would be even harder if you have a beach or outdoor wedding. Now since you already own the dress, you can feel more comfortable and enjoy your day. Wedding day can be stressful. There is no need to add more to that. 
It is not an easy decision when it comes to your wedding dress. You should consider both options and even a hybrid one carefully. Money is not always the most important factor. Choose one that makes you feel comfortable and enjoy your important day!