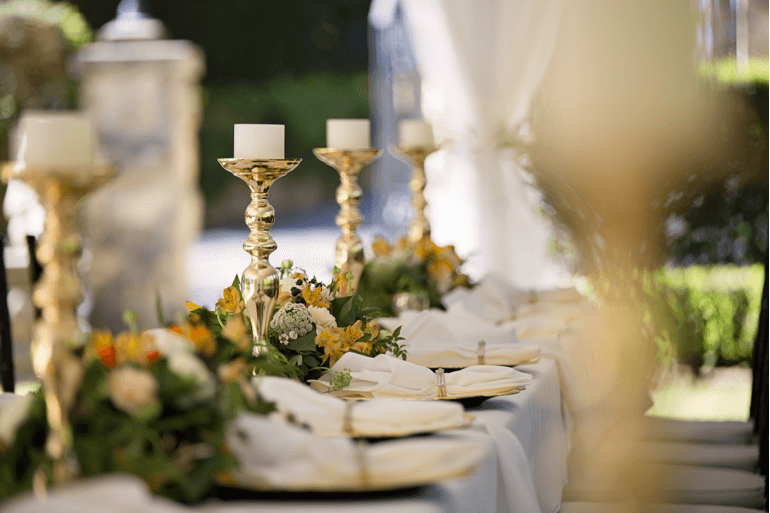 WEDDING PLAN
Choosing Between Indoor And Outdoor Wedding Venues
Picking the wedding venue has always been a headache for couples. First and foremost, you will have to figure out whether you want to go with an indoor or outdoor wedding venue. It will impact other preparation needed for your wedding significantly. We will make your decision easier by giving the pros and cons of each option. Let's start.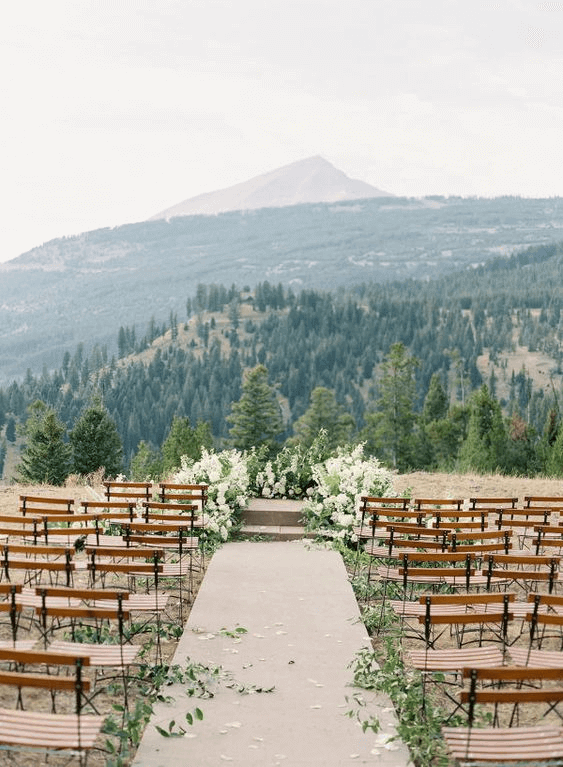 Indoor wedding
Having a roof can protect you from unexpected events but also limit your view and options for your wedding. Popular indoor wedding venues are wedding hotels, restaurants or even renovated warehouses.
Pros: Less unexpected problems
Couples who opt for indoor weddings don't have to worry much about other factors that are out of control such as weather and bugs. Whether it rains or shines, you and your guests are covered. That peace of mind is very important as you are getting ready for your big day. There are already too many things to worry about so that there is no need to add one more to your list. 
Pros: Save decoration cost
Most indoor wedding locations have some decorations ready. It can be the architecture such as in church or the interior design such as wedding hotels and ballrooms. As a result, you will be able to take advantage of this background and build on top of it. It can help you save a significant amount of money from using fresh flowers or setting up the decoration. Weddings can be costly so that you should save whatever you can.
Pros: Air-conditioner/ Heat
Don't underestimate the power of this machine! Unless you manage to pick a very favorable weather wedding day such as in the Fall, having air-conditioner or heating system available will be the rescue for you and your guests. It makes everyone more comfortable and enjoy the wedding with the bride and groom more. Also, you will feel free to choose wedding dress designs as you don't have to worry much about the temperature anymore. That can add to your styling choice no matter if you rent or buy your wedding dress.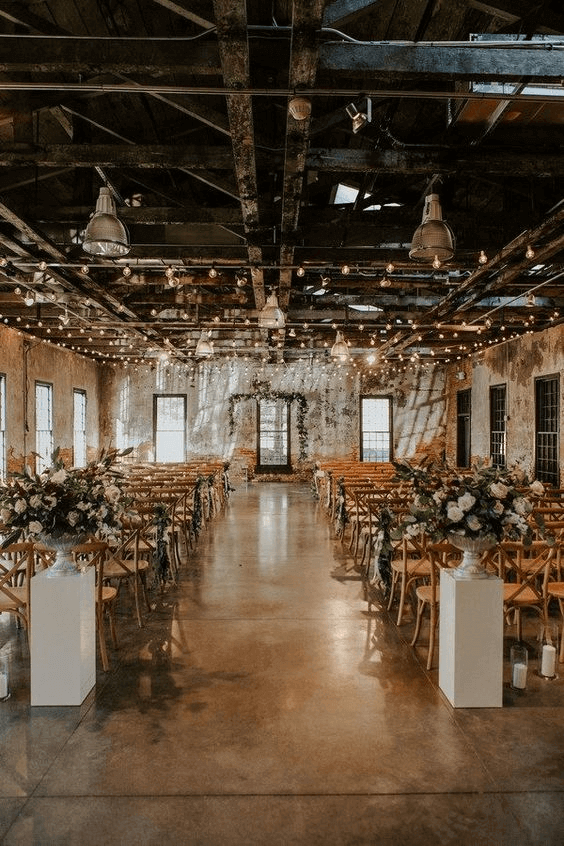 Cons: Limited space
Indoor wedding venues normally have fixed capacity. There is less wiggling room for you to adjust the number of guests unless you change the wedding location. Adding too many seats in an indoor wedding will create the crowded feeling and cramp the space. If you choose the indoor option, you should find one that fits your wedding size well. Too big of a space will leave empty seats while going with a small wedding venue makes everyone uncomfortable. 
Cons: Limited decoration concept
As you get ready for your wedding, you might want to try out different concepts. However, indoor wedding venues generally have fixed styles that have been shown on their design and setup. You will be limited within a few styles that match the specific location only. It will take more time for you to find the venue that goes well with your wedding concept.
Outdoor wedding
In general, having an outdoor wedding will give you a spectacular view but also brings more uncertainty to consider. You can choose from multiple locations including beach resorts, farms or mountain retreats.
Pros: Beautiful background
Nothing can beat the natural view of the outdoor wedding. There are various options for you to choose from such as a stunning beach front or spectacular mountain top. These locations are normally managed by wedding hotels that can provide you necessary services. You can get amazing wedding photos captured with these settings. In addition, natural lighting will be helpful for your photographer to get the best shots. Outdoor space can accommodate more decoration styles as well. You can use your creativity freely on the blank canvas to have the unique wedding of your choice. The same beachfront can fit both the cozy romantic wedding and the freestyle bohemian chic one by just changing the color and decoration elements.
Pros: Have more space
Outdoor venues will give you more flexibility in your wedding size. Since the space is wide open, it is up to you and your planner to arrange the seatings and set up the space. You can make adjustments to have slightly less or more than the original capacity of the location. If you have more guests, you can set parallel table rows while the separate round tables can host less numbers of guests without making the space too empty. However, you shouldn't overdo this since it can still reach the size limit of the venue.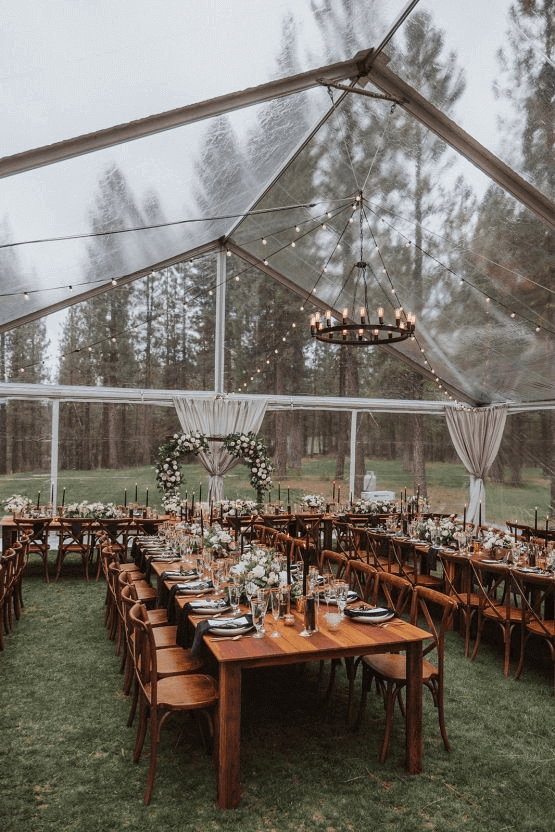 Cons: The weather!
While good weather will be your best friend, bad weather days can be your nightmare. One of the biggest concerns to choose an outdoor wedding venue is unfavorable weather conditions. A heavy rain can destroy your wedding vision. At the same time, you are more dependent on the outside temperature as well. It is hard for guests to participate in a wedding at noon under the sun as it is too hot to handle. When you pick your wedding date, you should consider the weather during that time to make sure it will be comfortable for the attendance. In summer, it will be better to start the wedding later in the afternoon to get the sunset view and avoid the heat.
Cons: Unexpected cost
You should be prepared for a larger bill when it comes to outdoor weddings. First, you will have to spend extra to have a rain plan available. It can be either reserving an extra indoor room or setting up a tent/ roof for the outdoor section. Second, having your wedding outdoors means you have to bring all the furniture and decorations from other locations. These can contribute to your wedding expenses. Last but not least, you will have to face the cost from the wedding dress. Outdoor weddings will put heavier use on your outfits than the indoor ones. Think about walking on grass or sand. If you buy the dress, there will be a cleaning bill waiting while rented dresses might have some fines from the scratches.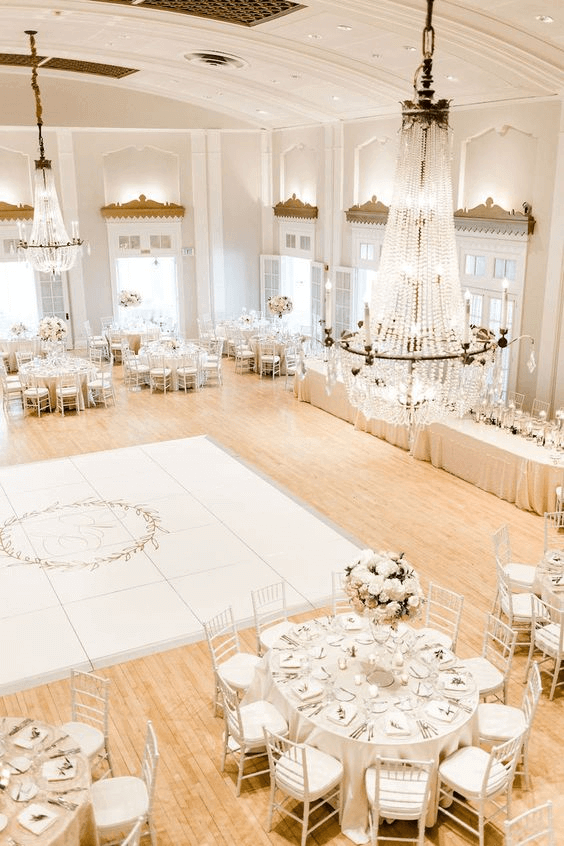 In summary, there is no perfect solution. You should consider 3 main factors to choose between indoor and outdoor wedding: the potential weather condition, your wedding budget and your wedding concept. These items will help guide you through the important decision for your wedding date.