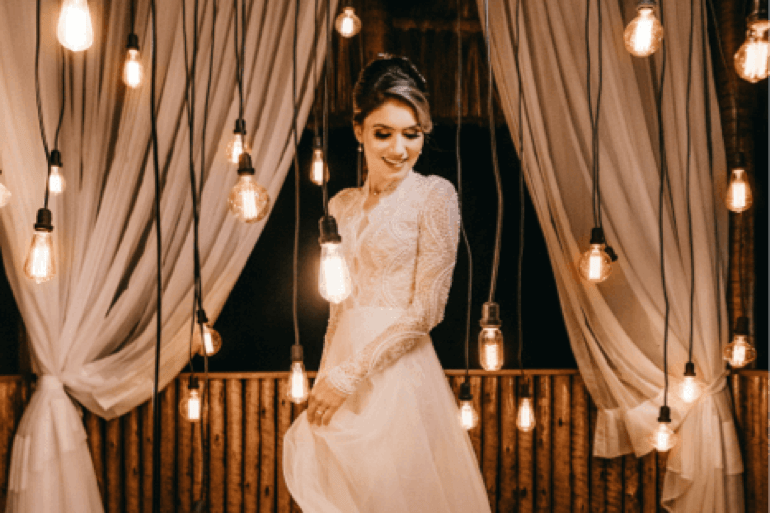 You have invested so much effort in creating your dream wedding. Don't let the wedding guests destroy your vision and atmosphere by bringing in unrelated outfits. Having a clear wedding dress code on your wedding invitation will set the ground rules and let your guests know your expectation. Good wedding dress code should not only go along with your wedding vision but also be appropriate for the wedding venue. We have listed the most popular venue options for your reference.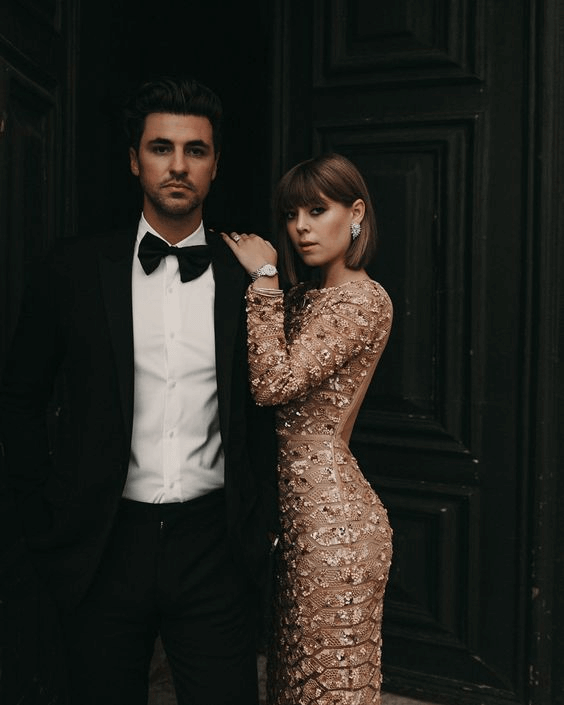 Hotel Ballroom
Ballroom-style wedding venues will be a great inspiration for black tie or formal attire dress code. With the high ceiling, round tables and chandeliers as your decoration, it will be easy to have a formal and luxurious vibe for your wedding. The evening weddings with elegant themes can use a black tie dress code while earlier time in the day can have a more relaxed one. Black tie is also a good choice if you decide to go with a special themed wedding such as lavish Gatsby style or art-deco mood board. That means your guests will be wearing dark color suits or tuxedos for gentlemen and floor-length evening dresses for ladies. In addition, many luxury hotels have their own outfit requirements for their guests to maintain their brand images. You should take the wedding venue's rules into your consideration when you set your wedding dress code. 
Restaurant/ Loft-style venue
In case this is your wedding venue option, you can opt for anything between smart casual to the formal attire dress code. It depends on the look and feel of your wedding venue. Country clubs and high-end restaurants can fit in the formal attire section. That will require the female to wear cocktail or evening dresses and men to have suits on. On the other hand, if you choose a casual location, it is ok to go with a semi-formal or cocktail attire dress code option. In this case, your guests will be expected to wear cocktail dresses, pant suits and sport coats. These outfits bring out the young yet elegant atmosphere for your wedding night.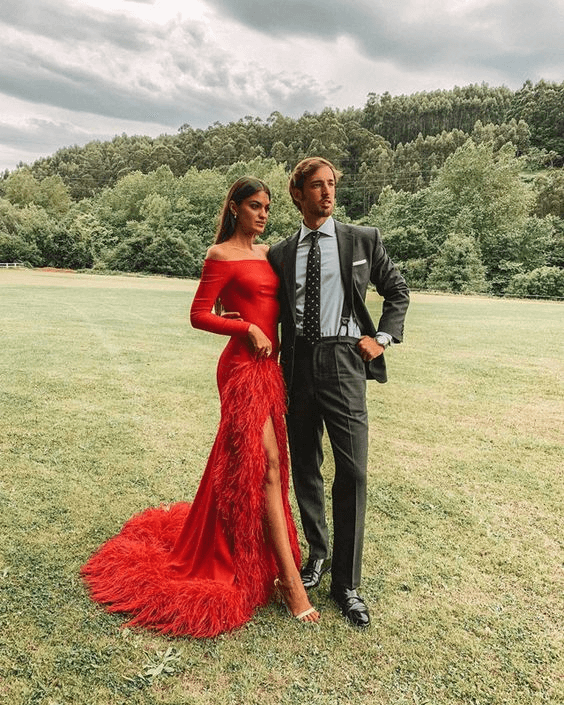 Religious settings
If you plan to have your ceremony at a religious location such as church or temple, you should state that clearly on your wedding invitation. The best wedding dress code for these locations is either formal attire or black tie optional. Neutral colors such as dark navy, black and grey should be encouraged in this case. Guests should be expected to have more conservative and formal outfits to show respect to the location. At the same time, the layout and interior design of these wedding venues are normally classical and old-fashioned so that your guests will fit better in formal clothes. In case the ceremony is held at a temple, you can also opt for traditional clothing outfits such as Ao dai. This dress code not only goes well with the background but also creates a special look for your wedding.
Outdoor wedding/ Garden party
You can choose either the garden attire or semi-formal dress code for this green-inspired wedding. The blush background provides multiple options for your wedding visions and thus, more diversified dress code choices. If your plan is to have a fun and casual wedding with the outdoor setting , garden attire will give guests more room to create their own look. This dress code is more formal than the casual one but not too strict so that everyone can feel comfortable. In case you prefer a more luxurious feeling, semi-formal can be your dress code. Men will dress in suits and ladies in fancy cocktail dresses. Those outfits will definitely look good at night, especially if you take advantage of the lighting and build a romantic atmosphere for your wedding venue.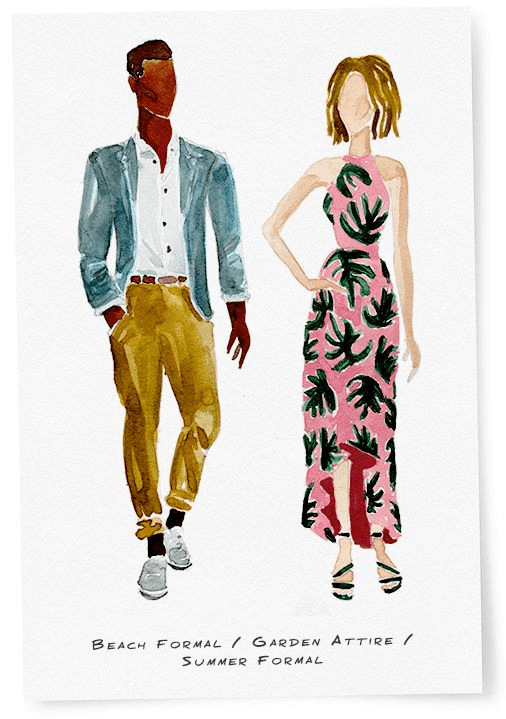 Beach wedding
A beach wedding fits the casual wedding dress code. First, it will be easier for guests to move around in this type of outfit. Weddings at the beachfront are normally on sand, which makes it hard for guests to use formal footwears and complicated suits. Sandals or slip-on shoes with flowy dresses are better choices for this wedding venue. Second, it is a good chance for guests to show off their personal taste. Instead of fixating with long ball gowns, your wedding guests can show their personalities with different dress lengths and patterns. The stunning beach background can make any outfits look better. If you want to create a consistent look for your wedding, you can have a color restriction for guests to pick their outfit. 
Some useful tips
Choose your wedding dress based on the venue
Your wedding venue can help identify not only the guest dress code but also your own wedding outfit. Picking a wedding dress that matches your wedding venue will help you stand out. The first tip is to pay attention to lighting and wall color (or surrounding color in outdoor weddings) to find your shade of white. An indoor wedding with white wall might outshine the dress and make the color look a bit darker. In contrast, when you are surrounded by trees or under the bright sun of the beach, your wedding dress color might look brighter than in the dressing room. Secondly, interior design or architecture elements of the wedding venue should compliment your wedding dress. If your location has a classical touch and feel, you can go with the timeless dress design. Beach and garden weddings fit a more liberal style one with laces and pattern wedding dresses. Lastly, the dress code that you are using should go well with your wedding dress. You shouldn't ask for a black tie dress code once you have opted for a bohemian style wedding dress.
Consider the timing
Time of the day can affect your wedding dress code. Evening weddings can require a more formal dress code than day events. At the same time, weather during that period of the year also has an impact on your decision. It's easier to go with layers and full suits for men and long dresses for women during winter. In summer, cocktail dresses will be more preferable. 
Think about your crowd 
As you proceed with one dress code, take some time to imagine your wedding guests in it and make sure they will be comfortable. Whether they are young and happy to go with a more adventurous theme or they would be in the middle-age and want to be conservative. Wedding dress code with the majority of the wedding guests is helpful. While it is true that the bride and groom are important in any wedding, happy wedding guests contribute to the success of your event as well. You shouldn't be too forceful on what they wear.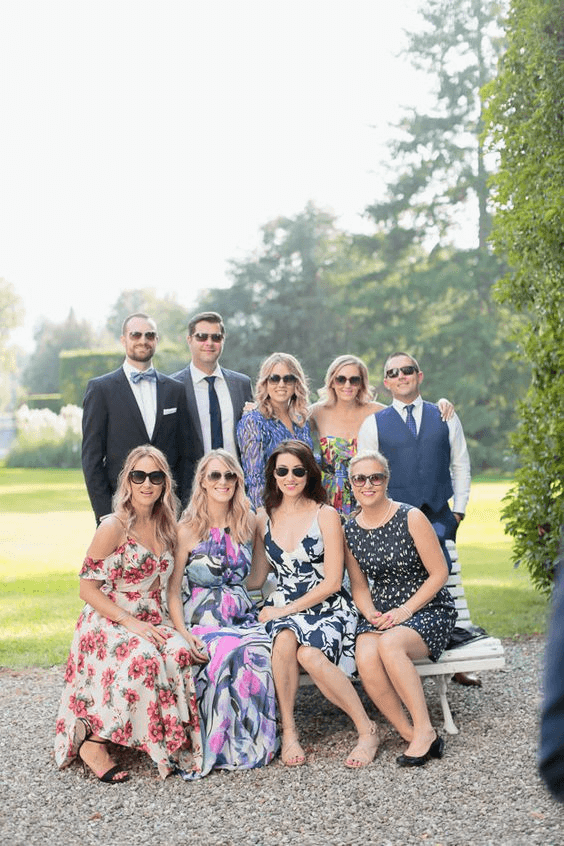 Wedding dress code is an important element of your big day. When you build your wedding vision, you should also keep that in mind. The best option is to find a good balance between your preference and your guests' comfortability.